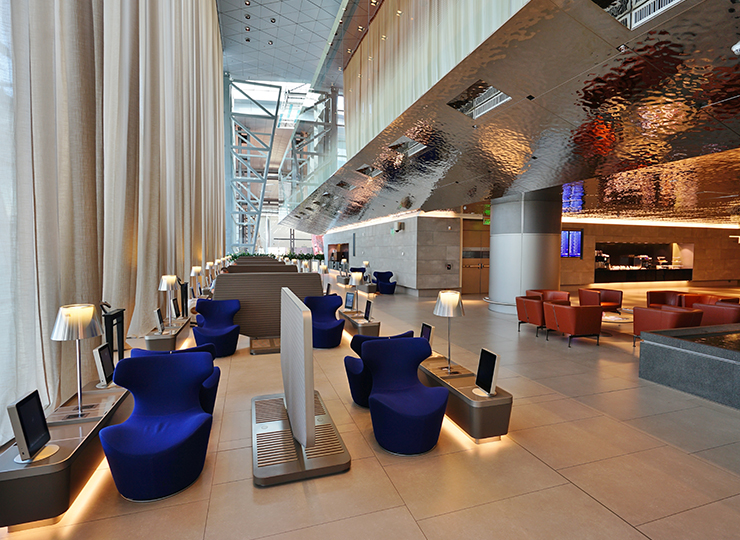 Airport Business Lounges in 2019
As the competition between airlines intensifies, more airlines are updating their lounge offering to help entice customers. Complimentary WiFi, new interiors and greater seating capacity are just some of the benefits being introduced to create better experiences for customers.
In the new year, there are several upgrades to existing spaces to look forward to. From Singapore to Sydney, here is just a small list of what business travellers can expect in the Asia-Pacific region in 2019.
Air New Zealand
Regional Lounge at Auckland Airport
As customer numbers are expected to grow from 17 to 19 million over the next two years the airline is investing $60 million into several lounges around New Zealand. The Regional Lounge at Auckland Airport is the flagship of Air New Zealand's Lounge Development Programme and its original ultra-modern design and convenient location for provincial flights make it a stand out in the regional lounge network. Offering expansive views of the runway, this lounge currently seats 80, however, the new space will accommodate 265 customers; an increase in capacity of three times the current lounge. During the redevelopment, lounge and valet services are expected to continue as usual.
Location: Level 1 of Auckland Airport's domestic terminal.
Wellington Airport Domestic Lounge
As part of the domestic lounge upgrade program, the Wellington space is marked for a refurbishment that will see it divided into six individual zones, each designed to meet the different needs of the airline's customers. These spaces include a café and bar, barista station, business lounge, quiet areas and self-service food and beverage area. Seating capacity is expected to be raised by 10% to 374 upon completion.
Location: Level 2 of the South Western pier.
Qantas
Sydney International First lounge
In August 2018, Qantas announced a revamp of its flagship lounge as part of a major investment program to several domestic and international lounges. The Sydney International First Lounge will be treated to a new look and 15% more seating to create a more accommodating environment for the airline's top flyers.
Location: Airside, Level 4, past immigration. Entrance on level 3 via escalator
Sydney International Business Lounge
This multi-million-dollar project will upgrade one of the most visited spaces in the Qantas International Lounge Network. The design will be managed by David Caon – who was also responsible for the airline's Boeing 787 Dreamliner cabins and lounges in Singapore, Hong Kong, Brisbane and Perth – in collaboration with Australian architecture firm Bates Smart. According to Qantas, the upgrade will provide 35% more seating as well as a new bar, business facilities, WiFi and 'luxury' bathroom facilities. A new signature dining experience from its resident chef Neil Perry is also on the cards. While completion is scheduled for late 2019, the new lounge may not open until 2020.
Location: Airside, Level 3, enter via escalators.
The Qantas Singapore Lounge
As Qantas' largest hub outside of Australia, the Singapore Changi lounge will receive a much-needed makeover in 2019 to improve its customer experience. The new multimillion-dollar First Lounge will cater to transit travellers; offering shower facilities, cocktail bar, open kitchen and a vibrant Singapore-inspired menu. The Business Lounge will also be expanded, when combined both lounges will offer seating for more than 800 customers. The project is set to commence in April 2019 and reopen at the end of 2019. Design of the space is to be based on incorporating elements of local Singaporean design with high-quality materials.
Location: Airside in Terminal 1, turn left after Immigration and continue up the escalators.
Auckland First and Business Lounges
In 2019, the existing First and Business Lounges at Auckland Airport will be combined into a single space for all Qantas passengers. The new area will be modelled after existing lounges at London Heathrow and Hong Kong International airports, with a touch of regional New Zealand flair throughout. The Business lounge is currently used only by Platinum-grade frequent flyers, and the upgrade is expected to open it up to more customers.
Location: Airside, Level 2
Notable mentions must also be made of the following Qantas lounges due to receive an upgrade in 2019:
Brisbane International Lounge
Tokyo Narita
Virgin Australia
The House Melbourne and Sydney
Through a global partnership with award-winning British lounge provider No1 Lounges, Virgin Australia guests will have access to its 'The House' brand when travelling internationally out of Sydney and Melbourne. Both spaces, which were previously operated by Etihad Airways, will be refurbished over the coming year to offer new reading rooms, private spaces and a lounge area; increasing total capacity by over 50%. In addition, guests can also enjoy a full bar, business centre with complimentary WiFi as well as self-service and a la carte dining options throughout the day.
Locations: Sydney International Terminal Pier C, adjacent to Gate 51 and Melbourne Tullamarine Terminal 2, adjacent to gate 10.
Virgin Australia has also announced upgrades for the following lounges in 2019. We are looking forward to bringing you updates on these spaces as more information becomes available over the coming months:
Wellington Virgin Australia Lounge
Brisbane Airport My Lounge
SHARE THIS PAGE: