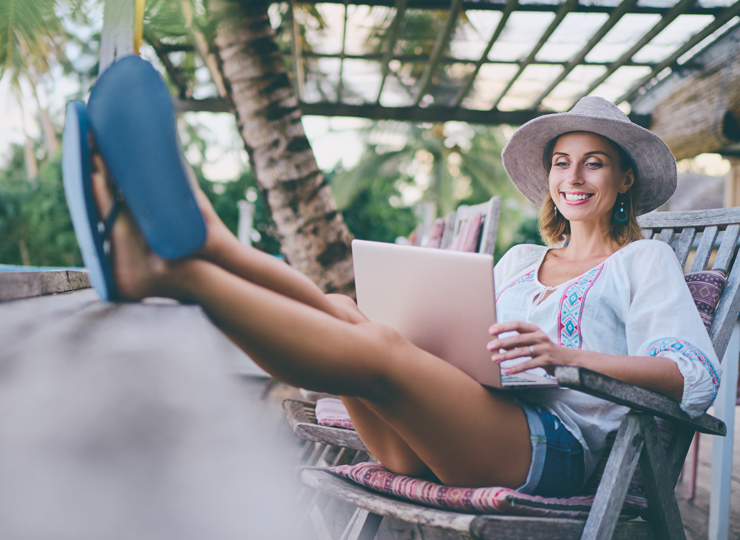 The fundamentals of a bleisure travel policy
When interstate or international travel is a requirement of an employee's professional life, it can significantly diminish family and leisure time, leaving work-life balance skewed toward work. However, it can also present an enticing opportunity to explore a new city, take in a cultural or sporting event, or just wind down somewhere other than your own backyard – without the additional cost and effort of booking a separate trip. This concept of combining a business trip with a leisure component is, rather unimaginatively, known as 'bleisure', and it's gaining global popularity.
This rise in bleisure appears to be driven by a multitude of different factors like a shift in both employee and employer attitudes toward taking bleisure leave and an increase in the desire to have new experiences and explore new places. Likewise, the benefits can differ greatly depending on the company, the traveller, and the type and destination of a business trip. Some benefits include:
Increased employee job satisfaction and retention
Reducing the stress of business travel and increased motivation
Potential savings on business travel costs
Increased attractiveness of a business to potential employees
While there are arguably tangible benefits, the trend is also creating complexities, both for those managing bookings, who may receive an increase in requests to 'tack on an extra day', but especially for those writing and implementing policy. At face value, businesses may think these simple changes to an employee's work trip inconsequential, however, there are some serious considerations that must be given to ensure that travellers know their financial and travel accountabilities, and that businesses protect themselves from potential financial, legal or even reputational costs.
To ensure both businesses and travellers enjoy the benefits of bleisure travel without the complications, here are some of the top things to consider when deciding to include bleisure travel in your travel policy:
1. What is your Duty of Care?
As travelling comes with inherent risk, risk mitigation is a paramount concern for many business travel managers and bookers. However, while the risk is always considered as part of a company's duty of care during employment, it appears likely that many companies are not considering how their duty of care may apply during bleisure time.
In a 2018 study conducted by International SOS and CAPA – Centre for Aviation (CAPA)[i], some key findings included:
9 out of 10 people believe the responsibility for the leisure portion of business travel falls to the traveller
1 in 4 organisations have not considered bleisure in their travel policy
Of the 6 in 10 organisations that allow bleisure, only two looked into the risk rating of the leisure travel destination before approving
1 in 4 bleisure trips include an aspect of adventure or exploration
Based on these findings, many companies could be leaving the door open to legal and insurance issues if something goes wrong. Mitigating risk is vital for any company and as such, risks and responsibilities should be clearly outlined within policies communicated to staff to avoid later problems.
Just as there is no one-size-fits-all when it comes to a company's business Travel Policy, bleisure travel guidelines and policies must also align with the individual needs of a business. Indeed, if a business decides to allow bleisure travel, it may only feel that basic guidelines and case-by-case policies are necessary. No matter how rigorous or lax the policy is, it should be communicated, and businesses should always keep traveller safety as well as company risks and duty of care top of mind. Speak with your legal team, insurers or your Travel Management Company (TMC) to find out more about what to include in your policy or visit the SafeWork Australia website or WorkSafe NZ website for information on work health and safety laws in your area.
2.  Expenses – who pays for what?
Expenses incurred by employees in the course of business and business travel is usually clearly defined in a company's Travel Policy, however when a business trip extends into leisure time, what, if anything, is still considered a business expense and who picks up the tab?
Some businesses may choose to pay for selected leisure costs, like meals, on the ground transport or extra days off as a reward or to compensate the employee for lost personal time due to travel, while other businesses may only agree to pay for a return flight at a later date that is of equal or lessor value than the original return flight cost. Again, the decision around expenses should be made by the company and clearly communicated to the employee prior to travel to avoid potential disputes post-travel.
3.  What are the rules around tracking and communication?
Many employees feel that their employer does not have the right to know about their whereabouts or communicate with them outside of business hours. The lines again become blurred when bleisure is in play. Businesses should clearly define things like where the company's responsibility for insurance extends to, what level of communication is expected between parties and who is responsible for travel arrangements and changes.
Implementing a traveller tracking system is also a good way of covering some of your organisation's duty of care requirements. This can be implemented by your TMC or managed in-house however, in both cases, you would need to ensure that the leisure component of the trip is recorded. CTM's Traveller Tracking tool can assist in managing your duty of care obligations by tracking your traveller's locations via their travel itinerary, anywhere in the world.
4.  Who books what and how?
Each bleisure trip is likely to differ in length, cost, destination and travellers' preferences, so managing bleisure bookings – even just those components the business agrees to pay for – can result in an increased workload for travel bookers. This is especially the case when something goes wrong, like an emergency in the location or flight cancellation. Deciding who will book, manage, and be responsible for leisure travel added to a business trip is yet another element that should be clearly defined and communicated to travelling staff.
CTM can help you arrange your bleisure travel programs which allows you to enjoy the excellent services from our travel consultants, meaning that the business has peace of mind knowing that their travellers experience the same level of care when travelling for leisure as business. You may contact your travel consultants for more details.
Bleisure travel is a trend not likely to diminish any time soon and businesses need to keep up, or indeed stay ahead of issues that this type of travel is likely to present.
Just as companies offer flexible work arrangements that blur the lines between workspace and leisure space, they also need to consider how to effectively and pragmatically introduce bleisure policy. When all the right factors are considered then communicated and managed properly, bleisure can be of great benefit to your company and employees.
SHARE THIS PAGE:
Contact CTM to learn more: