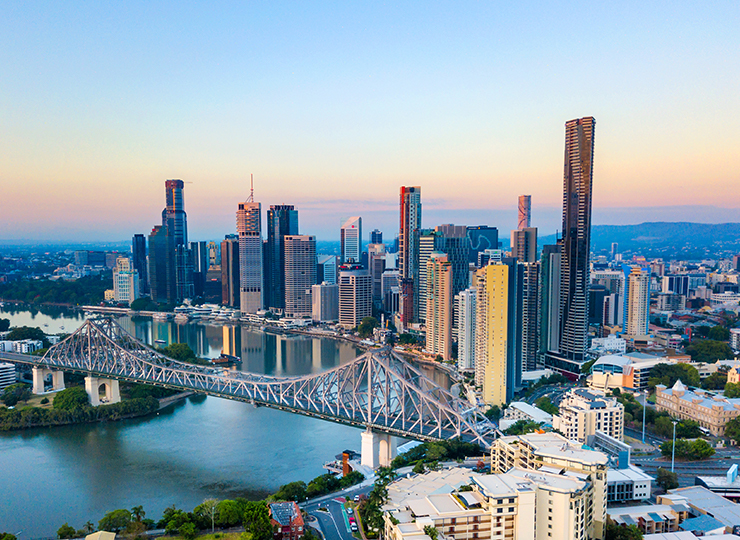 Business Travel Guide to Brisbane
Over the past few years, Australia's third-most-populous city has undergone a radical cultural shift thanks to the opening of new hotels, bars, restaurants and event spaces which have helped to elevate the city to a similar standing as its southern counterparts. In this Business Travel Guide to Brisbane, we take you on a tour of the best spots to visit on your next trip to the capital of the sunshine state.
WHAT MAKES BRISBANE A GREAT PLACE TO CONDUCT BUSINESS?
Brisbane's culture, weather and ease of movement within make it one of the best places in Australia to conduct business. The city centre is relatively compact and set out in a grid-like structure making it easier to navigate than many other capital cities. It is possible to walk from one end of the CBD to the other in a relatively short amount of time. Brisbane's CBD is safe and clean and despite a number of ongoing infrastructural developments, the traffic flow is rarely affected.
WHAT IS THE BEST WAY TO GET FROM THE AIRPORT TO THE CITY?
The Brisbane Airtrain takes approximately 20 minutes to get you from the domestic and international airports to Central Station in the city. This service runs seven days a week and every 15 minutes during peak times. When using this reliable service, there is no need to worry about traffic or roadworks disrupting your travel plans.
If you prefer a door to door option, there are also dedicated ride share pick-up zones at each terminal as well as taxi ranks at arrivals, with the journey taking between 30 to 40+ minutes during peak times. With the expected completion of Brisbane Airport's second runway next year, visitor numbers to the city are set to grow even more and continue Brisbane's transformation from a "large small town" into a truly cosmopolitan destination.
WHICH IS THE BEST AREA OF BRISBANE TO STAY IN WHEN TRAVELLING FOR BUSINESS, AND WHY?
The CBD and direct surrounds such as Spring Hill, Fortitude Valley and South Brisbane are the core focus for most business travellers to Brisbane. Unlike Sydney or Melbourne, Brisbane does not operate large satellite cities and visitors will find several accommodation options to suit their budget, at all levels, available in the CBD and surrounds.

WHAT ARE THE BEST PLACES TO CONDUCT A WORKING LUNCH / DINNER IN THE CITY?
There are several renowned locations to wine and dine in the Brisbane CBD including Walter's Steakhouse, Moo Moo's, Three Blue Ducks, Jellyfish, Lennons and Persone. Just out of the city centre is Black Hide Steakhouse at Caxton Street (also located at The Treasury Casino), Hellenika at The Calile Hotel on James Street and Greca and Arc, both located at the Howard Smith Wharves precinct.
WHAT ARE SOME HIGHLY RECOMMENDED PLACES TO CONDUCT BUSINESS MEETINGS FOR VISITING BUSINESS TRAVELLERS, AND WHY?
The hotel meeting rooms at Next Hotel Brisbane, Queen Street Mall and the Pullman King George Square offer great value for money for both price and location.
WHAT SHOULD EVERY BUSINESS TRAVELLER EXPERIENCE WHILE IN BRISBANE?
It is a breathtaking experience to take a stroll along the river walk from the City Botanic Gardens to Howard Smith Wharves. Along the way visitors will find several bars and restaurants at Eagle Street Pier, popular with interstate visitors due to their spectacular views and CBD location, serving up a variety of culinary delights. This waterfront walk is also a great way to soak in views of the Story Bridge before unwinding with the locals at Howard Smith Wharves.

WHAT ARE THE TOP TIPS FOR GETTING THE BEST VALUE OUT OF A BUSINESS TRIP TO BRISBANE?
Choose a hotel within walking distance to the office, customer or client. Fortunately, Brisbane's CBD is compact and mainly flat, so you won't have to worry about having to climb any hills before a business meeting. Also, business travellers can take advantage of the variety of two to three-course business lunch specials in many of Brisbane's top-rated restaurants throughout the CBD.
WHAT HIDDEN GEM IS RECOMMENDED FOR OUT-OF-TOWNERS?
Take your pick between having an aperitivo at Fiume at The Fantauzzo, a whiskey at The Gresham or cocktail at Legends Speakeasy Bar. Just out of the city, "Welcome to Bowen Hills" hosts several food trucks and an onsite brewery. If you prefer retail therapy, we recommend taking off to James Street for a boutique shopping experience. Back in the city, Burnett Lane is Brisbane's answer to Melbourne's laneway network with a range of hidden bars and cafes including Brew, Super Whatnot and the award-winning Death and Taxes cocktail lounge.
Alternatively, if you're looking for slower-paced fun, the free CityHopper ferry will take you on a leisurely cruise down the Brisbane River departing at various points along the iconic waterfront.

WHAT ARE COMMON MISTAKES BUSINESS TRAVELLERS MAKE WHEN VISITING BRISBANE?
Most travellers to the city do not realise that, along with the Northern Territory and Western Australia, Queensland does not observe daylight savings, which may affect their travel plans if not considered. It is also highly advisable to make reservations for lunch and dinner at peak times and to avoid eating out late as many dining spots are closed by 10PM.
It's also advised to take note of the weather, avoid overheating and dress suitably for the warmer weather and humidity in the summer months, early autumn and spring. In Queensland 'business casual' is often favoured over suits, depending on the industry.
WHAT IS THE BEST AND WORST TIME OF YEAR TO TRAVEL TO BRISBANE, AND WHY?
The best time to visit Brisbane is from March to November when the weather is the most habitable. The Queensland summer can be very humid and visitors not used to this may find themselves feeling slightly uncomfortable with the rise in temperature. It is also recommended to avoid travelling during the State of Origin games or large concert events that can slow down movement around the city.
If you found this Business Travel Guide to Brisbane helpful, please share it!
SHARE THIS PAGE: