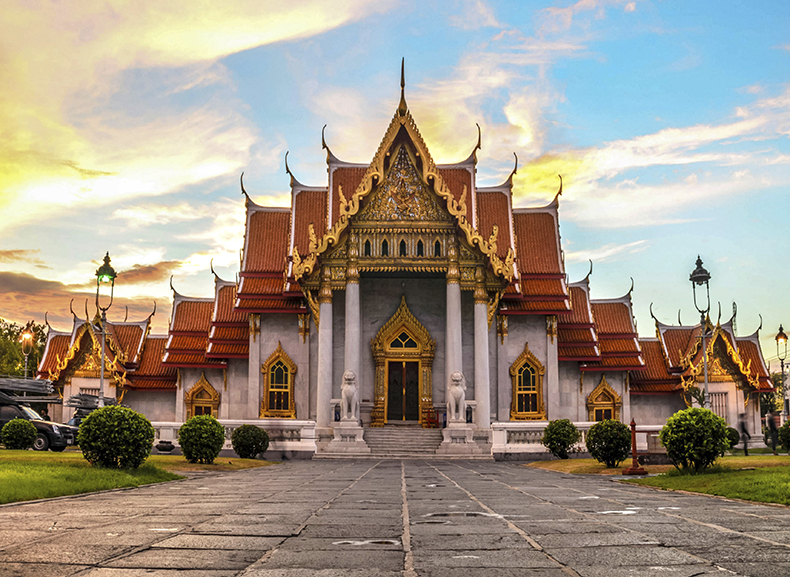 Business Travel Guide to Bangkok
When you think of Thailand, the sandy beaches of Koh Samui might first spring to mind. And of course, Thailand has long been a traveller's paradise. But the capital, Bangkok, is also one of Asia's most important business hubs.
WHAT MAKES BANGKOK A UNIQUE AND INTERESTING PLACE FOR BUSINESS TRAVEL?

While it may not have the tech reputation of other Asian capital cities, Bangkok is a bustling business centre, with a particular focus on retail, manufacturing, property, transport and communications.
From restful green spaces to lively river markets and street food bazaars; from stately temples to contemporary sky bars and shopping en masse; Bangkok features an exciting mix of modern and traditional living. Welcome to the Venice of the East.
TOP TIPS FOR CONDUCTING BUSINESS AT BANGKOK SUVARNABHUMI INTERNATIONAL AIRPORT (BKK)
If you need a meeting room, or just a quiet space to catch up on emails, Suvarnabhumi International Airport has some great business lounges.
If you need general business services, see the CAT Telecom Shop at the International Departure Hall.
Alternatively, the Novotel is located next door, if you prefer somewhere more private to do business.

BEST WAY(S) TO GET FROM THE AIRPORT TO THE CBD
The airport is 30km or around 30-40 minutes driving time to the broader CBD area.
The Airport Rail Link is the cheapest and fastest way to take you downtown upon your arrival. The express service costs just 150 baht for a 15-minute trip. Choose to stop at either Makkasan station or Phaya Thair station to transfer to your appropriate line.
Alternatively, there is a commuter service which takes 35 minutes and costs 15 to 45 baht but stops at an additional 6 stations.
You can take a metered taxi, arranged from an official taxi kiosk at the airport (don't accept someone approaching you). Expect the trip to cost around 350-420 baht including tolls and the 50 baht airport tax.
BEST WAY TO TRAVEL AROUND THE CITY

Skytrain (BTS) is the most convenient, reliable and fast way to travel on your business trip. It's recommended you buy an unlimited day pass, as this is only 140 baht. You can also use the subway (MRT).
Taxis are another option, but you must make sure the meter is on. Flat fares and unmetered rides in taxis will only cause you difficulty. If you prefer not to worry about hailing a taxi, you can use Grab's ride-share service for GrabTaxi.
Riding in a tuk-tuk is all part of the Bangkok experience, and it's recommended that you do it! But it's not a great option for regular transport. And remember, negotiate the fare upfront, don't pay until you arrive and never let them talk you into going anywhere you didn't request, as this could be a scam.

BEST AREA(S) TO STAY IN THE CITY FOR BUSINESS TRAVELLERS AND WHY
The key commercial hubs are concentrated to the east of the Chao Phraya River. If you'd like to stay in a luxury hotel along the river, there are 8 to choose from that form part of the Bangkok River Partners.
The Silom and Sathorn areas were the first modern CBD in Bangkok, although thanks to the establishment of mass-transit systems, the CBD is continually expanding. It now includes Sukhumvit, Wireless/Ploenchit and further.
There are plenty of accommodation choices to suit the business traveller in these areas, right up to luxury 5-star hotels. This is particularly true for Sukhumvit Road with convenient access to public transport.

ARE THERE ANY CULTURAL SENSITIVITIES OR CONSIDERATIONS WHEN CONDUCTING BUSINESS IN BANGKOK?
There are many, however, a few of the most relevant considerations for your upcoming business trip include:
Hierarchy and status are all-important in Thai society. Always be respectful of King, country and Buddha.
In business, establishing personal relationships first is of the utmost importance, so expect there to be meals and entertaining. It's in subsequent meetings they'll make important decisions.
Present a business card with the right hand. Upon receiving one, read it and express a polite comment.
A conservative business dress code applies, but never wear black because this is only for funeral attire.
Never be aggressive or lose your temper, which they'll see as rude, low-class, and you are guaranteed to lose the deal.
BEST PLACES TO CONDUCT A WORKING LUNCH/DINNER IN BANGKOK?
Savelberg Restaurant in Pathum Wan District has been awarded a Michelin Star and offers a 3-course lunch ideal for business meetings. Fine dining for lunch and dinner Monday to Saturday is possible in private dining rooms on the mezzanine floor for group meetings or in the main dining area.
Blue Elephant in Sathorn is a fantastic option on your business trip, having been awarded The Plate in the Michelin Guide Bangkok 2019. With a seasonal chef's tasting menu of Royal Thai cuisine on offer, the restaurant attracts visitors and locals alike.
ANY TRAVELLER SAFETY TIPS?
Smarttraveller.gov.au suggests exercising a high degree of caution due to civil unrest, so business travellers should avoid any sign of protests and demonstrations.
There are many traffic accidents in Bangkok. You should always exercise caution and never assume even pedestrian crossings are safe. If pedestrians are hit by cars, they are seen as being at fault.
You'll find pickpockets are in high-traffic areas. They will try to scam you with a distraction, like asking to borrow a pen. Be wary of friendly strangers – even well-dressed ones can be part of a scam.
9. ANY SPECIAL CONSIDERATIONS FOR FEMALE TRAVELLERS?
Female business travellers should never touch or pass anything directly to a monk. It's also important to not sit beside monks on public transport. Women are not welcome in some temples, so always check the signs before entering.
WHAT SHOULD EVERY BUSINESS TRAVELLER EXPERIENCE WHILE IN BANGKOK?
In a country of beautiful temples, it would be remiss not to visit one on your business trip. The temple of Wat Arun is conveniently located only 3 km outside the CBD and should be admired at sunset or sunrise to appreciate the porcelain and ceramic tiling in all its glory. Be sure to climb the steps to the 67m high pagoda for a stunning view back across the river.

BEST WAY TO SPEND A FREE EVENING (3 HOURS) IN BANGKOK?
Visit the Zoom Bar on the 40th floor of the Anantara Sathorn Hotel for eye-popping 360-degree views. If you take advantage of their light bites menu while enjoying a cocktail, you'll still have room left to stop by a few food vendors on your way back to the hotel and sample Bangkok's distinct street food. Why not enjoy the best of both worlds?
BEST AND WORST TIME OF THE YEAR TO TRAVEL
It's best to plan your corporate travel to Bangkok in the dry months of November to February.
The worst time to visit is the wet season (May to October) when daily downpours are the norm and flooding can ensue.
ANY MUST-HAVE APPS TO DOWNLOAD TO MAKE THE TRIP EASIER / MORE ENJOYABLE?

Grab: leading ride-share service in Bangkok, which also allows you to order metered GrabTaxis
Bangkok Transport: for public transport routes and fares
IHG Translator: also has a handy voice-to-voice function
XE Currency: based on today's exchange rate
Wongnai: the Thai version of Yelp!
SHARE THIS PAGE:








Do you have an upcoming business trip? Take advantage of our expert knowledge and get in contact with CTM today: