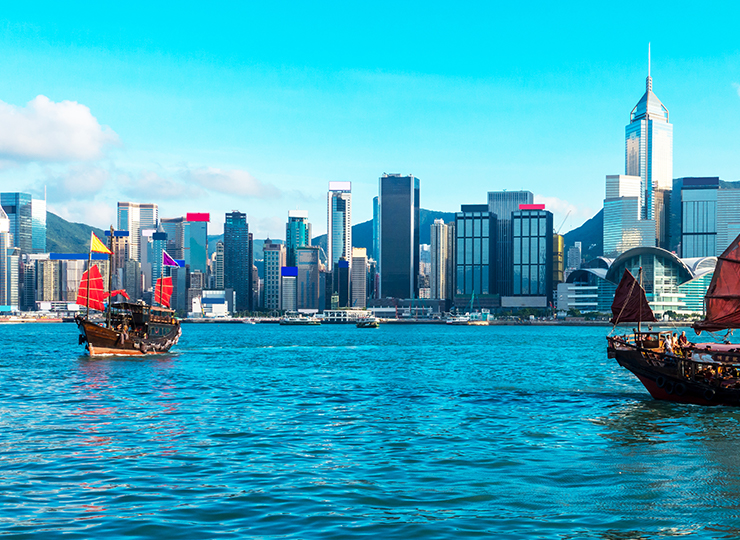 Business Travel Guide to Hong Kong
This Business Travel Guide is provided in interview with Larry Lo, CTM CEO Asia.
Larry Lo has lived and worked in Hong Kong for 20 years. All opinions and recommendations are the interviewee's own. CTM recommends all travellers conduct their own thorough, independent research into their travel destination(s) prior to making any travel decisions, and take out adequate travel insurance prior to travel.
Q. WHAT CULTURAL SENSITIVITIES SHOULD FOREIGN BUSINESS TRAVELLERS BE MINDFUL AND RESPECTFUL OF WHEN VISITING HONG KONG?
A. Here are my top tips:
Greet people with a light handshake. Feel free to initiate the handshake and maintain slightly more eye contact.
Most local people have adopted western names in addition to their Chinese ones as westerners sometimes have difficulty pronouncing Chinese names in full.
It is typical in Hong Kong culture to stand close to one another during conversation. However body contact does not occur. Therefore, never hug or kiss another person or pat someone on the back.
It is well known that Hong Kong locals are a superstitious lot. Do not present gifts in 4 items as it implies 'death' in Cantonese. Try to give 3 (means 'life'), or 8 (means 'prosperity'), or 9 (means 'eternity').
Be careful with smoking. It is forbidden in some outdoor areas, such as beaches and parks.
It is well known that Hong Kong locals are a superstitious lot. Do not present gifts in 4 items as it implies 'death' in Cantonese.
Q. WHAT IS THE MOST COMMON MISTAKE BUSINESS TRAVELLERS MAKE WHEN VISITING HONG KONG?
A. Hong Kong is definitely not a good place for driving. Parking fees are high and there is heavy traffic all day long in business areas.
Q. WHICH IS THE BEST AREA OF THE CITY TO STAY IN FOR BUSINESS TRAVEL, AND WHY?
A. Central and Tsim Sha Tsui are the most popular commercial areas where many hotels and multi-national financial services corporations have their headquarters. The development of a new business area in East Kowloon is also underway.
Q. WHAT ARE YOUR TOP TIPS FOR CONDUCTING BUSINESS AT HKG AIRPORT?
A. HKG Airport is one of the busiest airports in the world, providing all fundamental facilities such as lounges for VIP and economy travellers, showers, WiFi and meeting rooms. The airport also provides many dining options – the Chinese like a 'not to be missed' eating experience!
HKG Airport is also a gateway to China and has built a multi-model transport network with the Mainland, including cross-boundary coaches and the SkyPier ferry service which connects passengers between Pearl River Delta and international destinations via HKG Airport.
Q. WHAT IS THE BEST WAY TO GET FROM THE AIRPORT TO THE CITY?
A. By Airport Express or taxi.
Q. IF YOU ARE IN A RUSH, WHAT IS THE BEST MODE OF TRANSPORT TO USE WITHIN THE CITY, AND WHY?
A. Always take the Mass Transit Railway (MTR) to avoid traffic congestion.
Q. WHAT TIPS DO YOU GIVE BUSINESS TRAVELLERS WHO ARE LOOKING TO EXPERIENCE BOTH THE TRADITIONAL AND MODERN ATTRACTIONS OF HONG KONG?
A. Hong Kong is Asia's most popular city destination with 59.9 million visitors in 2015, and as an aviation hub it supports more than 100 airlines and 1,100 flights per day.
It is the perfect destination for MICE (meetings, incentives, conferences and events) which accounted for about 1.82 million visitors in 2014, about 49% of these arriving from Mainland China.
The city's most popular attractions include:
Q. WHAT SHOULD EVERY BUSINESS TRAVELLER EXPERIENCE WHILE IN HONG KONG, AND WHY?
A. There comes a point when every visitor to Hong Kong has to confront their food phobias, as Chinese people normally eat everything except the table! I would encourage every business traveller to be open to trying new foods as part of their essential Hong Kong experience.
To really experience vibrant Hong Kong, I also recommend a visit to Lan Kwai Fong – an area full of nightlife, bars and restaurants where you can see Hong Kong's work-hard-play-hard ethos in action.
And for some fun, try the horse racing at Sha Tin or Happy Valley.
There comes a point when every visitor to Hong Kong has to confront their food phobias, as Chinese people normally eat everything except the table!
Q. WHERE ARE THE BEST PLACES TO CONDUCT A WORKING LUNCH / DINNER IN THE CITY?
A. I would recommend any hotel, club or quality restaurant located in the Central, Tsim Sha Tsui or Causeway Bay areas. Avoid Chinese restaurants as they tend to be too noisy for effective business meetings.
Q. WHAT'S THE BEST AND WORST TIME OF YEAR TO TRAVEL TO HONG KONG, AND WHY?
A. The best time to visit the city is from the mid-September to the end of February. The weather is cooler and major discounts are available to travellers to enjoy great savings on shopping.
The worst time to visit Hong Kong is during Chinese New Year, Golden Week (a semi-annual 7-day national holiday in Mainland China: January/February and October) and National Day holidays. These are the peak seasons for people from the Mainland to visit Hong Kong and hotel rates are relatively higher.
Q. CAN YOU GIVE ANY TRAVELLER SAFETY TIPS WHILE VISITING HONG KONG?
A. Hong Kong is usually a safe place for travellers. However visitors should be aware of:
Typhoon season in summer
Pickpockets in shopping areas, e.g. Mongkok
Dishonest retail shops, in particular medicines and electronic appliances.
Q. WHAT DIFFERENTIATES THE CORPORATE TRAVEL EXPERIENCE OF HONG KONG COMPARED TO OTHER MAJOR ASIAN CITIES?
A. Hong Kong is a free trade port. It acts as the gateway to Mainland China and works in complementing the National 13th Five-Year plan. It is also an exotic city full of colour, excitement and traditional Chinese culture.
Elements of traditional Chinese culture combined with British western influences have shaped Hong Kong's unique local culture, making it an excellent city to conduct business:
Low taxation
Well established international financial market
Member of WTO
Hong Kong Stock Exchange is the 6th largest in the world
World's freest economy
English is a major spoken language alongside Cantonese and Putonghua
Media is free from government interference
Hong Kong is also a vibrant and exciting city to visit as a business traveller, with many different kinds of performing arts including drama, dance, music, opera and a strong mix of pop culture across Cantonese, Mandarin, Japanese, Korean and Western music. And of course the city is nicknamed a 'shopping paradise' for its well known shopping districts and multiple department stores.
Do you have an upcoming business trip? Take advantage of our expert knowledge and get in contact with CTM today.