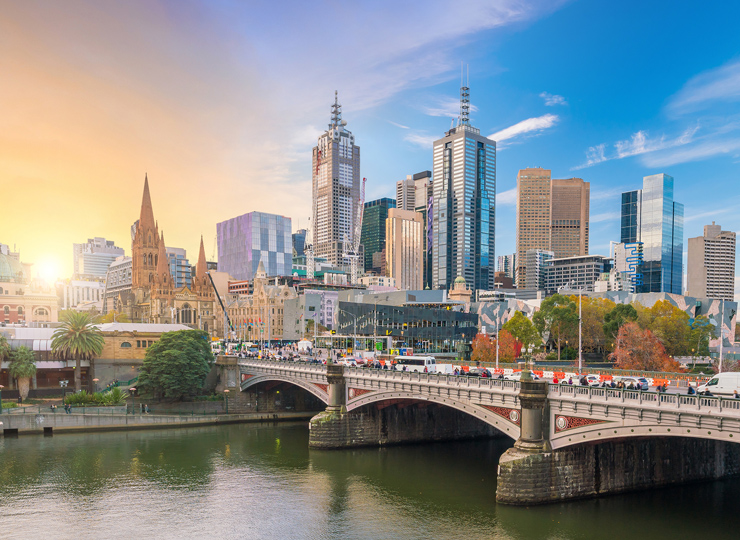 Business Travel Guide to Melbourne
WHAT MAKES MELBOURNE A GREAT PLACE TO CONDUCT BUSINESS?
Melbourne is the fastest growing city in the Australian business market, offering a talented and diverse selection of employees, alongside funky and functional office spaces. The city itself balances business life with leisure well, with exceptional art, entertainment and sporting culture, while ensuring a continued influx of both employees and business entertainment opportunities. There are so many restaurants and bars to conduct business in that the hardest thing is to choose which one to try next. Melbourne is also extremely easy to get around, with numerous types of public transport, including free trams within the CBD.
WHICH IS THE BEST AREA OF MELBOURNE TO STAY IN WHEN TRAVELLING FOR BUSINESS, AND WHY?
This will really depend on the location of your business, or appointments. While Melbourne is relatively flat and easy to get around, each section of the city has its benefits. Some good areas to consider are; Southbank, Bourke Street, Flinders Lane, Collins Street, Spring Street. Check out our Best Hotels for Business Travel in Melbourne for some great suggestions in locations perfect for business travellers.
BEST PLACES TO CONDUCT A WORKING LUNCH / DINNER IN THE CITY?
Melbourne offers some amazing culinary options, across all cuisines. Some of our favourites are Red Spice Road, San Telmo (or their sister restaurant Asado), Bistro Guillaume, Movida Acqui, GAZI, Cookie, Coda, Lucy Lui and Natural History Grill Melbourne.

What is the best way to get from the airport to the city?
Outside of a hire car, there are only two ways to get from Melbourne Airport to the CBD. Taxis and ridesharing will usually cost you $65-$80 each way. There are designated pick-up and drop-off areas for each.
Alternatively, the SkyBus will deliver you to Southern Cross Station at a cost of $19.75 each way (prices subject to change).
Don't forget to check which airport you are flying in and out of as there is Tullamarine Airport and Avalon Airport, 60km outside of Melbourne.
WHAT SHOULD EVERY BUSINESS TRAVELLER EXPERIENCE WHILE IN MELBOURNE?
Even if you don't understand the rules of the game, going to see an AFL match and being a part of the 50,000-70,000+ atmosphere of the crowd cheering for their team in the stands at the Melbourne Cricket Grounds (MCG) is an incredible experience. If you are looking to entertain clients, there are also some great hospitality packages on offer.
Melbourne is renowned for its extensive laneway network covered in graffiti street art. Even the likes of Banksy have contributed! Hosier Lane is one of the most popular laneways to visit. Whilst you're there it's worth checking out Flinders Street Railway Station – it's the busiest station in Australia with over 92,000 passengers every day. The station is a cultural icon and an incredible example of some of the beautiful heritage architecture remaining throughout Melbourne.
Another experience that cannot be missed in Melbourne is stopping by Federation Square. Federation Square has played host to world-class art galleries and installations, food and drinks vendors and hosted thrilling events that have been remembered by Melbourne years after. It is a social, cultural and art hub for Melbourne, a must-see of any trip to Melbourne.
Continuing Melbourne's reputation for an exceptional arts and entertainment culture, catching a show is another must-do if you have the time. There are a number of theatres throughout Melbourne that show incredible local and international productions.
If there are only one or two people in your group, you can often get discounted tickets the day of the show by calling into the box office attached to the theatre (subject to availability).
A great way to round off a busy day of business or exploring is to check out one of Melbourne's many rooftop bars. We recommend checking out The Rooftop at QT or the aptly named Rooftop Bar. The rooftop bar scene has grown lately, and you can check out an extensive list of options here!
Melbourne has also been described at the coffee capital of Australia so make sure you try some of the locally recommended brews.

WHAT IS YOUR TOP TIP FOR GETTING THE BEST VALUE OUT OF A BUSINESS TRIP TO MELBOURNE?
Factor the travel time in advance of your meetings. Some large businesses are located in the suburbs which can take up to an hour for travel! If you can also book your trip with a weekend included, do so! With so much to see and do, having a couple of free days will give you the option to explore the city even more, or head out and see some of the Victorian countryside and beaches.
WHAT HIDDEN GEM WOULD YOU RECOMMEND FOR OUT-OF-TOWNERS?
If you head down some of the city's laneways, you will find the best coffee, food and shopping hidden in Melbourne including Hopetoun Tea Rooms, Hosier Lane or DeGraves Street graffiti hot spots. If you're looking for a scenic walk, talk a stroll along the Yarra River.
WHAT'S THE BEST AND WORST TIME OF YEAR TO TRAVEL TO MELBOURNE, AND WHY?
Melbourne's weather can be a little unpredictable, with many locals referring to it as "four seasons in one day". Ensure you pack a range of clothing, regardless of what the bureau has predicted as the weather can change quickly. This makes it is hard to identify the worst time of year to travel to Melbourne as all seasons have their individual positives and negatives. For interstate visitors, however, the hardest time of year to visit is usually during the winter months between May and August. Although it doesn't snow in Melbourne, it can get quite cold and windy, so it is recommended to bring an umbrella and a jacket if you are coming during this time.
Outside of these months, the city comes alive from September to April with events and activities that might be of personal interest or present excellent client entertainment opportunities. Melbourne's huge variety of events make it important for travellers to be aware of what is on and are encouraged to take this into consideration when looking at booking a trip. September always sees the AFL Grand Final take place, a huge event for AFL fans who travel from all over Australia, along with Melbourne Fashion Week and the Melbourne Fringe Festival; don't forget that early November means Melbourne Cup, another massive event for the city; January brings the Australian Open with the Australian Grand Prix following in March, and if you're around in April it is worth trying to get tickets to the Melbourne International Comedy Festival as well!
A few websites to consider before coming to Melbourne would be:
City of Melbourne – What's On
Visit Victoria 
SHARE THIS PAGE: