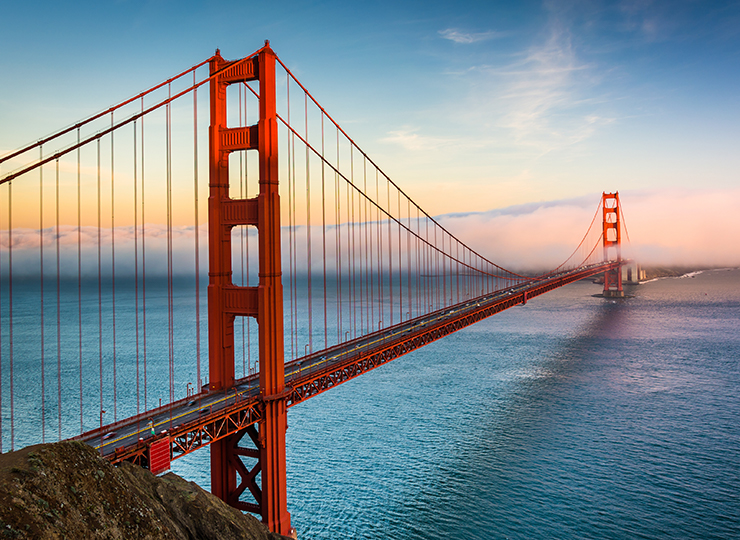 Business Travel Guide to San Francisco
It's known for being a hotbed for tech, but the City by the Bay is also an outstanding destination for business travellers due to the emphasis placed on work-life balance. Once the business day is done, socialising and outdoor activity come to the fore in this relaxed Californian setting. And there is no chance you'll be bored.
What makes San Francisco a unique and interesting place for business travel?
It's the world's tech capital, yet it's packed full of romance and history. From the cable cars and Victorian houses to the sandy beaches and bay views, this is a cosmopolitan city like no other.

Top tips for conducting business at San Francisco International Airport
They have a high emphasis on connectivity at SFO for business travellers, which means you'll find WiFi, Work Stations and Power Bars throughout the airport terminals.
For business centre services like photocopying, faxing and even phone rentals, it's best to seek out the TripTel Business Center in the International Terminal Main Hall.
If you have access to an airline lounge, you'll find more private amenities on offer.
Best way(s) to get from the airport to CBD
Ride-share services like Uber and Lyft are a good option for business travellers. They are generally less expensive than taxis (around US$30 in regular traffic).
If you want to save time and travel in comfort, then you're best to pre-book a chauffeured service. In normal traffic this takes 25-30 minutes but in peak hours this extends to 45 minutes, with a cost around US$100 to downtown San Francisco.
Taxis cost around US$40 plus tip, in regular traffic. Hailing a taxi at the airport may seem overwhelming – particularly because there are unlicensed taxi drivers that you need to be wary of.
Expect public transport to be cheaper, but also to take longer. For instance, you may catch the AirTrain to the SFO BART station and then get the train to the station closest to your hotel. The cost is around US$9 and takes 60 minutes, dependent on your destination.

Best way to travel around the city
Ride-sharing services like Uber and Lyft are ideal.
Alternatively, there are plenty of public transport options like the BART (Bay Area Rapid Transit), as well as the MUNI public transportation system of light rail metro trains, buses and historic streetcars and cable cars.
Best area(s) to stay in the city for business travellers and why
If you want to avoid cross-town traffic issues, look for travel convenience when choosing your accommodation.
San Francisco's Financial District is the city's CBD. If you have meetings in the Financial District, then the Embarcadero (the city's waterfront) is in walking distance and offers some newer hotel options. Union Square is also a popular and convenient location for business travellers.
If you are in San Francisco for a meeting or exhibition at Moscone Center (the main convention centre), there are plenty of accommodation options in the South of Market (SoMa) district, and you'll also be among the hustle and bustle of Market Street.

Are there any cultural sensitivities or considerations when conducting business in San Francisco?
While the business culture is informal and casual, the time is money attitude really rings true. For that reason, always attend meetings promptly and be sure to factor in travel time accordingly.
Expect text messages to be a routine form of communication, as much as email.
If you're used to doing business on the U.S. East Coast, you'll find those in San Francisco to be somewhat less direct in their communication, but always friendly and open-minded.
Best places to conduct a working lunch/dinner in the city?
There is a high-quality and ever-changing food scene in San Francisco.
Scopo Divino is a well-known favourite, most commonly known as a wine bar with an international selection of wines they serve excellent food to accompany it. Paired with memorable service and a cosy atmosphere, Scopo Divino is ideal for a business lunch or more casual drinks.  

Wayfare Tavern in the heart of the financial district is known for being a popular spot for working lunches thanks to its atmosphere and location.

Any traveller safety tips?
It's recommended to avoid hiring a car on your business trip because car break-ins are common and parking is expensive.
There is a significant homeless population throughout San Francisco, so official police advice is to avoid confrontation and maintain a safe distance. Call 911 if you witness any crimes or emergencies involving homeless people.
Pay particular care if you intend to visit the Tenderloin's theatre venues or restaurants. This area is known for its street drug trade, and you may find yourself approached by panhandlers. Therefore, you may prefer to avoid it altogether.
Any special considerations for female travellers?
There is nothing of particular note for female travellers visiting San Francisco on a business trip. All travellers, both male and female, are encouraged to use common sense if travelling alone, particularly at night. Be aware of your belongings and your surroundings.

What should every business traveller experience while in San Francisco?
A Giant's game at AT&T Park provides the quintessential San Francisco experience, so if you have time on your business trip, catching a game is a must. Seats at the top of the stadium will also grant you fantastic views of the Bay Area.
Best way to spend a free evening (3 hours) in San Francisco?
Go for a stroll along the Embarcadero waterfront from Bay Bridge to Pier 39 at Fisherman's Wharf. Not only are the waterfront views beautiful, but you can stop by any of the restaurants, parks, attractions and renovated piers on the way.
The walk itself takes about 40 minutes one-way. Once you get to Pier 39, you can capture stunning shots of the Golden Gate Bridge, the Bay Bridge, Bay Lights, Alcatraz and SF skyline. For a 360-degree view, it's worth heading to the top of the Pier 39 parking garage.

Best and worst time of the year to travel
Corporate travel to San Francisco is recommended in September to November thanks to warm weather with less rain (and in order to avoid peak summer tourist season). March through May is also worth considering for clear and mild weather.
Winter is cold and wet but will usually offer the best prices on accommodation.
Summer months are frequently foggy, to the point the Golden Gate Bridge is obscured, with crowds and higher rates to contend with.
Any must-have apps to download to make the trip easier / more enjoyable?
In this tech-kingdom, there are, of course, no shortage of useful apps!
GateGuru to navigate the airport and stay up to date on your flight schedule
Uber and Lyft for ride-sharing
Moovit for finding the fastest, least-crowded public transportation route (in real time)
Open Table for restaurant reservations
Where Traveler City Guide to plan an itinerary or get info on-demand
Wikitude: an augmented reality app that helps you find out more about San Francisco history
SHARE THIS PAGE: