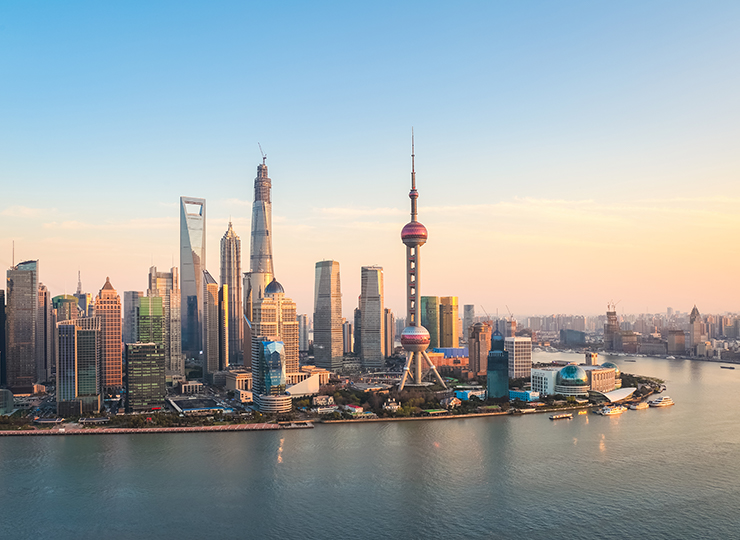 Business Travel Guide to Shanghai
This Business Travel Guide to Shanghai is provided in interview with Glenn Yuen, General Manager CTM China.
Glenn Yuen manages CTM's business operations in China, and has worked for CTM / Westminster Travel since 2009. He has lived in China for more than 13 years and is a frequent traveller to Beijing, Shanghai, Guangzhou and Shenzhen.
Q. WHAT DIFFERENTIATES THE CORPORATE TRAVEL EXPERIENCE OF SHANGHAI TO OTHER MAJOR ASIAN CITIES?

A. With China's first ever free-trade zone (FTZ) located in the Pudong district, Shanghai has received constant growth in foreign investments. Many international businesses are taking off in Shanghai, hoping to broach the Chinese market and bringing with them increasing number of business travellers. Shanghai is also an important trading hub to the secondary cities situated along the Yangtze River Delta and therefore is a central hub for many international businesses working within China, offering numerous opportunities to corporate travellers.
Shanghai is a place where East meets West, and a fascinating mix of ancient and modern. The colonial architecture as well as well-preserved historical sites provide great value to corporate travellers seeking excursion experiences during their business travels.
Q. WHAT IS THE BEST WAY TO GET FROM THE AIRPORT TO THE CITY?
A. Shanghai has two main airports: Shanghai Pudong International Airport (PVG) and Shanghai Hongqiao International Airport (SHA).
Shanghai Pudong International Airport (PVG)
The airport is situated approx. 30km east of downtown Shanghai. There are two main ways to get to downtown Shanghai from PVG.
By Metro
The Shanghai Metro Line 2 runs all the way to the airport. Trains run every 8 minutes from the Airport Station between 6:00 and 22:00. Opt for the Metro during peak hour traffic to avoid traffic congestion.
Fare: Approx. RMB 7
Time: Approx. 68 minutes
By Taxi
Taxi is the most convenient way if you are in a rush.
Fare: Approx. RMB 200-250
Time: Approx. 50 minutes
Shanghai Hongqiao International Airport (SHA)
Mainly handling domestic and regional flights, Shanghai Hongqiao International Airport is situated about 13km west of downtown Shanghai.
By Metro
Hongqiao International Airport has two terminals and both are well served by the Metro. Terminal 1 station is on Line 10, while Terminal 2 station is on Line 2 and Line 10. On Line 2, trains run every 6-12 minutes between 5:35 and 22:50. On Line 10, trains run every 10-15 minutes between 5:55 and 22:00.
Fare: Approx. RMB 7-10
Time: Approx. 25-40 minutes (depending which line you take)
Transport between Shanghai Pudong International Airport (PVG) and Shanghai Hongqiao International Airport (SHA)
By Airport Shuttle Bus
Visit the transportation hub at Hongqiao Airport near Terminal 2 and you will find the Airport Shuttle Bus station. Take bus Airport Line 1 to reach Pudong Airport.
Fare: Approx. RMB 30
Time: Approx 1 hour and 20 minutes
By Taxi
Taxi is the most convenient way if you are in a rush and carrying a lot of baggage.
Fare: Approx. RMB 200
Time: Approx. 50 minutes
Q. IF YOU ARE IN A RUSH, WHAT IS THE BEST MODE OF TRANSPORT TO USE WITHIN THE CITY, AND WHY?
A. The Metro is the most efficient and inexpensive way to travel, and is definitely recommended during peak hour to avoid the traffic congestion that occurs almost every day.
Q. TOP TIPS FOR CONDUCTING BUSINESS AT PVG/SHA AIRPORTS.
A. Shanghai Pudong International Airport (PVG)
Free WiFi is available at the airport, but a Chinese mobile phone number is required in order to receive an access code via SMS. If you don't have a Chinese phone number, there are machines located air-side that will print an access code for you. For your convenience, you may pre-purchase a WiFi card or WiFi router beforehand.
Mobile charging is also available for a small cost at 1 yuan per 10 minutes of charging. Head to Gate 6 at the Departure Hall of Terminal 1, or Gate 8, 1/F of the Arrival Hall of Terminal 1 for the service.
Shanghai Hongqiao International Airport (SHA)
You may access free WiFi service at the airport rest zone: Gardens. The facilities include rest areas as well as play areas for children and free internet service. Free mobile charging service is available at M2 Departure Floor in Terminal 2.
Q. WHICH IS THE BEST AREA OF THE CITY TO STAY IN FOR BUSINESS TRAVEL, AND WHY?
A. Pudong area is most convenient for business travellers as it is where the financial area and industrial zones are located, thus most international companies have set up their Shanghai offices in Pudong. Additionally, Puxi (this historical centre of Shanghai) has traveller-centric areas like the Bund, Huangpu District and the French Concession – you can easily access to all kind of activities such as shopping, dining and so on here, and there are an abundance of upscale hotels to choose from.
Q. WHAT SHOULD EVERY BUSINESS TRAVELLER EXPERIENCE WHILE IN SHANGHAI, AND WHY?
A. Shanghai is famous for its iconic skyline. Take a cruise on the Huangpu River to enjoy the spectacular night view or walk along the Bund area's promenade to view the breath-taking cityscape. Embracing European architecture and art deco styles, the well-preserved French Concession is a popular place for tourists and locals alike.
If you are staying over a weekend, do not hesitate to go for a short excursion to Hangzhou or Suzhou, just an hour away by high speed train ride. This area is known as 'Heaven on Earth' with its stunning natural beauty and rich cultural heritage.
Q. WHERE ARE THE BEST PLACES TO CONDUCT A WORKING LUNCH / DINNER IN THE CITY?
A. Everyone has heard about Xiaolongbao (steamed buns). It's indeed the must-try item in Shanghai and can be easily found around town from local eateries to upscale Chinese restaurants.
Head to the Bund to relax after work – nothing beats a stroll down along the Huangpu River promenade at night. Apart from the spectacular view, this area is also well known for its nightlife and features many contemporary gastropubs. French Concession, on the same side of the river, is also a popular place to go for trendy restaurants. You may also want to check out the restaurants and pubs in Xintiandi, which is a complex remodelled from traditional Shanghainese buildings.
Q. WHAT IS THE BEST AND WORST TIME OF YEAR TO TRAVEL TO SHANGHAI, AND WHY?
A. Spring (March to May) and late September to October are the best times to visit as the weather is neither too hot nor rainy. These periods also offer cleaner air which is optimum for travelling. Summer (June to August) is the peak season, however the weather is hot and rainy, while winter is cold and clammy.
Q. ANY TRAVELLER SAFETY TIPS WHILE VISITING SHANGHAI?
A. Shanghai is a relatively safe city in China. Still, beware of groups of pick-pockets on the main shopping streets.
Q. IS THERE A MUST-HAVE APP TO DOWNLOAD PRIOR TO ARRIVAL TO MAKE A STAY IN SHANGHAI MORE EFFICIENT/PRODUCTIVE?
A. If you are going to use Skype for conference call purposes, download the app before arriving in Shanghai. If you wait until you get here, your request to visit the Skype site will be redirected to a Chinese version, and you will need to download a program file that allegedly allows for monitoring.
For making hassle-free online payments, you can download the app Alipay or WeChat; WeChat can be used for instant messaging as well.
Q. WHAT IS THE MOST COMMON MISTAKE BUSINESS TRAVELLERS MAKE WHEN VISITING SHANGHAI?

A. While some business travellers may expect there to be a language barrier when visiting China, Shanghai is in fact a well-developed modern city with lots of elites and expats living there. As a result, the locals embrace the best of Chinese and Western cultures which shape the uniqueness of Shanghai. Most Shanghai people can speak in English therefore communication is not a problem. Of course, it is always fun to learn the local dialect for greetings such as "Nihao" (hello) and "Xiexie" (thank you)!
Do you have an upcoming business trip? Take advantage of our expert knowledge and get in contact with CTM today.