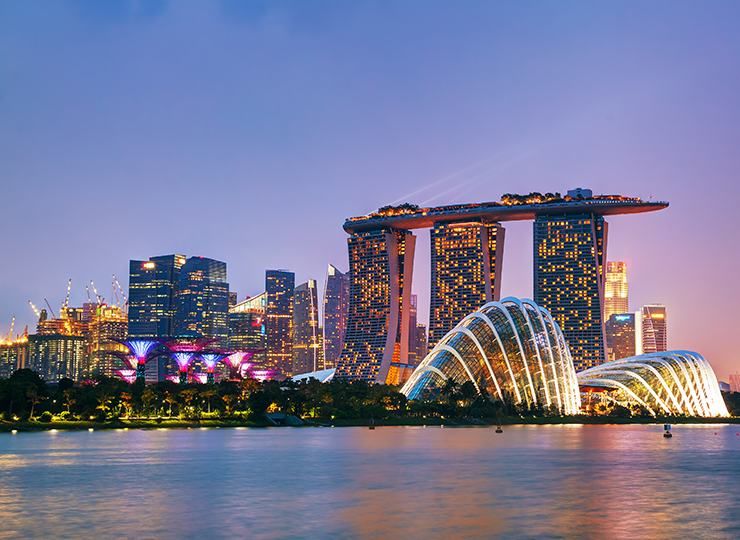 Business Travel Guide to Singapore
This Business Travel Guide to Singapore is provided in interview with Eugene Tan, CTM's General Manager Singapore.
Eugene is responsible for the overall management of CTM's Singapore operations, bringing more than 15 years of experience in the travel and GDS industries across 18 markets in the APAC region.
Q. WHAT MAKES SINGAPORE A GREAT PLACE TO TRAVEL TO FOR BUSINESS?
A. Being a multi-cultural society, business travellers enjoy a rare opportunity to experience four cultures in a single city: Chinese, Eurasian, Indian and Malay. It is also a very progressive city. More than 40% of Fortune 500 companies have chosen Singapore as their regional HQ for the APAC region. The city is quick to embrace new technology, and the technology industry has delivered a lot of 'firsts' in Asia, especially exciting new technologies for the corporate travel community to enjoy. For example the first robot housekeeper ('AURA') was rolled out at Hotel M Social, a hotel designed by Philippe Starck. Don't be alarmed if your request for an additional towel is delivered by a robot as more and more hotels are adopting this new trend!
Q. WHAT KEY THINGS DIFFERENTIATE THE CORPORATE TRAVEL EXPERIENCE OF SINGAPORE COMPARED TO OTHER MAJOR ASIAN CITIES?
A. Singapore is considered a global hub for financial, telecommunications, education, tourism and medical industries. Accessibility from airport to the city is crucial for successful business travel. Singapore is a major transit hub for long haul routes, with more than 100 airlines flying through the country servicing more than 300 cities worldwide. There are also more than 4 billion people within a 7-hour flight radius. As such, Changi Airport is planning for major growth over the coming years, starting with the opening of its brand new terminal (T4) in October 2017, and followed by an additional terminal (T5) which is planned to open in the late 2020s. The T5 terminal will be capable of handling 50 million passengers per year, and will provide a new era of airport technology experience through fully automated departure systems with facial recognition technology.
Q. TOP TIPS FOR CONDUCTING BUSINESS AT CHANGI AIRPORT (SIN)?
A. Singapore's Changi Airport is one of the best airports in the world, with top class lounge facilities available to a range of airline passengers. Wi-Fi connectivity is free throughout the terminals, but you do need to register to log-on. Power outlets are also readily available to keep your electronics well charged. If you would like to catch up on your sleep or take a quick shower, check out Aerotel in Terminal 1 (near gate D41). The hotel offers an outdoor swimming pool, jacuzzi and fitness centre, which are free for Aerotel Hotel guests or accessible for an admission free to other travellers. Download the Aerotel Singapore Fact Sheet here.
Q. WHAT'S THE BEST WAY TO GET FROM THE AIRPORT TO THE CITY?
A. Taxis are the best option to get to and from the city if you are short on time, the transit time is just 20 mins from Singapore's Changi Airport to the city and downtown areas. Taxi transfers typically cost SGD$30-50 one-way to downtown. Alternatively, there are bus and train transfers to the city. The train line links Terminals 2 and 3 to the city and operate from approx. 5.30am to 11pm. Prices are distance based and typically cost only SGD$2 per ticket to downtown area. For more information, click here.
Q. IF YOU ARE IN A RUSH, WHAT IS THE BEST MODE OF TRANSPORT TO USE WITHIN THE CITY, AND WHY?
A. Traffic can be a problem during peak hours, making it difficult to get a taxi and surcharges are added on top of the metered fare. For this reason, train is the best option for travel within the city, especially for business travellers who need to attend business meetings on time. It is more reliable and affordable.
Q. WHICH IS THE BEST AREA OF THE CITY TO STAY IN FOR BUSINESS TRAVEL, AND WHY?
A. Business travellers generally stay in the downtown core or Marina Bay area, with the Orchard Road belt as an alternative. Major hotel chains are located in these areas, and most of the corporate offices are located in the downtown or Marina Bay areas, which also boast great views of our city skyline and fantastic dining options. Additionally, if you are staying in the Orchard Road area you can easily squeeze in some shopping time after your meetings!
Q. SINGAPORE IS HOME TO PEOPLE OF MANY DIFFERENT CULTURES. ARE THERE ANY CULTURAL SENSITIVITIES THAT BUSINESS TRAVELLERS SHOULD BE MINDFUL AND RESPECTFUL OF WHEN VISITING SINGAPORE?
A. Business travellers should be aware that there are some dietary restrictions that apply to various race or religions in Singapore, so be mindful to check dietary needs when arranging a business meeting.
Q. BEST PLACES TO CONDUCT A WORKING LUNCH / DINNER IN THE CITY?
A. For a local lunch, head over to The Coconut Club (No. 6 Ann Siang Hill) which is about 10-15 mins walk from the CTM Singapore office. Prime Minister Lee Hsien Loong hosted visiting Philippine President Rodrigo Duterte to lunch here! The menu embraces Singapore's traditional dishes, Nasi Lemak and Cendol, in a casual and welcoming setting. If you are looking for somewhere more formal, there are many great restaurants in the CBD and Marina area that have great views and great food. Pre-booking is highly recommended during lunch hours in the CBD. In fact, our office building OUE Downtown has a new retail gallery which offers many interesting lunch selections as well. For dinner, head over to the National Gallery Violet Oon National Kitchen for local Peranakan food in a grand setting and excellent service. After dinner, you can head on to one of the bars above to enjoy a drink and take in the view.
Q. ANY TRAVELLER SAFETY TIPS WHILE VISITING SINGAPORE?
A. Singapore is generally very safe and the laws are strict. Drinking is banned in all public places from 10.30pm to 7am. Retail shops are also not allowed to sell takeaway alcohol from 10.30pm to 7am.
Q. ANY ADVICE FOR FEMALE TRAVELLERS TO MAXIMISE THEIR SAFETY WHILE IN SINGAPORE?
A. As mentioned previously, Singapore is generally very safe even at night. The newly opened JW Marriott South Beach is one of the few hotels in Singapore to have a Women's Floor for female travellers who would like a more exclusive stay.
Q. WHAT SHOULD EVERY BUSINESS TRAVELLER EXPERIENCE WHILE IN SINGAPORE, AND WHY?
A. Our local food! Business meetings may mean take-in lunches or set lunches. Singapore is a food paradise and it would be great to savour some of our local cuisine in the local hawker centres or food courts. Also take a stroll along our waterfront promenade at Marina Bay and witness the iconic Merlion and our beautiful skyline, one of the best in Asia.
Q. WHAT'S THE BEST AND WORST TIME OF YEAR TO TRAVEL TO SINGAPORE, AND WHY?
A. Generally, Singapore is an 'all year' visitor's haven. September can be expensive during the Formula 1 period, so you may want to avoid this time if you are not specifically coming to enjoy the race. Weather-wise, November and December bring heavy rainfall and can limit your ability to visit some of Singapore's best outdoor sites such as our UNESCO heritage site – The Botanic Gardens. National Day is held on 9 August every year. In the few weeks leading up to the event there are parade rehearsals where Singapore's streets and buildings are lined with our national flag, making the city look and feel especially vibrant! The National Day celebrations include energetic street parades with singing and dancing, and are topped off by a spectacular firework display along the waterfront.
Q. IS THERE A MUST-HAVE APP TO DOWNLOAD PRIOR TO ARRIVAL TO MAKE A STAY IN SINGAPORE MORE EFFICIENT/PRODUCTIVE?
A. To get around Singapore on local transport, download the MyTransport app which gives you information about buses and trains. For taxis, download Comfort Delgro App or Grab apps to call a taxi / private car hire in advance. For meal reservations, download Chope app which allows you to make reservations in advance for your business lunches and dinners.
Q. WHAT IS THE MOST COMMON MISTAKE BUSINESS TRAVELLERS MAKE WHEN VISITING SINGAPORE?
A. Not carrying an umbrella! It rains quite suddenly at times and you may be caught off guard when outdoors so remember to bring (or buy) an umbrella.
Do you have an upcoming business trip? Take advantage of our expert knowledge and get in contact with CTM today.
Contact CTM to learn more