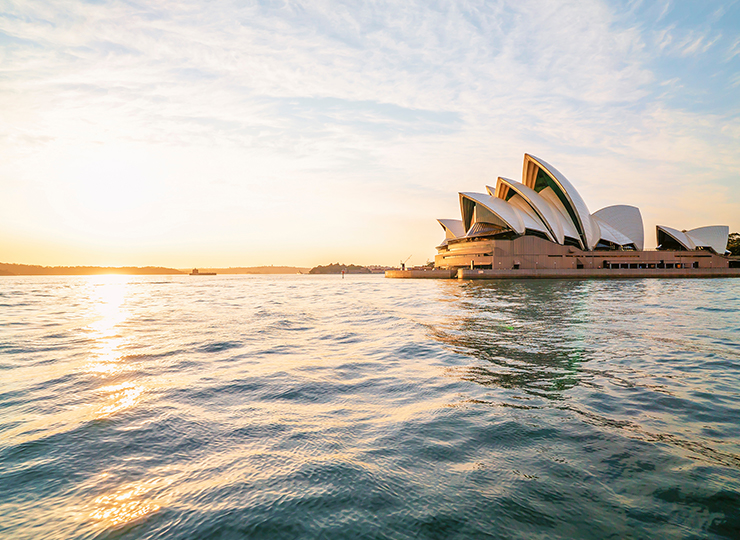 Business Travel Guide to Sydney
This Business Travel Guide to Sydney is provided in interview with Glenn Wilcox, CTM's General Manager New South Wales, Australia.
Glenn manages CTM's operations in New South Wales, Australia, based out of CTM's Sydney office. Originally from Australia's west coast, Glenn joined CTM in 2008 and relocated to Sydney in 2015 to lead the company's Sydney team working across some of CTM Australia's largest corporate travel accounts.
Why do you love living and working in Sydney?
Sydney is an extremely vibrant city, underpinned by that laid-back Australian charm. The city and its sprawling suburbs boast some of the most iconic attractions and breathtaking coastlines in the world, making it a dream destination for both locals and business travellers looking to tag on some sightseeing after their long flight. Sydney is home to more than 5.48 million people and can be described as having 'cities within cities', each with its own distinct character, so there is never a dull moment! It is a diverse and multicultural city, which makes it easy for international business travellers to meet new people and conduct successful business. Aside from the great weather, must-see tourist attractions and welcoming locals, Sydney also serves up some of the best food (and coffee) of anywhere in the world.

Australia is a long way away for most inbound international business travellers – what is your top tip for dealing with jetlag?
I always recommend that as soon as you get on the plane, set your watch to the time of your destination to get yourself psychologically aligned.
Once at your destination, get lots of fresh air if possible… and coffee!
What's the best way to get from the airport to the city?
SYD Airport is only 9km from the city centre (CBD). Sydney's Airport Link train operates fast and convenient services from the Domestic and International terminals to various stations throughout Sydney's CBD, taking approximately 20 mins from airport to city centre. Connecting train, bus, ferry and light rail services also take you to the city's suburbs. Alternatively, catch a taxi or Uber, which operates both low-cost and premium services from SYD Airport.
When using Sydney's public transport, you can get a free smartcard ticket to load funds for use on trains, buses, ferries and light rail. The Opal card can be used on the transport network extending beyond the city to the Blue Mountains, Central Coast, Hunter, Illawarra and Southern Highlands regions surrounding Sydney.
Alternatively, if you need to get to regional locations there are a number of car rental providers situated at the airport – Australians drive on the left, use km/h and fuel is quite reasonably priced compared to much of Europe and Asia.

Which is the best area of the city to stay in, and why?
Sydney offers accommodation for every business traveller's taste and budget, and is home to all the major global hotel brands plus an interesting range of independent and character hotels. However the city is challenged with an under-supply of rooms, so book early to ensure room availability at the best prices. For the true 'Sydney experience', you can't beat staying in the iconic Sydney Harbour / Circular Quay area, the historic Rocks, the brand new Barangaroo precinct or Darling Harbour – all of which offer sensational views, convenient access to the city and world-class hospitality on your doorstep.
Best places to conduct a working lunch / dinner in the city?
Sydney's spectacular harbour and surrounding 'Rocks' historical precinct provide many exceptional dining options for both casual and formal events, but here are some of my top recommendations.
Best business lunch: Bowery Lane (1 O'Connell Street, Sydney) – A modern Australian menu in a casual yet sophisticated environment. Experience a collection of local flavours and cocktail bar reminiscent of industrial era New York.
Best dinner: The Dining Room (Park Hyatt Sydney, 7 Hickson Road, The Rocks) – With floor-to-ceiling windows offering stunning views over the Sydney Opera House, The Dining Room wows guests as soon as they walk in. The menu is Modern Australian with a French twist and showcases local, seasonal produce.

Top tips for conducting business at SYD Airport
Many of the major international and domestic airlines offer great Lounge facilities at SYD Airport for frequent flyers and business travellers, enabling you to use your time effectively while in transit. A number of modern meeting and conference rooms are available to pre-book at T1 International and T3 Domestic, which are well equipped with a range of audio visual equipment. To book, email sydevents@syd.com.au .
Free Wi-Fi is also available throughout SYD International Terminal (T1) and Domestic Terminal (T2).
What characteristic of the Australian culture makes Sydney a great place to travel to for business?
Australians are known for their friendly and welcoming nature, and a culture that values entrepreneurialism, fair play and integrity. Sydney specifically is a multi-cultural city, which makes it easy for many international business travellers to feel comfortable in an otherwise new environment. But don't be fooled by our laid-back nature, we still like to negotiate good outcomes!
What colloquialisms should every business traveller understand before arrival in Australia?
As a nation of chronic abbreviators, a trip to Australia may present the occasional linguistic challenge, even for English-speakers! A common trait is to replace the last syllable of a word with an 'o' or 'ie' – 'arvo' (afternoon), 'tradie' (tradesperson), 'ambo' (ambulance), 'servo' (service station/gas station) and so on.
In a business or travel application, you may encounter 'CBD' (Central Business District / city centre), 'ETA visa' (Electronic Travel Authority visa), 'GST' (Goods & Services Tax), 'ATO' (Australian Taxation Office), 'DAFT' (Department of Foreign Affairs & Trade) to name a few.
And don't be offended if someone compliments you on your pants (trousers) or thongs (footwear)!
What should every business traveller experience while in Sydney, and why?
Sydney's food and wine scene is world-class, and the city boasts some of the world's best waterfront dining. An evening meal or drinks at the world-famous Sydney Harbour at one of the many waterfront bars and restaurants, or on board one of the harbour's cruise boats, is not to be missed – take in the views of the iconic Sydney Opera House and Sydney Harbour Bridge for the ultimate business-selfie souvenir!
The new Barangaroo precinct has quickly become a popular spot for locals and visitors. Located on the western waterfront of Sydney's central business district, it is host to an array of dining and drink venues, perfect for a post-meeting meal and drink or take advantage of the new retail precinct.

What's the best and worst time of year to travel to Sydney, and why?
There's really no bad time to visit this wonderful city. Sydney's climate is fairly temperate all year round however many international visitors, especially those from the northern hemisphere, can be surprised by the cooler temperatures we experience during winter, June to August. The average July daytime temperature is just 13°C (55°F) – still a mild version of winter for many, but don't forget to pack some warmer clothes! If you're planning to combine your business trip with a leisure extension and seeking the Aussie sand and surf experience, definitely pick the warmer summer months of November to February, keeping in mind our long summer school holidays occur over 6-7 weeks at Christmas / New Year so prices can be at a premium.
Travellers should also be conscious of major events that occur throughout the year in Sydney, as this can also affect prices and the accessibility of the city. Vivid Sydney is one to be wary of, the event usually runs throughout May and June and can attract over 2 million visitors to Sydney. It is the largest festival of its kind in the Southern Hemisphere, but it is worth visiting if you end up in Sydney when it's on.
What is the most common mistake business travellers make when visiting Sydney?
Definitely one of the most common mistakes is not booking accommodation far enough in advance. Sydney (like San Francisco) is one of the most in-demand cities in the world. Growth in business tourism and the recent opening of the Sydney Convention and Exhibition Centre has increased demand by an extra 10,000 rooms in an already busy city, so I recommend booking as early as possible to secure the best rates and availability.

Any traveller safety tips while visiting Sydney?
Sydney is generally considered a safe city to travel in by global standards. That said, as Australia's most populous city, whether you're visiting for your first or fiftieth time it's important to be vigilant about your own personal safety after dark or in crowded areas. Kings Cross area, known for its nightlife and budget accommodation, has the highest crime rate and is worth avoiding at night in favour of the safer entertainment districts such as Darling Harbour, Surry Hills and Paddington. The Star Casino is another great location to head to as well. Claiming the title of Australia's second-largest casino and is a well-known entertainment venue for travellers and locals if you have the chance to visit.
SHARE THIS PAGE: