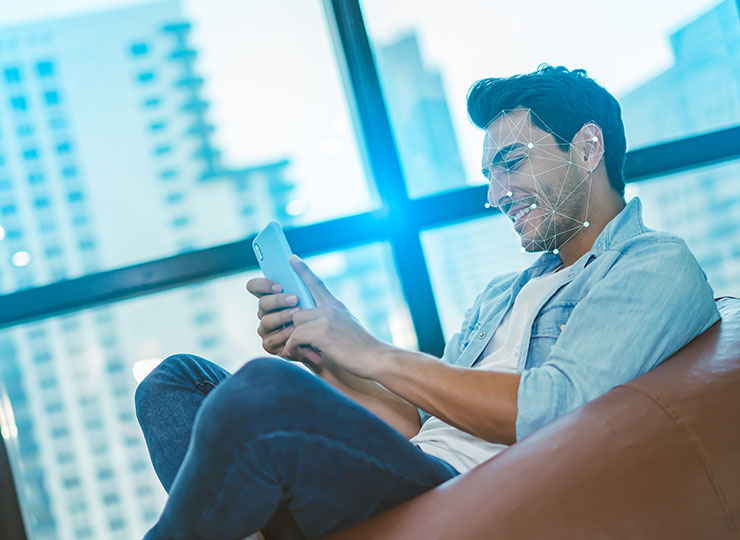 Contactless Travel: The New End-To-End Experience
To win back the confidence of travellers and business travellers alike, travel industry suppliers have been making huge adjustments to their products and experiences to facilitate safer, more efficient, travel.
The business benefits of face-to-face meetings have largely gone untapped during the past 12 months, but as businesses now resume their travel activity, a seamless travel experience has never been so important.
With this in mind, it's not surprising that travel suppliers such as airports have doubled their investment in contactless technologies in 2021, as the industry bands together to make every traveller touchpoint as touch-less as possible.
Below we take a holistic view of how the travel industry is providing contactless solutions to ensure safer travel experiences, at every step of the journey.

Airports
While aviation-related spending decreased in 2020, a recent report from Frost & Sullivan highlighted an increase in investment into contactless passenger processing technology.
The findings were supported by SITA's 'Air Transport IT Insights 2020' report1 that saw that 64 per cent of airports are planning to roll out biometric gates for self-boarding by 2023, three times as many as in 2020.
The e-Gates, as they are often known, enable one-step biometric processing with facial recognition technology. Once checked in, travellers can drop their bags, pass through security and self-board using e-Gates, eliminating the need for contact with staff and simultaneously streamlining the airport experience.
Earlier this year, Emirates enhanced its self-service check-in and bag-drop kiosks at Dubai International to allow passengers to navigate the process via their personal mobile devices. Passengers can then pass through immigration, enter the Emirates Lounge and board their flights completely contact-free, using the biometric facial recognition technology.
Hong Kong Airport has launched e-Security Gates and e-Boarding Gates which are empowered by biometrics and touchless technologies. Also, 6 touchless lifts are being trialed at HKIA and all 29 passenger lifts in the terminals will become touchless by the end of this year.
In April last year, Etihad became the first airline to trial touchless health screenings at airport kiosks and bag drops. Partnering with Australian company Elenium Automation, the technology can monitor the temperature, heart rate and respiratory rate of any person, before they complete the check-in process.
Etihad was also one of the first airlines to trial the IATA Travel Pass, a mobile app that stores information for 'digital health passports', such as COVID-19 test results and vaccination details. We can expect health passports to play a major role in the return to travel, with local carriers Qantas and Air New Zealand also looking into the technology.
Learn more about Digital Health Passports in our blog.
READ MORE
Airplanes
Once on-board, the in-flight experience is the next focus for airlines when it comes to contactless travel. In March 2021, Delta introduced tap-to-pay technology for purchasing onboard food and beverage items, with the option to email receipts for reconciliation purposes.
These payment methods prove to be a key priority across the industry, with SITA's annual Air Transport IT Insights research2 stating that 74 per cent of airlines see value in complete mobile touchless payment – from booking to arrival.
Early this year, Singapore Airlines introduced SingaporeAir mobile app for a more seamless and contactless travel experience, including web check-in anywhere between 48 hours to 1.5 hours prior to departure and mobile boarding pass generation. Travellers can also browse through the digital menu and inflight meal options to pre-order their main course up to one week in advance.
Qatar Airways has already announced plans to offer passengers touchless technology for its Oryx One inflight entertainment system (IFE). By connecting their personal electronic devices (PEDs) with their seat-back IFE screen, passengers can navigate through the airline's Oryx One IFE system all from their personal device.
Passengers across all cabin classes will also have the option to pair their personal Bluetooth headphones with the onboard seatback IFE system, another way to limit passenger surface contact and prevent the spread of infection on board.

Hotels
Digital key technology has been steadily introduced across the hotel industry for a few years now but has seen a dramatic increase since the COVID-19 pandemic. In 2020, hotel chain Hyatt reached a 500-property milestone for its digital key adoption, allowing guests to bypass the front desk for check-in and check-out. Around the same time, Hilton equipped 80 per cent of its hotel portfolio with the technology, spanning over 100 million rooms globally.
Accor Hotels also rolled out the technology at selected properties in North America, Europe and Asia in January this year. The chain has since announced an ambitious but essential plan to reach 500 properties by the end of 2021, and 50 per cent of its portfolio within the next five years.
However, the touchless experience needs to expand beyond just check-in to enable a swift but safe return to hospitality. A recent Skift Research Global Travel Outlook 20213 revealed that traveller willingness to download a hotel app has risen during the pandemic, from 73 per cent of respondents in March 2020, to 80 per cent in August 2020.
As of March 2021, Accor is offering digital menus and payment options for room service across four of its properties in the UK. In countries such as Australia and New Zealand, where little to no restrictions are in place for restaurant visits, the hotel chain is providing staff-served buffets and socially distanced table seating.

Cars
An often-forgotten victim of the travel ban is car rental companies, who sold up to 90 per cent of their fleet during COVID just to stay afloat. Now that business travel is up and running, companies such as Avis and Hertz are adopting contact-less methods to reassure returning customers that car rental can be a safe experience.
Avis Budget Group now offer customers Digital Check-in, where they can customise their rental prior to arriving at the store. As an additional benefit, the online service speeds up the hiring process, meaning customers can eliminate time spent at the counter, and get access to their vehicle faster.
Further, car rental company Hertz, is now allowing customers to sign rental agreements via a smartphone or tablet, to facilitate a more contactless experience.
Challenges
While it's widely accepted that contactless technology will shape the future not just for travel but life as we know it, it's important that suppliers don't allow this shift to impact the standard of service they provide.
If COVID-19 has taught our industry anything, it's the value of tailored, informative, and professional service, at a time of uncertainty and constant change.
Understanding the relationship between innovative technology and personalised service has been the foundation of Corporate Travel Management's (CTM's) success. We are excited to see how the impacts of contactless technology can facilitate the successful return of travel and provide an even better experience for travellers in 2021 and beyond.
Learn more about how CTM is facilitating a safe return to travel for our customers.
Contact our team of dedicated travel consultants today: