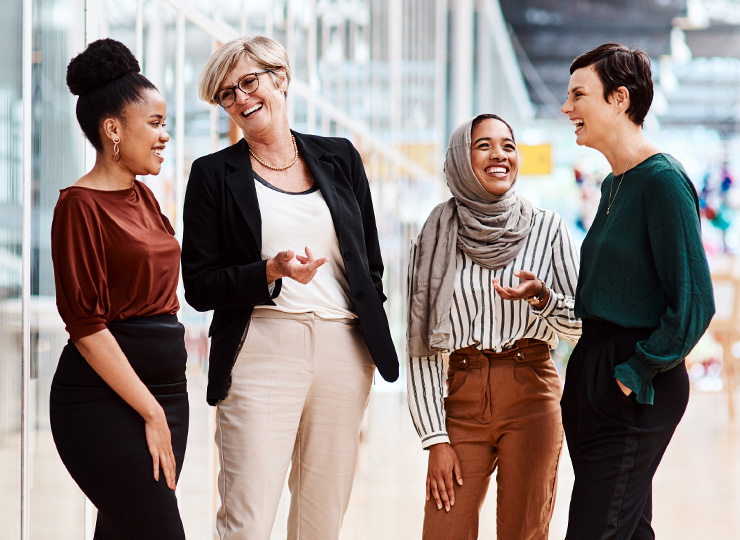 CTM marks International Women's Day 2022
This year's theme for International Women's Day (IWD) is about "imagining a gender-equal world free of bias, stereotypes, and discrimination. A world that is diverse, equitable, and inclusive. A world where difference is valued and celebrated."
Corporate Travel Management (CTM) is committed to providing a collaborative and supportive workplace culture that provides opportunities for every individual to achieve their best. Valuing and recognising the importance of having a diverse team and embracing the unique contributions of all our staff is of utmost importance to CTM. We are incredibly proud of our large female workforce and the high proportion of female leadership roles.
CTM spoke with a range of our senior female leaders to find out about their roles, what led them to their profession, advice for future generations, and what gender equality means to them. Here is what they had to say…
Sharon Kok
Chief Financial Officer (CFO), CTM Asia
Sharon is responsible for overall financial operations, budgeting, reporting and working closely with key stakeholders to formulate business strategy.
"It is my love for numbers and a strong interest in financial analysis and reporting that led me to my profession. I started my career as an auditor and worked my way up the ranks through hard work and determination to CFO. For anyone seeking to work within finance no matter the role, don't let your job title define you. From my experience, I would encourage the next generation to always respond positively when challenged and if you have made a mistake, take ownership. We are only human and it is from this that we learn and build resilience."
When asked what this year's IWD theme means to Sharon, she expresses "A diverse, equitable, and inclusive world is a fundamental right, no matter whether you're a man or woman, regardless of age and race."
Debbie Carling
Chief Executive Officer (CEO), CTM EMEA
Debbie is responsible for planning and developing a strategy that drives company growth and success.
"I have worked in the travel industry for more than 25 years across many businesses before taking on the CEO position in 2016. I feel as passionate about the travel industry today as I did 25 years ago – it's fast-moving and dynamic. My advice to the next generation of females seeking to enter my professional field is to embrace the challenges and turn them into an opportunity. In my role, it's vital to have a clear vision, be receptive and adaptable. All of these can have a profound impact on strategy, priorities, and decision making. Being able to change direction when needed can be a valuable skill. Listen and learn."
Debbie reflected on this year's IWD theme and says "Everyone should be free to pursue whatever path they desire with no restrictions on lifestyle, career, progression, choices, and have the opportunity to climb the ladder to fulfil their dreams."
Nicky Marshall
Head of Support, CTM AU/NZ
Nicky looks after the day to day operations of the National Support Team, Tramada Support and Implementations, and CTM's Quality Assurance Teams.
"I moved into the Head of Support role, as I wanted a new challenge after working as an Operational Team Leader. The opportunity to be a leader in a solutions-focused role is rewarding for me. If you're striving for a management role, be prepared to work hard. Communication and taking people on the journey goes a long way to building trust and rapport amongst your team. It will create a positive work culture, which is an important part of employee engagement. Leadership is earned, so ensure your voice is heard as a thought leader."
Nicky echoed the importance of this year's IWD theme and explained "The ability to have the same opportunities to achieve whatever you want without barriers is so important regardless of gender."
Anna Ng
Head of Maintenance & Support, CTM Asia

Anna's role is varied with no day ever the same. Planning and maintaining the network infrastructure, IT utilisation planning, developing and implementing IT policy and procedure, and assisting IT Compliance Assessment with auditors are some of her responsibilities.
"It was my passion for computer science and fascination with IT that led me to my dream job, always motivated to keep abreast of new technology and standards. For the future generations of IT and computer science experts, I would encourage you to create opportunities by trying new things and weaving your passions and interests into your work."
On the theme of IWD 2022, Anna added "I believe all genders should have equal responsibilities and opportunities."
Karen Janssen
Chief Information Officer (CIO) – Technology, EMEA
Karen's role is accountable for the continuous evaluation of opportunities to leverage new technology sourcing options to achieve business strategic objectives and create business value through technology.
"I was very fortunate to start my journey as a Travel Agent but I have to confess I was never great at selling or achieving my sales targets, instead I spent more time ensuring that my colleagues had computers that worked. I managed to learn more than required about the applications that were used to undertake our jobs. My interest in IT must have shined, as an opportunity presented itself to join IT Support which I jumped at and the rest was history.
"Advice that I have always valued is from a movie (believe it or not). The line was – just because it is, does not mean it has to be. For me, this means challenging the status quo which I do as part of my profession. For those striving for a similar career path, ensure to always believe in yourself and for every bump in the road there is a lesson to learn, and an opportunity to explore."
For Karen, the IWD theme for 2022 means "A world where discriminatory laws do not exist and an environment where there is true empowerment for women and girls."
Carla Beaton
Group Financial Controller, CTM Global 
Carla's role collates the financial results across all regions of CTM, ensuring accuracy and consistency of financial reporting.
"Identifying my strengths and where I get my passion, is what led me to my career in financial accounting and reporting. The best advice I have received is, to stop wearing your wishbone where your backbone should be. If you want something, learn, hustle and go get it. For anyone thinking of entering financial accounting and reporting, it opens up many opportunities and it is rapidly changing. What you do with these opportunities and how you keep up with the change is up to you."
Carla said that this year's IWD theme means to her "That there should be equal rights and opportunities, regardless of a person's gender. It is important to be aware of bias and help eliminate it whether it be towards stereotypes or gender."
Maureen Brady
Chief Operating Officer (COO), CTM North America
Maureen's role has executive and strategic responsibility for growth, client retention, and service delivery.
"My career in travel started when an opportunity arose for a wholesale leisure company in Mexico. As I was single and fluent in Spanish, I thought why not! I was fascinated by the business aspect of travel and fell in love with the industry. It is so dynamic and the people are dedicated to service, I'm forever grateful I pursued the opportunity.
"If I had to provide advice to anyone seeking to work in my profession, I would say, networking, alliance building, and decisiveness are key skills to work on. Always remember to help others succeed and success will be yours."
Maureen shared similar views on the 2022 IWD theme and said "In a business setting, gender equality means more than just having equal opportunities, it means equal authority, responsibility and influence. "