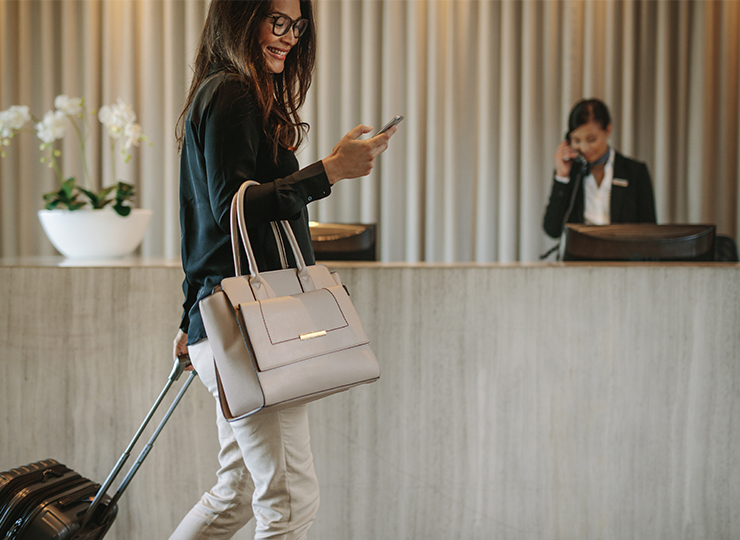 Hotel Programs: Where is the value?
Too many people consider hotel accommodation a 'sunk cost' of business travel – but it shouldn't be that way.
Accommodation is a key part of our clients' travel spend and we have the technology and expertise to help them accurately identify savings opportunities. At CTM, we invest heavily in delivering tools and services which maximise savings, including rate forecasting technology, access to pre-paid last-minute inventory and tactical supplier negotiations.
Our insights are your advantage
So how do we use our technology tool to our clients' advantage? With Lightning online booking tool, only hotels who fit the in-policy requirements will be displayed and booked with the Hotel Policies Listing option, leading to minimised hotel leakage.
Preferred Hotel Program
With a Preferred Hotel Program, our clients have access to special rates, benefits and inclusions that have been negotiated with our preferred accommodation partners. Clients can also access any previously negotiated deals they have with hotels through CTM. John Balloch, CTM AU/NZ's Head of Supplier Relations, explains that "having a strong connection to local hotel providers gives CTM the ability to negotiate the best possible rate for our clients, securing significant savings that are not available through independent bookings."
Using insights for benefits
Understanding the full picture of our client's travel profile is the key to identifying savings opportunities for them.  This includes how many nights they are booking, when and where those bookings are taking place and any incidental expenditure from these bookings. "Once we understand our client's full travel account, we can negotiate the best arrangements, to maximise savings and still meet the needs of their business," John explains. Having the right level of expertise and experience in negotiating with hotels suppliers is paramount for achieving the best possible savings for clients. This includes understanding the ideal time of year to launch Requests for Proposals for accommodation suppliers to capitalise on market over-supply. CTM's Corporate Sales Team have this experience and work with our clients to develop a hotel program that will maximise savings while delivering value to their business.

CTM's top tips to better hotel negotiations
When working with clients to review and rationalise their hotel spend, CTM's Corporate Sales Team consider several steps, including:
Reviewing and forecasting achievable room night volumes per destination
Working with the client to consider consolidating room nights across fewer hotels, to maximise buying power
Reviewing benefits for frequent travellers
Negotiating discounted or free-of-charge value-adds for accommodation incidentals like meals
Using CTM's Preferred Hotel Programs for destinations where clients may have reduced volume or no preferred suppliers, and
Negotiating longer fixed-term agreements to further drive savings.
Providing your travellers with the rooms they want, while driving the savings your business needs
With our hotel offering, you can offer your travellers more choice, secure the savings your program needs, and ensure a duty of care for those who are on the road.
How does your organisation's accommodation costs compare?
Make sure your hotel spend is delivering value for your business by talking to your account manager today.