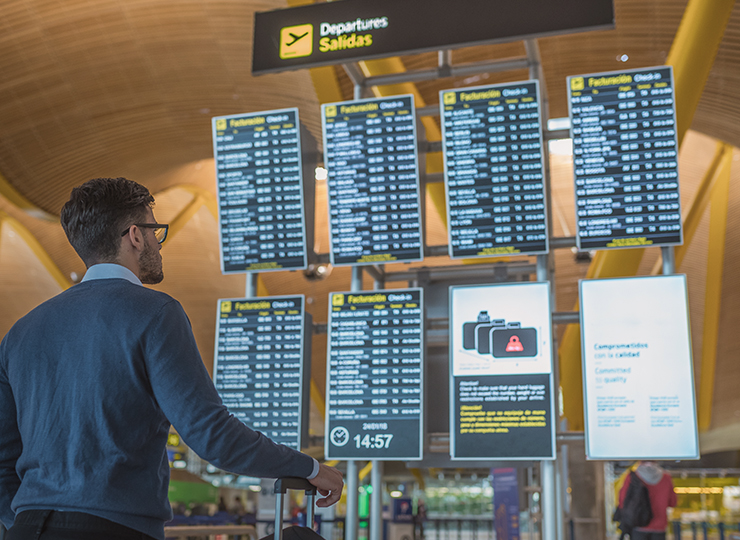 New airport and airline technology
Towards the end of 2017, we previewed some of the newest airport technology and security set to be introduced to travellers as part of their regular airport experience. Among those listed for 2018 were CT Walkways, biometric and behavioural profiling systems. In 2019 we're predicted to see advancements in the blockchain, voice recognition and RFID.
In 2018 it was biometric boarding that recorded several milestones, particularly by increasing the speed of boarding for various airlines. British Airways is currently testing the process at LAX with the aim of boarding a full plane of 400 passengers in 22 minutes1. Lufthansa has already achieved similar results, boarding some 350 passengers onto an A380 in 20 minutes earlier this year2.
The smart airports and airlines of the future are investing in the improvement of their service delivery with new technology at various touch points of the customer journey. Here are just some of the new airport technologies business travellers can expect in 2019 and beyond.
Blockchain
While there is some confusion on the exact definition of blockchain, there is a heightened level of awareness in the industry as to its potential benefits in the end-to-end air travel process. According to SITA, the leading specialist in air transport communications and information technology, 34% of airports are planning to introduce blockchain research and development programs by 2021. The airline industry has already gotten the jump on this with Singapore Airlines announcing the world-first launch of KrisPay, a blockchain-based digital wallet, for its loyalty arm last year.
What does this mean for the average corporate and leisure traveller? By keeping a permanent record of all transactions taken, the rebooking process is greatly simplified, and targeted marketing to the individual can be more personalised. Similarly, SITA Lab, Geneva Airport, British Airways, Heathrow Airport and Miami International Airport have also joined forces to trial the use of smart contracts for shared control of flight data3. In 2019 we can expect to see more announcements made as airlines and their partners continue to work on utilising such data for the benefit of their customers.
Voice recognition
With the popularity of voice recognition-aided home assistants, the aviation industry is also looking for ways to incorporate such technology into its service offering. United Airlines, in conjunction with Google Assistant, currently enables passengers to check-in for flights simply by saying "Hey Google, check in to my flight". In addition to check-ins, Virgin Australia also allows you to check on the status of your flight, through its partnership with Amazon's Alexa. This system is very similar to one recently introduced by London Heathrow Airport. The eventual goal is to develop software and features that can anticipate travellers' needs well in advance of their travel bookings. The adoption of voice recognition technology to streamline our pre-airport routine is undoubtedly the future of travel.
RFID
Radio frequency identification (RFID) technology is the encoding of digital data into tags or labels to be captured by a radio wave reader. While this technology has always existed in other industries as a method of providing close to accurate real-time inventory information, its application to baggage management means it is now enjoying a renaissance in the airline industry. IATA predicts that by 2020, customers will notice significant changes in how their baggage is managed, including an increase in self-service and off-airport provisions4. There will also be a projected increase in the use of real-time tracking, providing travellers with more transparency of information throughout tracking points. By taking the hassle out of their journey increases the quality of the customer experience.
Among the benefits of RFID technology is its compatibility with existing systems and cheap cost of implementation. Through large-scale RFID adoption, it is possible to envision a future where cases of lost baggage or the delay in returning a lost item to the passengers have significantly declined. Some IATA member airlines are already considering mandating an RFID inlay for all bag tags manufactured after 2020 to speed up the rate of adoption industry-wide5.
What's coming next…
From what we have seen, the airports of the future will make business travel even easier while reducing the need for human interaction. In future, we expect to see little to no human contact from the point of arrival and right-up until boarding at the gate. At CTM we aim to stay abreast of the latest technology and developments in the industry and will continue to update on all new developments that are transforming business travel.
SHARE THIS PAGE: