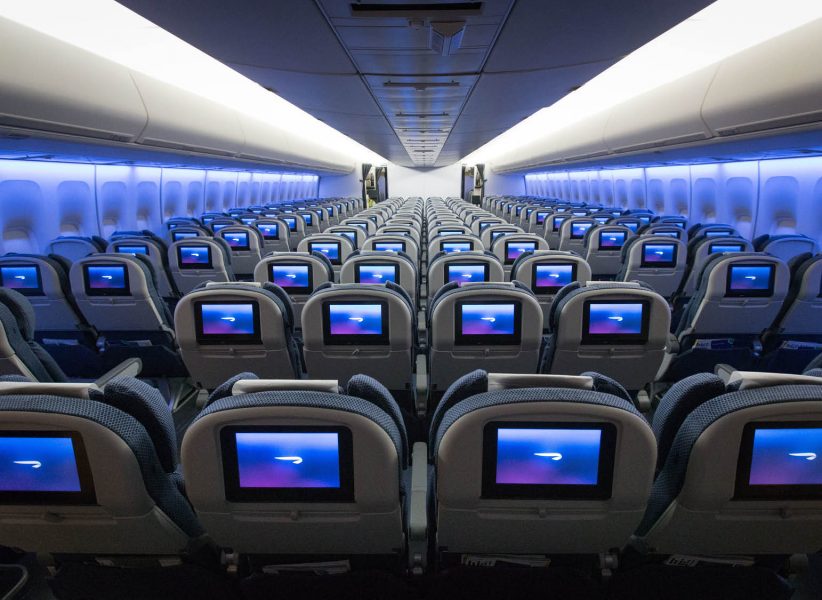 Premium Economy in 2019 - Is it worth it?
2019 was dubbed the 'Year of Premium Economy', but did it live up to its expectations? Depending on your corporate travel policy, Premium Economy can be a preferred option for short-haul or frequent travel, offering added comfort to standard Economy without the high costs of Business Class. But with fares ranging from anywhere between 30% to double the cost of Economy, is the premium experience worth the price?
In this blog we review how this offering has evolved in 2019, and which airlines are leading the industry.
History of Premium Economy class
First introduced in 1992 by Eva Air, Premium Economy was designed to bridge the gap between standard Economy and Business Class. It originally involved a purely in-air experience, with extra legroom and wider seats. Today's product is much more advanced, with an exponential uptake from airlines around the world competing to offer the best end-to-end experience for premium travellers.
Premium Economy in 2019
While Premium Economy has been around for almost two decades, this year we saw many big players jump on-board, such as United Airline's Premium Plus that took flight from 30 March 2019. With increased market competition, many airlines are revolutionising their premium products to stay ahead of the game.
If you haven't yet experienced Premium Economy class, you may be wondering what makes it different from Economy. Typically speaking, Premium Economy seats offer 5-7 inches of additional legroom and wider seats with a greater recline. Depending on the airline and route, passengers may also receive a separate catering menu and extended entertainment offering.
In the past year, airlines have introduced angle-flat seats in Premium Economy (not quite fully flat), boosting the comfort levels for those longer-haul flights. But there is plenty of room to grow, with angle-flat seats offering 100 degrees of recline compared to the 180 degrees of First and Business Class.
But what about the on-ground experience? Our recent survey data shows that speed of processing is the most important part of our customers' airport experience. This is where opting for a Premium Economy product can help by offering private screening areas for faster security checks, as well as priority boarding and expedited baggage delivery.
Leaders in the Premium Economy space
Singapore Airlines – Singapore Airlines Premium Economy Class offers priority check-in, boarding and baggage handling as well as 35kg checked allowance and two carry-on pieces. Seats are a spacious 19.5" with a 125° recline in a dedicated cabin with 2-4-2 configuration. The in-flight entertainment is extensive, and passengers are provided with active noise-cancelling headphones. The 'Book the Cook' service offers meals created by international chefs that can be booked up to 24hrs prior to departure.

Cathay Pacific –  In Premium Economy Class, a welcome drink and fresh up amenity kit will be provided to passengers on long-haul flights. Dedicated check-in counters at selected airports and priority boarding at the gate will be offered. Each Premium Economy Class' spacious seat has a generous recline, expanded legroom and a supported headrest. The airline is also enhancing the Boeing 777-300ER aircraft with calf rest and leather-padded footrest to ensure the flight journey is as comfortable as possible.

Japan Airlines –  Japan Airlines Premium Economy Class offers advanced airport services to passengers, including special check-in counter, pre-flight airport lounge privileges and priority baggage service upon arrival. Both Sky Shell and Sky Premium seats in Premium Economy Class provide extra legroom and personal space to ensure passengers enjoy a pleasant flight.

Eva Air –  Eva Air Premium Economy Class offers priority boarding as well as a generous 35kg baggage allowance. They adopted a business class seat to provide a 38 inch long, 19.5 inch wide seating space with ample legroom in Premium Economy Class. The ergonomically engineered chair and "Mood Light" lighting system will ensure that passengers enjoy good quality sleep with ultimate comfort.


Lufthansa – More space, more baggage, more service: there are lots of benefits associated with long-haul journeys in Lufthansa Premium Economy Class. The Premium Economy Class provides seats with up to 50% more legroom in all directions and two items of check-in baggage weighing up to 23 kg each which is twice as much as in Economy Class.

British Airways – World Traveller Plus is BA's premium seating product, offering similar perks to its peers including double the baggage allowance, newly-crafted menus and larger, more comfortable seats than Economy. There is a personal entertainment system with noise-cancelling headphones and priority boarding.

United Airlines – Known as Premium Plus (not to be confused with Economy Plus), United's premium product offers priority boarding and security line access, complimentary alcoholic beverages and a recliner-style seat with double the recline of traditional Economy class. While there's no lounge access included, passengers can check in two free standard checked bags. Having only launched little over six months ago, United will be adding Premium Plus seating to one aircraft every 10 days until 2020.
Is it worth it?
According to our CTM customers, travelling in comfort was ranked the best part of a business trip. While Premium Economy today doesn't offer a fully lie-flat bed, daytime flyers can benefit from the extra perks such as more comfortable seating, tastier meals, special amenity kits and speedier airport processing.
In short, here's the top things to consider before purchasing a Premium Economy fare:
Research the type of aircraft you are flying on, as Premium Economy may differ in size and comfort.
If flying overnight, does the seat recline enough to allow for a better night's sleep?
Is the fare an upgraded Economy ticket? If so, check the fare restrictions before booking.
While we have seen a significant improvement in the overall Premium Economy experience, there is still a lot to look forward to in this fast-evolving concept.
CTM works to provide our customers with the best possible supplier fares. Contact us to find out more about how CTM can provide a return on investment for your company travel.
Contact CTM to learn more