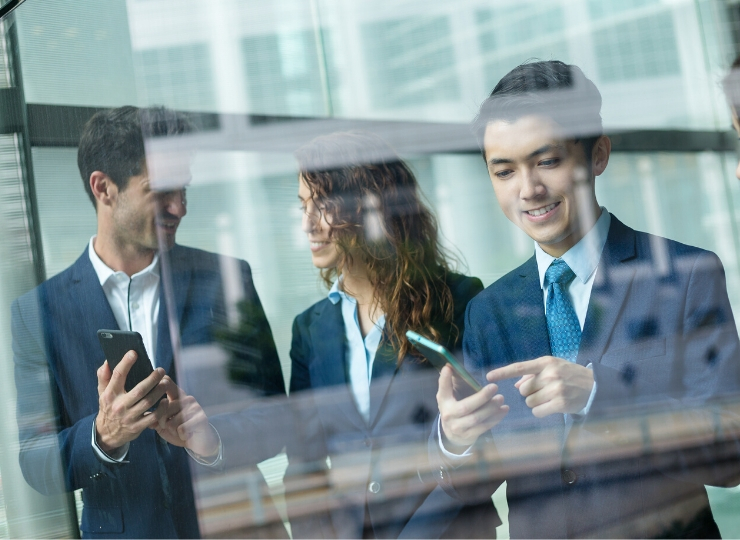 Round-the-clock reassurance: service and technology
Corporate travel never sleeps. At any moment all over the world, countless business travellers are on the move, catching flights, checking in to hotels, squeezing in some work while waiting in transit. Along with this, travellers may need to navigate last-minute travel changes, delays or unforeseen risks.
When you're away from loved ones, fulfilling essential tasks for an employer, it is critical to have the support you require, anywhere, anytime.
As a global provider of travel management services, Corporate Travel Management (CTM) ensures assistance is always on hand, through our service and technology, 24 hours a day, seven days a week.
If you're after pre-trip advice, a quick answer for a simple enquiry, or help during a high-risk travel emergency, someone from our team will be available.
24/7 technology
The modern business traveller faces several complex challenges.
Juggling busy work schedules to attend important meetings in often unfamiliar surroundings demands a high degree of organisation.
CTM's technology solutions give you complete control of all aspects of your travel program.
At any time of day or night, you can book and check-in to flights, organise accommodation, access travel documents, process expenses, or receive real-time alerts and updates.
Our fast, intuitive and reliable tools will inform you about breaking news as it happens, making sure you're across any relevant events that may impact your travel.
And if your circumstances change, CTM's technology allows for last-minute bookings while our tracking tools keep travellers and employers connected.
Travel managers also have 24/7 access to transformational data that can assist your organisation to improve behaviour and implement suitable travel policies, saving both time and money.
Discover CTM's suite of travel technology HERE.
Getting personal
While travel technology is a key enhancer for customer satisfaction, it must be supported by exceptional personalised service.
Business travel can be complex. That is equally the case for a short, domestic journey as it can be for travelling internationally or to remote locations.
In times of need a friendly, familiar voice can make all the difference. CTM's dedicated consultants make it their priority to understand your specific requirements to help reduce anxiety and maximise safety.
Our corporate sales team acts as an extension of your team and handles everything from supplier negotiations, traveller safety to travel program reporting. This allows us to provide a level of support that simply isn't available outside of a managed travel program.
Whether rearranging trip details at the last minute or having contingencies in place to handle an unexpected weather event, CTM's travel solutions save you from all the worries.
After-hours support
Unforeseen events can impact travel at the most inconvenient times. Weather events don't always strike during business hours while transport cancellations aren't scheduled.
That is why CTM prioritises localised, after-hours emergency travel support to customers. Unlike many travel management companies, we do not outsource our consulting, so local and knowledgeable assistance is available at any time.
Our teams are manned by experienced consultants with access to the same systems as your business hours team, such as bookings, traveller profiles, negotiated supplier rates and policy information.
This allows them to manage last-minute bookings, changes or cancellations or resolve any other issues. Our after-hours service can also be quickly scaled up during busy periods or times of crisis.
Global network, local solutions
CTM has an extensive global presence, with solutions developed and delivered by local travel consultants.
Our global network is underpinned by compatible systems and processes in every market, delivering maximum savings, efficiency and compliance.
Therefore, you receive the same exemplary service and local market expertise, no matter where your travels take you.
So, whether you're an experienced frequent flyer or occasional business traveller, CTM provides the round-the-clock reassurance you need, leaving you free to get on with the job.
Contact CTM today to discuss how our service and technology can transform your travel program.