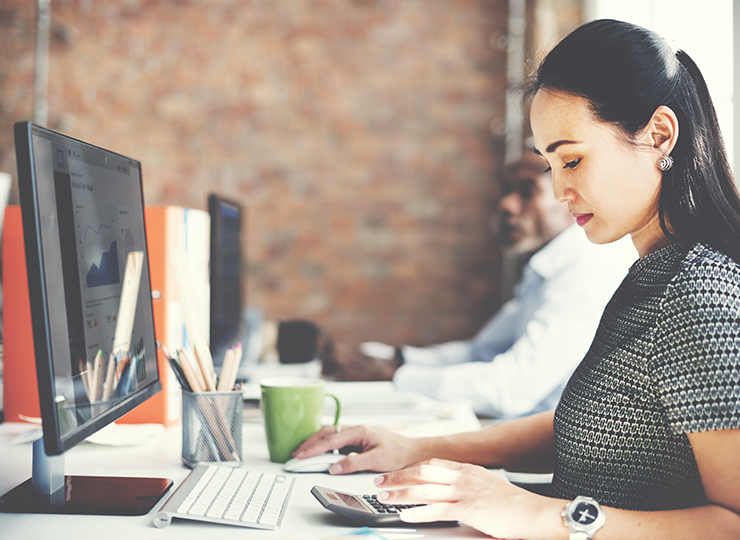 7 Reasons Your Business Should Use an Online Booking Tool
Are you looking to improve the efficiency of your company's travel policy? Perhaps you're seeking a way to reduce your corporate travel spend?
A centralised travel booking process provides significant advantages for businesses to improve their productivity and drive greater cost savings. Studies show that on average, business travellers carry four devices1. Therefore, it is increasingly important for companies to invest in travel technology that meets the needs of their business and travelling workforce. Whether you're a travel booker, approver, traveller, or all three, an online booking tool (OBT) can provide the perfect solution to your travel management needs. Below are a few of the many reasons why your business could benefit from utilising an OBT.
1. Save time and money
Purchases made through OBTs incur lower fees than those made through travel agents. In addition, travellers are more likely to opt for a cheaper airfare if the cost difference is visually represented before them. This concept of 'visual guilt' can drive airfare savings of up to 10 per cent for businesses(2). Furthermore, some OBTs require travellers to submit a reason for choosing an airfare if it isn't the cheapest available. The user is then accountable for any lost savings. OBTs also save time by streamlining the booking process. CTM's proprietary OBT, Lightning, provides an end-to-end booking system, allowing users to book air and hotel all in one place, eliminating the need for multiple web pages and long phone calls.
2. Increase employee efficiency
An OBT eliminates the need for an in-house travel booker, allowing PAs and EAs to focus on their day jobs. Leading travel management companies (TMCs), such as CTM, provide training to ensure everyone knows how to utilise the OBT's features, so companies can be sure they are getting the most value from their travel management solution. Inbuilt approval features ensure no time and money is wasted on unapproved travel. This can be set up to allow different levels of authority for different users (bookers, approvers, travellers). Intuitive technology means all user information is stored within the OBT, leaving less room for error when it comes to entering frequent flyer numbers or spelling a traveller's name correctly.
3. Bespoke service offering
Corporate OBTs have evolved over the last few years and are now offering a personalised experience from top to bottom. CTM's Lightning tool stores the required personal information for each traveller, such as unused ticket credits, frequent flyer information and preferred suppliers. Different filtering options allow for customised content display options. Whether you prefer your content displayed in lists or maps, you can personalise your display to what best suits your company.
4. Ensure duty of care
With our pre-trip approval, companies can designate different levels of approval and functionality to users. Responsibility is then delegated appropriately and decision-makers are held accountable for their travellers. Traveller tracking and risk alerts allow companies to easily locate their people in a timely manner so as to warn them of any potential threats. Our OBT is highly configurable and can ensure 100% mandate to in-policy buying, such as airlines and hotels that meet your duty-of-care commitments.
5. Travel policy compliance
Complete configuration of your company's travel policy restricts users from booking travel that is not compliant. This may involve only showing content from preferred suppliers or removing options that are above price limits. If your company has negotiated rates with a supplier, CTM is able to upload these and any restricted bookings into your OBT. If required, it will trigger an approval request if the in policy options have sold out or don't meet the specific travel needs.
6. Improve data capture and reporting
Access to benchmarking data and travel reports provide regular guidance and advice on how to increase the value of your travel program. Advanced business intelligence tools offer strategic account analysis to identify new savings opportunities and benchmark your contracts against similar companies. This ensures you receive the best possible deals. Booking all aspects of your travel in the one OBT ensures that all data is transferred to the reporting system, payment provider and risk provider. Plus, with CTM you get a bundled fee for air travel and hotel when booked in the same transaction.
7. Book on-the-go
You no longer need to worry about spur-of-the-moment changes to travel arrangements. With the development of apps like Lightning Mobile app, you can now take the functionality of your OBT on the go, with the full OBT experience replicated on your mobile device. The ability to complete end-to-end bookings on your mobile device means that if delays prevent you making a connecting flight, you can immediately book a later alternative no matter where you are. You can even book your connecting flight before you land with your carrier's in-flight Wi-Fi service. Travel arrangers can book after hours via the app, saving time and money and in-app notifications keep the traveller informed while on the go.
If you'd like to find out how an online booking tool could help your business, contact CTM today.