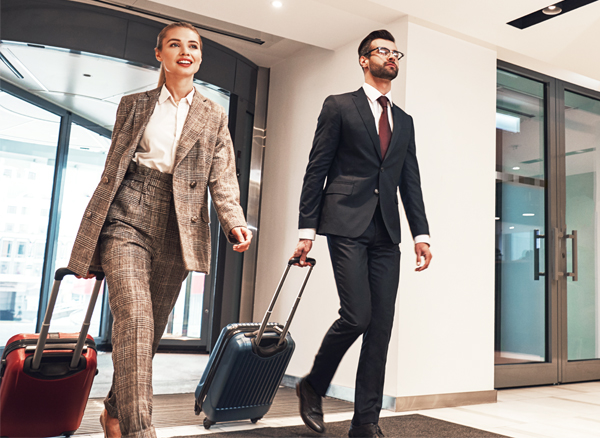 The hotel experience post-COVID-19: Accor Hotels Q&A
As businesses around the globe prepare for re-entry to business travel, the top concern for Corporate Travel Management (CTM) customers is the health and safety of their travellers. In this interview with Simon McGrath, Chief Operating Officer – Pacific at Accor, we identify how Accor plans to welcome business travellers back to their properties in a safe, welcoming and familiar environment.

Q. What health and safety measures are Accor group properties implementing to reassure guests about the health and safety of their services? How do these measures differ from pre-COVID-19? How will properties maintain accountability for achieving these measures, and how will this be communicated to guests and the travel industry?
Accor: High standards of hygiene and cleanliness are already a given in all Accor hotels, all over the world. Nevertheless, as our hotels re-open, we will go even further with the implementation of additional cleaning standards and operational measures that draw on our long-standing experience.
Accor partners with AXA
We have recently announced a strategic partnership between Accor and AXA, to provide medical support to guests across the Accor hotels network. Fully qualified physicians and medical specialists will be available to Accor guests 24/7 worldwide. In the first instance, this will be via tele-medical consultations and, if further action is needed, the hotel teams and AXA will be able to expedite this for the guest.
ALLSAFE
The safety of our guests and teams is our utmost priority and now we have elevated our protocols even further. ALLSAFE communicates our commitment to upholding these elevated cleanliness standards, which has some of the most stringent cleaning standards and operational protocols in the world of hospitality.
The ALLSAFE global cleanliness and prevention standards have been developed with and vetted by Bureau Veritas, a world leader in testing, inspections and certification, and covers:
Enhanced cleaning protocols
Enhanced staff training
New guest contact measures
Enhanced food safety measures
Global medical support for all guests in a partnership with AXA
Communication of ALLSAFE and our AXA partnership will run through our above and below the line communication channels with our teams, guests, suppliers and partners.


Q. Are there any significant changes to standard hotel services (such as dining, fitness / health / spa facilities, business / meeting services) that business travellers can expect to experience in the coming 6 months?
Accor: For us it's always a matter of finding the best solutions to providing an outstanding quality of service for our guests. So, whilst we will be working within government social distancing restrictions, we will endeavour to bring the best experience to our guests wherever possible. For example, if there is a reduction in numbers allowed to use fitness facilities – our general managers will innovate by providing guests with information on local running routes and yoga mats.
Q. What metrics and benchmarks will the Accor group measure as indicators to resuming 'normal' services in their properties, such as the re-opening of temporarily closed properties or hotel facilities such as dining and fitness facilities resuming?
Accor: We are moving towards resuming 'normal' services by following the COVIDSAFE guidelines provided in each country, state and territory in the Pacific, complimented by our own ALLSAFE health and safety protocols. We have not defined what 'normal' service looks like, by way of a metric or benchmark, as we want all our properties to be focused and guided solely by the health and safety of our team members and our guests.


Q. How is the Accor group varying it's approach by hotel chain and region? What are the contributing factors to the approach taken (if any)?
Accor: Accor Pacific are following government guidelines around health and safety. As restrictions ease, we will re-open hotels and facilities based on demand.
Q. What impact can customers expect to see on room availability over the coming 6 months? How do you expect this to vary by continent and / or region (eg metro / regional / rural properties)?
Accor: Throughout lockdown the majority Accor Pacific properties continued to operate caring for essential workers, front-line workers, vulnerable families and those returning residents undertaking mandatory quarantine. Customers should refer to their booking agent to check availability.


Q. How will Accor properties manage communications to impacted guests in the event of a COVID-19 case (guest, visitor or employee)?
Accor: We always work closely with local health authorities and follow their advice. We consistently use open, transparent and clear communication with our teams and guests.
Q. What advice would you give to business looking to travel again?
Accor: Your safety is the first thing of our minds. From the moment you step inside an Accor hotel you will find a whole host of enhanced safety measures in place. So you can look forward to not just a warm welcome, but a safe welcome too. All of our team members have received additional safety training to deliver ALLSAFE to the highest standards, so trust that Accor will provide a safe, clean and comfortable environment.
CTM works with a range of preferred hotel partners which are committed to enhancing the safety and wellbeing of our mutual customers through enhanced cleaning measures and ensuring precautions are in place to reduce the spread of COVID-19. Contact CTM to discuss your specific accommodation needs.

Published 30 June 2020
The information in this article is sourced from third parties. CTM does not take responsibility for its accuracy or currency. CTM recommends travellers seek independent information prior to travel.
Eager to find out more about the hotel experience post-COVID?
Contact our expert team to arrange your travel today.