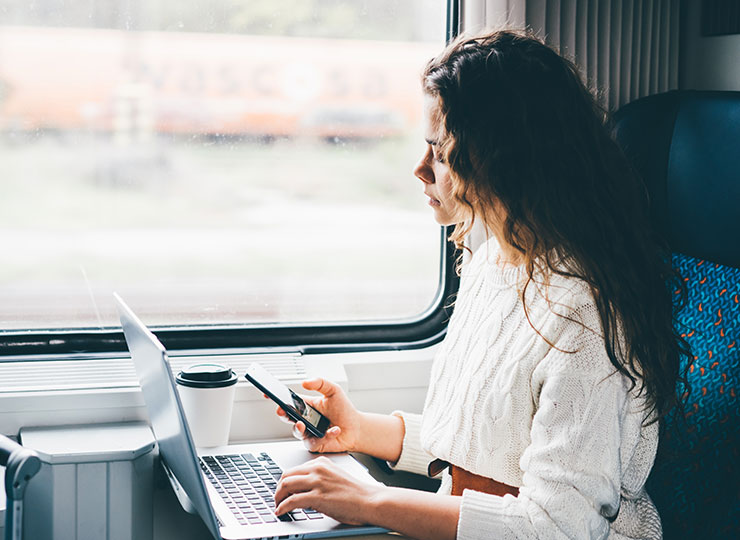 Tips for ensuring data security when travelling for business
The cost of cyber-crime globally is expected to exceed US$2 trillion in 2020, while the average cost of a data breach is $US3.9 million according to IMB Security1.
With this in mind, it's important to take precautionary measures to ensure no personal or company data is vulnerable to hackers when travelling for business.
From laptops and tablets to mobiles and smartwatches, modern-day business travellers need to protect multiple devices from hacks and data breaches in an increasingly digital world.
If you or your staff travel for meetings or events, the following five tips will help to ensure data security while on the road.

1. Only connect to safe Wi-Fi network – if in doubt, default to mobile data.
While free public Wi-Fi is becoming more readily available and accessible, so are the opportunities for hackers to compromise your data. The easiest way to avoid any surprise attacks is to disable your Wi-Fi's auto-connect mode on your mobile device so it doesn't automatically connect to public Wi-Fi without your knowledge. Travel sims are the safest way to access data overseas as they eliminate the need to connect to suspect Wi-Fi, so choose a tablet that allows sims to be inserted. If this is not available, hotspot from your mobile device.

2. Use more advanced methods to protect device access
Set-up more advanced security measures to protect device access if available. Facial recognition and fingerprint ID scanning are great alternatives. If a password is necessary, use a unique password for each device and ensure it is 8-10 characters long. Default passwords are still the biggest security weakness for IoT devices such as smartwatches, FitBits and dash cams. Implement a two-factor authentication, as it will make it more difficult for a hacker to gain access.

3. Update all operating systems
Make sure your operating software is up-to-date across all your devices. Spend 30 minutes the day before travel updating your software while you are still connected to your office or home Wi-Fi service. Also, check for any app updates that may be relevant during your travel, especially banking apps and any others that store personal data such as Uber and Outlook.

4. Disable Bluetooth connectivity
As with Wi-Fi, leaving Bluetooth functionality enabled on your phone can leave you vulnerable to nearby cyber hackers. If you do enable Bluetooth to connect to a client's technology during a sales pitch, make a mental note to switch off immediately afterwards. If you connect to a rental car's Bluetooth to make phone calls on the road, ensure all data transferred to the car's system is deleted before you hand in your car keys.

5. Have an action plan for data breaches
Although you've taken care to prevent a data breach from occurring, there's always a chance you may still fall victim to new viruses or hacking techniques. Consult your company's technology department prior to departure about preparing an action plan in case of a breach. Ensure you have the correct contact information in case you need support.

Unsure how to tell if your device has been hacked? Here are some quick tips on reading the warning signs before it's too late.
Keep an eye out for any new icons on your desktop/mobile device.
Is your device running noticeably slower than usual?
Some of your files have been moved or deleted.
Suddenly unable to log into your device or any online accounts.
You receive an unusually large phone data or internet bill.
If in doubt, run a virus check via your security software.
All opinions and recommendations are the CTM's own. CTM recommends all travellers conduct their own thorough, independent research into their travel destination(s) prior to making any travel decisions, and take out adequate travel insurance prior to travel.