Traveller Wellbeing
Optimise travel behaviour and identify potential triggers of traveller stress within your travel program for enhanced wellness and duty of care.
Corporate Travel Management (CTM) is committed to designing bespoke travel solutions that will positively influence travel behaviour to support employee wellness, enhance duty of care, and maximise productivity and travel program performance.
Optimise travel behaviour for enhanced duty of care
CTM understands the importance of traveller wellbeing when designing and delivering a responsible and highly effective corporate travel program for your business. As such, we have developed an intuitive and easy-to-use Traveller Wellbeing dashboard within the CTM SMART Data reporting tool, enabling Travel Managers to identify travel behaviours and trends which could impact the wellbeing of your travelling workforce.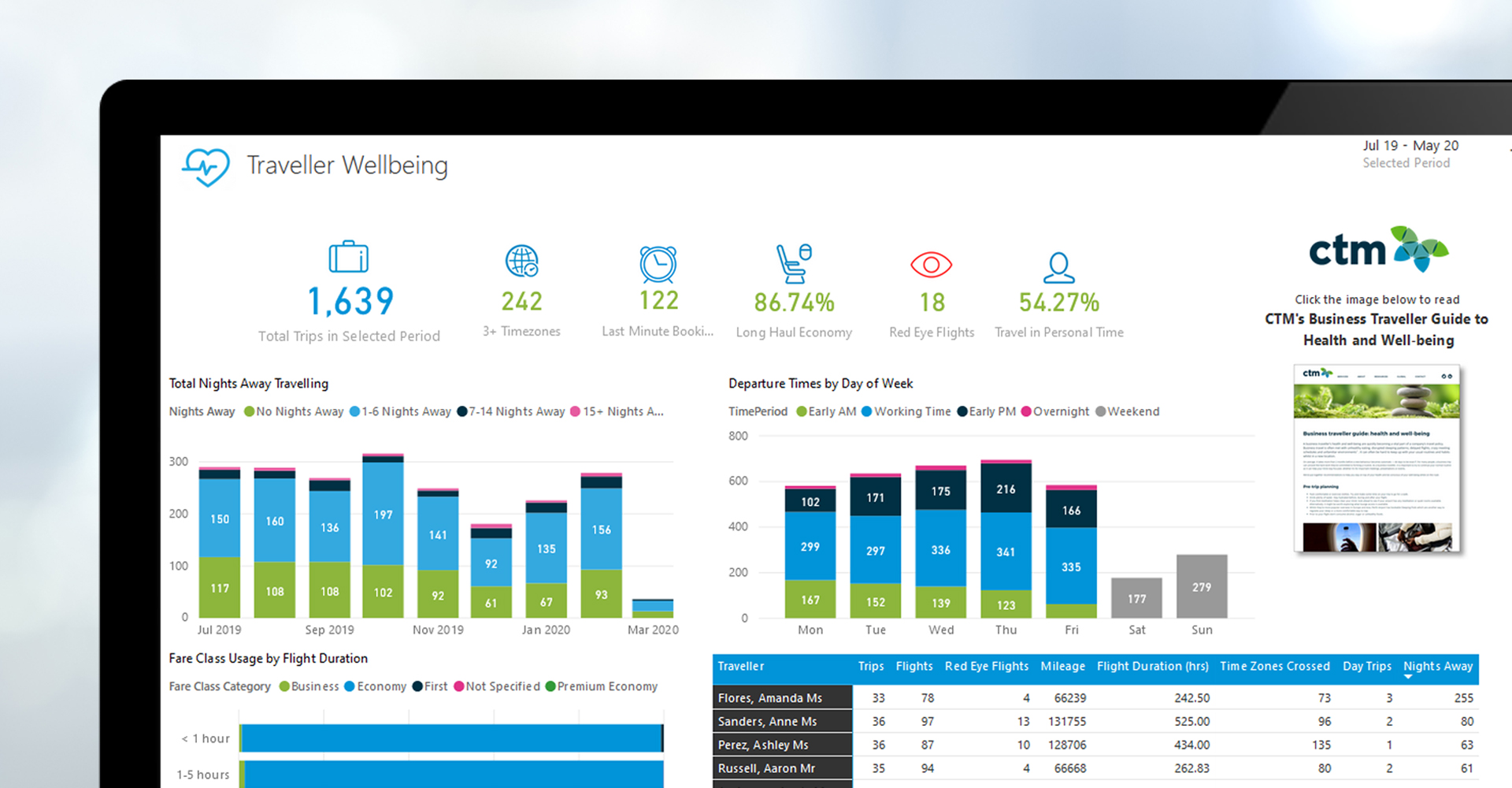 Wellbeing Reporting
CTM's Traveller Wellbeing reporting tool enables users to view consolidated travel program data as well as dissect data down to individual traveller level across a broad range of travel metrics, including:
Number of nights away: Identify travellers at low / moderate / high risk of adverse wellbeing based on the number of nights away per month.
Frequent travellers: Identify frequent travellers by a variety of metrics including mileage, number of trips, nights away from home and more.
'Red-Eye' flights: Identify potential traveller fatigue by tracking frequent 'red eye' travellers (late night, early morning travel).
Same day return travel: Identify potential risks of frequent same day travel.
Fare class usage by flight duration: Identify fare class usage (Economy, Premium, Business, First) by short, medium and long haul itineraries in line with your existing travel policy.
Time-zones crossed: Identify travellers at greater risk of jetlag by the number and frequency of time-zones crossed.
Mean days between trips: Understand the mean average interval between trips for your travellers.