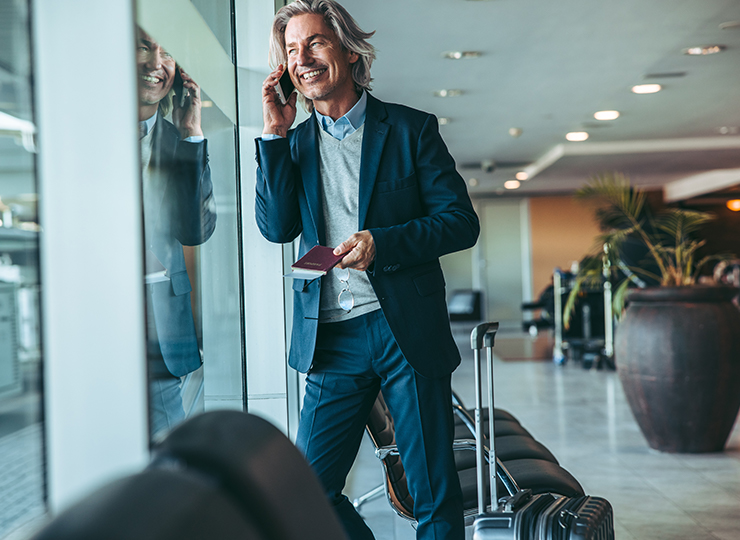 2022 Business Travel Landscape
The Global Business Travel Association (GBTA) shares expert insights on navigating the business travel landscape in 2022.
Top Take-Aways
Business travel readiness is high
60% of US and EU companies have commenced
Non-essential domestic travel
Expect wide-scale return to offices in Q1 2022
Testing to become a standard part of business travel
Regimen
Vaccination roll outs, re-opening of offices and easing of quarantine requirements have presented an opportunity for businesses to re-engage face-to-face. For select industries, travel never stopped. However for some, 2022 will see the resumption of 'normal' travel activity after a significant pause in connectivity.
What to expect:
Understanding the new and evolving travel landscape will be pivotal to making informed decisions to best support your business goals for 2022 and beyond. Engaging with key stakeholders to navigate the changes to approval processes, suppliers, public health, technology, duty of care and sustainability will be just some of the topics for debate. According to a 2021 Deloitte corporate travel survey [1], 2022 will be the start of a fresh view to business travel, with COVID-19 no longer the primary focus and concern for businesses. The notion of executive approval to embark on a domestic journey will become a thing of the past.
The Global Business Travel Association (GBTA), the world's largest professional association representing the global travel industry, connects business travel professionals from every continent with the knowledge, research and advocacy needed to navigate the rapidly changing business travel landscape. They've been busy during the pandemic providing virtual education sessions with Travel Buyers and suppliers to provide important educational updates across the travel sector.
Following the release of their latest global business travel COVID-19 recovery poll, Corporate Travel Management (CTM) interviewed GBTA CEO Suzanne Neufang to discuss the major challenges currently facing the global business travel community.
"The travel industry's response to the pandemic saw suppliers step up to the plate, wholly committed to serving their customers and the public. They operated as test result and vaccination-status gatekeepers where required, providing new services and tools to figure out the state of 'normal' at the time. And every brand helped their frontline workers to enable essential travel to continue. This level of adaptability and resilience certainly did not surprise me coming from an industry that is well attuned to change", said Neufang.
GBTA's COVID-19 recovery poll, conducted in mid-October 2021, revealed an increasingly optimistic outlook and readiness to travel.
GBTA COVID-19 Recovery Poll Results
Non-essential travel resumption
Over 60% of US and European responding companies have restarted at least some nonessential domestic travel. 21% have restarted non-essential international travel, the best position since the start of the pandemic. Of those who have not yet restarted travel, 72% of respondents in Europe and 42% of US respondents plan to restart domestic travel within three months (by January 2022).
International travel resumes
47% of European, 38% of Latin American, 23% of US, and 16% of Canadian respondents reported their companies are planning to restart international business travel within three months (by January 2022). "There's the question of business traveller readiness – dipping a toe in the travel pond is more worrying for some employees than for others. There's also the question of changing local requirements – are the rules at the destination the same as the city or state, province or region that the traveller came from? Education and access to information still remains key to providing maximum confidence and duty of care", said Neufang.
CTM's 2022 Business Travel Survey, conducted in November 2021, showed more than half of respondents had taken a flight since July 2021. Traveller confidence was higher than expected, with 87% of respondents feeling somewhat to very confident (3-5/5) travelling domestically, and 60% feeling somewhat to very confident (3-5/5) travelling internationally.

Neufang also added that one of the key considerations is whether there's an available place to meet for business on the other side of that plane, train, or automobile journey. Cushman & Wakefield's [2] recent research suggests that by Q2 2022, 70% of the globe will be vaccinated and current trends suggest most office workers globally will be able to return to the office in Q1 2022. Currently office building occupancy sits at 40% and it is forecasted that by early 2022 cities and office buildings will be invigorated with employees returning to work.
When asked what gaps remain in business travel services and solutions to enable a return to pre-pandemic travel activity, Neufang identified two key areas of focus for the year ahead.
"There continues to be a major opportunity for pandemic-related duty of care offerings – from white glove consultancy expertise to more technology-based apps. And access to COVID-19 test kits needs to be more widely available and affordable all over the world so these can become part of a daily health regimen for any business traveller before, during and after their trip."
References
1. Deloitte Insights – Return to a world transformed, How the pandemic is reshaping corporate travel, August 2, 2021.
2. Globe St – New analysis has majority returning to office in Q1 2022, October 1, 2021.
This blog post is the first in a six-part series of excerpts from CTM's eBook, 'A Fresh View to Business Travel 2022'. You can download the full eBook here.
Eager to find out more about the 2022 business travel landscape? Speak to a travel expert today.