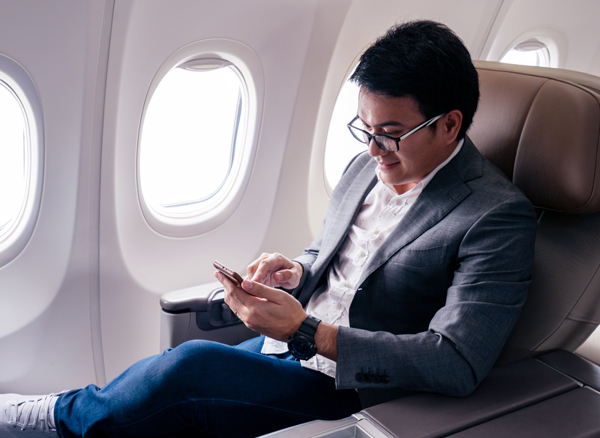 ATPCO & CTM interview: Informed travel decisions will increase traveller confidence and aid business recovery
This interview was conducted by ATPCO and originally posted on the ATPCO blog.
One of the world's most successful travel management companies, Corporate Travel Management (CTM), is researching the effects of the COVID-19 pandemic on business travel. In their customer survey earlier this month, they learned that health and safety questions are looming on travellers' minds. That's why they speedily added ATPCO's Reassurance UPAs to Lightning, their online booking tool, so that customers who are preparing to travel for business again can book with more confidence.
We talked with Scott Ward, CTM Global Head of Partnerships, about the economic significance of corporate travel and what the future might hold. Here's the interview.
ATPCO: How does CTM see the impact of COVID-19 influencing the future of corporate travel?
CTM: It goes without saying that COVID-19 will have a significant impact on the way people travel for business and leisure in future. The travel industry, governments and health organisations worldwide are working tirelessly to adapt their services to what will become the "new normal" in travel.
In a recent global CTM customer survey, that addressed the future of business travel post-COVID-19, our customers highlighted that COVID-19-imposed travel restrictions had significantly impacted business growth and financial performance as well as their ability to effectively support and engage customers and employees.
This tells us that the ability to travel is critical to business success, and that corporate travel will play an important role in economic recovery.
This is reassuring for businesses that service the travel sector. From travel agencies, airports, airlines and hotel suppliers, to the supporting industries such as cleaning, catering, technology, security, entertainment and more, the travel industry has been heavily impacted by COVID-19 but will undoubtedly adapt, evolve and innovate to enable businesses to return to travel with confidence.
ATPCO: How is CTM responding to the impact of COVID-19?
CTM: We expect the role of travel management companies (TMCs) will become far more holistic, providing businesses with a broader range of consultancy support beyond traditional travel booking, reporting and supplier management. CTM has listened to our customers concerns about their return to travel and is well underway in delivering new solutions and technologies that provide our customers with the information they need to get back to business travel as quickly and safely as possible.
We believe the future TMC will need to provide businesses with seamless, integrated travel insights and intelligence spanning government health and travel advice, quarantine measures, and sophisticated risk management tools including traveller tracking and emergency communications, to enable businesses and their employees to travel more safely, efficiently and cost-effectively than ever before.
Business travel is largely regional by nature, and we therefore expect that TMCs, businesses and business travellers will be the early adopters of new travel tools and technologies developed in response to COVID-19. As such, our teams have been working closely with travel suppliers, governments and industry innovators to prioritise the development of new travel solutions which will enable our customers to make more informed travel decisions that will increase traveller confidence and aid business recovery at the earliest opportunity.
This recovery is important for our customers' business, and therefore central to our own business strategy.
ATPCO: Let's talk about airline retailing. Travellers will likely need answers to different questions next time they are going to buy a ticket. What are you hearing from your clients?
CTM: This is true. Our customers have shared their questions and concerns over the future travel environment, and at the top of their agenda is how to ensure the safety and well-being of their travellers. They want to understand everything related to health across every aspect of their travel experience. How is cleaning being implemented at airports and in-flight? How will I know whether there's a health issue at my destination? Will I be required to quarantine on my return? How will I know if someone on my flight is unwell? How will the airline serve sterile meals and drinks on-board? Do I need to provide my own face mask for travel?
It's going to be increasingly important for businesses to incorporate regulatory health and safety measures into their travel program, and to identify and manage potential risks both before and during the travel experience. This is where access to technology and communication will be key. From pre-trip approval technology that can identify destination-based travel and health risks prior to booking, to information relating to the travel suppliers and their services at the point of sale, and traveller tracking and emergency communications tools during travel. This is a fast-changing environment and solutions are evolving at speed.
At CTM, we are committing to ensuring our customers have access to the most robust and reliable solutions at the earliest opportunity, and by controlling our own technology development and deployment we are able to listen to our customers' concerns and deliver relevant and high-value solutions at speed.
ATPCO: Reassurance UPAs, a type of visual rich content introduced in response to global crisis, are designed to help airlines communicate the important measures they are taking to protect traveller health and safety when they fly. What led CTM to incorporate Reassurance UPAs in your platform at such a quick pace?
CTM: CTM has a range of feedback loops in place to collate insights from customers, employees, suppliers and industry partners, which ensures we are always listening to and responding to current and future market needs. Our latest customer research relating to post-COVID-19 business travel clearly identified our customers' appetite for extra information relating to the health and safety of their chosen travel services. In our survey, nearly 70% of respondents said that information relating to travel supplier service updates would enable their business to travel again with greater confidence.
ATPCO's Reassurance UPAs provide CTM with access to a wide range of health and safety features from more than 100 airlines globally via a single API. Because CTM develops its own proprietary technology from our four regional tech hubs, our teams were able to rapidly developing and deploying the live airline data feed into Lightning's flight search results in just a couple of weeks, meeting the needs of our customers around the globe.
ATPCO: How exactly is this new content being used and what do you expect the business impact to be?
CTM: Having access to reliable, consolidated data direct from the source and built into the booking process presents a significant time-saving advantage for our customers as well as ticking boxes for peace-of-mind, accuracy and reliability.
We have configured our Lightning online booking tool to consume and display the Reassurance UPA messages within the flight search results, enabling customers to easily identify relevant health and safety measures provided by the airline as part of their fare results and before making the booking. As more airlines build out their UPA capability, our tools are ready to serve that information to our customers.
Airline reassurance features cover a variety of categories such as cabin cleaning, food and beverage hygiene, and passenger and crew wellbeing. In addition to these on-board features, there is also the ability to view features relating to health screening, airport cleaning, and flexible booking conditions if made available by the airline.
Within the flight search results, the reassurance features for each service will be displayed in a variety of formats including easily identifiable icons and text descriptions.
ATPCO: Does CTM have any further plans for integrating Routehappy Rich Content in your tools? How do you see rich content complementing or enhancing CTM's tools?
CTM: CTM has been a customer of Routehappy (now ATPCO) for a number of years, and we have integrated multiple content types into our Lightning online booking tools including amenities and product attributes. We are proud to be at the forefront of providing relevant and high-value content to our customers to assist them in their decision-making and enhancing the overall business travel experience.
We will continue to seek feedback from our customers, employees and industry partners to ensure we are leveraging all available content that adds value or solves a specific problem for our customers in relation to the safety, efficiency and value of their travel program.
In this dynamic travel environment with fast-changing government regulations, health advice and travel supplier offerings, CTM's ability to quickly identify and integrate new data sources into our customer-facing technology will remain critical to empowering businesses to get back to business travel as quickly and safely as possible so they can meet their future business objectives.
By Natasha Safronova
ATPCO Product Marketing Manager & Team Lead
With over ten years of marketing experience across international consumer and corporate markets, Natasha is a passionate product marketer, devoted customer advocate, and a travel industry enthusiast. Closely involved with a number of airline industry innovation and standard-setting projects from offer management to distribution to retailing, Natasha is currently aspired to help airlines and channel partners to change flight shopping in a meaningful way, relevant to modern travellers' needs.
Contact CTM today to discuss how to maximise the health and safety of your travellers and travel program.