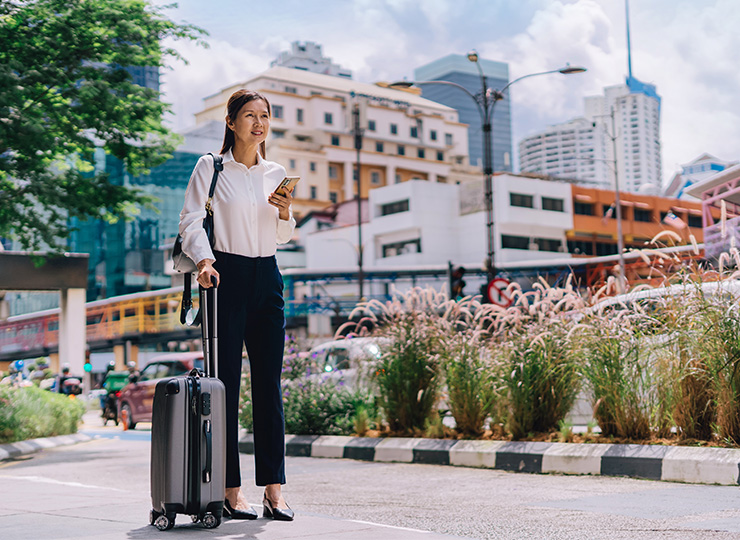 How corporate travel agency data can transform travel programmes
Travel Managers are busier than ever with 52% spending more time on data analysis or reporting than they did pre-pandemic according to a Global Business Travel Association (GBTA) report[1]. With so much time spent on analysis, it is vital businesses have access to the right corporate travel agency data solutions to provide real-time insights into their corporate travel.
Big data, data analytics, or in our case, CTM Data Hub, consists of large volumes of data which is analysed and presented to reveal key trends and patterns.
It allows companies to delve deep into their travel reporting to not only identify large areas of spend, but to provide recommendations and in-depth solutions for better spend management. It's a step-up from traditional, passive data interpretations and a step towards strategic decision making based on predictive analytics.
In other words, it allows us to become 'data storytellers'.
To explain, Corporate Travel Management's (CTM's) Head of Business Intelligence, Kevin Petre, gives five examples of how Travel Managers can optimise corporate travel agency data reporting to transform their travel programme.
1. More strategic supplier negotiations
Traditionally, supplier negotiations take place on an annual or bi-annual basis and involve discounting the average fare based on the previous year's volume. CTM Data Hub instead allows Travel Managers to look ahead, with predictive forecasting and travel trend analysis to easily identify future booking behaviours. It draws information from multiple sources (GDS and partner agencies), giving Travel Managers complete visibility of programme spend. This can be shared with preferred suppliers to negotiate more accurate rates.
"As a Travel Manager, you can track spending across your primary suppliers and leverage that information to renegotiate more favourable contracts when thresholds are surpassed to your business's advantage."
You can also assess each airline's average selling price (ASP) for specific routes and class types.
As a bonus, CTM Data Hub is configured for global businesses, acting as a single, global reporting hub for multi-region travel programmes. Travel Managers can leverage this information to negotiate supplier deals on a global scale by aggregating their data and demonstrating the leverage with suppliers to potentially shift market share.
2. Managing global or multi-region programmes
At CTM we operate across four continents, with our people travelling to countries all over the world. Data is a crucial part of running our business, and travel is no different. We leverage CTM Data Hub's ability to scale across territories with location and department-based filtering to easily identify trends, opportunities for savings, or differences between travel patterns in our organisation. Travel Managers can do the same no matter how many countries they manage travel in and how those business units are structured.
"You can see which country is booking last-minute or not booking preferred suppliers, and share best practice advice to regional team leads on cost savings and traveller wellbeing by pointing out a higher-than-average number of weekend and overnight flights their division is booking.
"It's designed for growing businesses that operate anywhere in the world, and it helps make data-driven decisions to support your global travel programme."
3. KPI Tracking
Corporate travel can be considered one of the largest expenditures for businesses. Therefore, setting and tracking specific KPIs via corporate travel agency data to support your overall business plan is essential when demonstrating the success of your travel programme.
CTM Data Hub can be useful in understanding employee behaviour and why exceptions are occurring. It offers an opportunity to set and track KPIs to increase policy compliance, such as limiting business class to certain distances or routes and reducing environmental impact.
Another example is improving hotel compliance. Hotel spend offers the biggest opportunity for savings with supplier negotiations but is often overlooked. CTM's Data Hub provides accurate hotel information, allowing travel managers to benchmark against previous months and strive for improved future rates.
4. Encouraging sustainable travel
Travel Managers (38%) said in a GBTA[1] report that sustainability metrics are more important than cost metrics when evaluating travel programme success. Businesses are facing continual pressure to reduce their environmental impact, and as a result, have become increasingly concerned with monitoring their travel habits. In response, CTM Data Hub provides multi-level reporting on carbon emissions. There is also the ability to calculate carbon offsetting, and an opportunity to work with CTM's sustainability solutions provider to offset emissions.
"We're providing more than just off-the-shelf carbon reporting. Clients can drill down into the specifics of their footprint, measuring the difference between cabin class, route, transport method, and more."
Furthermore, reducing spend on certain routes can be resolved through traveller tracking information. By reviewing past, present, and future traveller movements, companies can avoid unnecessary transport costs by leveraging travellers on confirmed trips to pick up packages in an area they are travelling to, support a local meeting, or drop by to see a client nearby.
5. Enhancing user experience
Contrary to popular belief, in-depth data analysis doesn't need to be overwhelming. CTM's Data Hub is presented through customisable dashboard reports, which show easily digestible information across a full range of travel spend and behaviour. This allows even the biggest opposer of data analytics to visualise and dissect complex data in a single click.
"Providing data reporting that our clients will find useful was our main objective. We firmly believe that data can only be effective when it is clear and understandable."
The reports can be customised for different authority levels within the business, which means relevant data is readily available for those who need it.
"The capacity to delve precisely into particular departments, cost centre's, and even types of travellers (staff or guest) is what sets CTM Data Hub apart from the rest. Our ability to carefully consider and act on customer feedback enables us to deliver the most valuable travel programme optimisation tools."
At CTM, we believe that better insights lead to better business travel; that's why CTM Data is having a huge impact on how we manage our travel programmes in 2023 and beyond.
Reference:
[1] GBTA – How Travel Managers will succeed in 2023-Report (2023)
Eager to learn more about how corporate travel agency data can transform travel programmes?
Request a demo of CTM's Data Hub technology today.