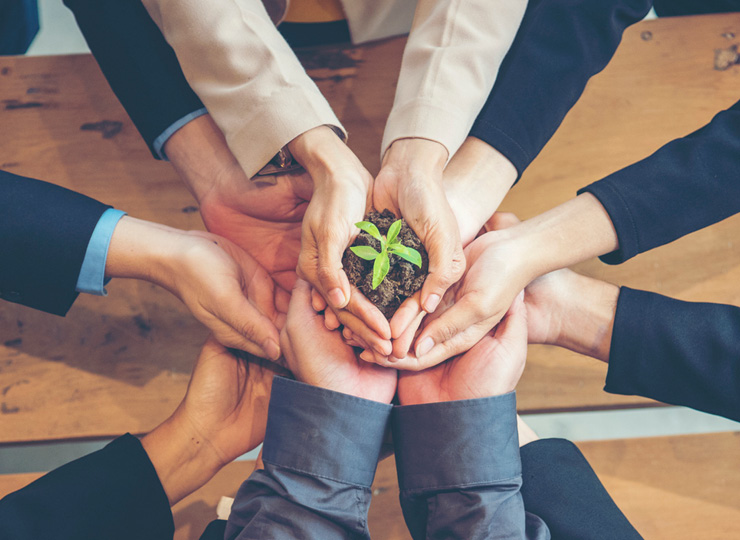 Hotels going green: supporting sustainable meetings and events
Hotels are an integral piece to meetings and events, whether they are sourced to solely accommodate attendees or also facilitate functions and activities for an event's agenda. With sustainability increasingly becoming top of mind for companies, especially those that have committed to net-zero targets, event planners or employees appointed the task of coordinating company meetings or events are set with the challenge of working with hotels/venues that can help support their sustainability goals and targets.
For hotels, supporting sustainable meetings and events involves tackling key areas such as lowering food waste, energy and water consumption, and carbon usage. They are investing in energy-efficient technologies, implementing waste reduction and recycling programmes, and offering sustainable food and beverage options sourced locally. By quantifying and cutting carbon emissions, hotels are not only responding to the demands of their customers but also taking significant steps towards a more sustainable future.
Taking "green" steps to a sustainable future
In this evolving landscape, the Green Stay Initiative serves as a valuable platform for hotels to transparently share performance metrics on energy, water, and waste. This empowers companies to partner with hotels that align with their own carbon goals, fostering collaboration and driving positive change. Additionally, major international hotel chains have made their pledges and goals, committing to net-zero targets by 2050 or implementing sustainable development goals tracked through ESG management platforms. These initiatives encompass a range of measures, from increased use of renewable energy to reducing food waste and single-use plastics, ultimately reshaping the industry's approach to sustainability.
As hotels and event planners work together, the collective effort to reduce waste, energy consumption, and carbon emissions in meetings and events becomes a crucial step toward a greener and more sustainable future. By choosing environmentally conscious hotels and implementing sustainable practices, the impact of meetings and events can be significantly reduced, paving the way for a more sustainable and responsible business landscape.

Quantifying carbon emissions
Keeping track of carbon emissions will be an important metric for companies to use as a benchmark to view progress on their sustainability goals. Thanks to the hotel carbon measurement initiative (HCMI), hotels now have the tools and methodologies for calculating carbon footprint in terms of hotel stays and meetings. The HCMI allows them to calculate not only the total carbon footprint, but also per occupied room on a daily basis, per area of meeting space on an hourly basis, and also calculate energy and electricity as a portion of total consumption.
Factors considered in the calculation process include all energy used 'on site' (including fuels such as natural gas, oil, and other fuels, purchased electricity, and mobile fuels from vehicles and other equipment) and emissions from refrigerants. It also includes, if applicable, carbon emissions from outsourced operations (e.g. laundry).
Sustainable food and beverage options
Sustainable food and beverage options are gaining traction in the hotel industry as a means to combat food waste and reduce the environmental impact of the hospitality sector. According to a report by the World Wildlife Fund, the hospitality industry is responsible for approximately 1.6 billion metric tons of food waste each year. In response, many hotels are implementing new policies and adopting technology to address this issue.
To promote food sustainability and conservation, hotels are embracing various best practices from around the globe. They are introducing 'cooked to order' buffets, which minimise food waste by preparing dishes based on guests' preferences. Additionally, hotels are finding innovative ways to repurpose food waste, such as diverting it to farms to serve as animal feed. Eco-friendly alternatives like steel and paper straws for beverages, paper boxes for take-away meals, and the farm-to-table philosophy are also being adopted.
Another significant step is incorporating locally sourced and seasonal menu choices. By reducing the distance that food travels, hotels can significantly reduce emissions associated with transportation. Production accounts for 68% of food emissions, while transportation accounts for 5%. Moreover, hotels are catering to dietary preferences and offering vegetarian and vegan options. Shifting to a vegetarian diet can greatly reduce an individual's carbon footprint, but even opting for less carbon-intensive meats, such as chicken over beef, can make a substantial impact. Beef's GHG emissions per kilogramme are 7.2 times greater than those of chicken.
Some hotels are embracing sustainable practices by partnering with 'green chefs' who prioritise waste avoidance, regional purchasing, and short transport routes. Others are even growing their own herbs and spices on-site, reducing the need for transportation and packaging. Innovative apps have also emerged, allowing hotels to sell their food surplus to minimise waste.
These initiatives demonstrate that hotels are actively working towards sustainable food and beverage options, recognising the importance of reducing food waste and making environmentally conscious choices.
Carbon offset programmes
Another initiative hotels are taking is to offer customers the opportunity to offset emissions calculated from an event. So what is a carbon offset? It is a certificate that represents one tonne of CO2 reduction in the atmosphere. Buying carbon offsets for emissions you have made, allows funding for projects that capture carbon and remove the emissions from the atmosphere or that reduce CO2 in the atmosphere.

Select hotel chains now facilitate the purchase of carbon offsets on behalf of event organisers. They ensure that the funds go towards verified and certified emission reduction projects. The specific projects may vary depending on the carbon offset provider chosen by the hotel. Hotels may provide event organisers with a certificate or documentation verifying the offsetting of the event's carbon emissions, which demonstrates the commitment to sustainability and showcases the efforts made to mitigate the environmental impact.
By offering carbon offsetting for events, hotels provide a convenient and effective solution for event organisers to take responsibility for their carbon footprint. This collaborative effort between hotels and event planners promotes sustainable practices and encourages the transition towards more eco-friendly events.
Ready to make your meetings and events more sustainable?
Contact CTM today to learn more!