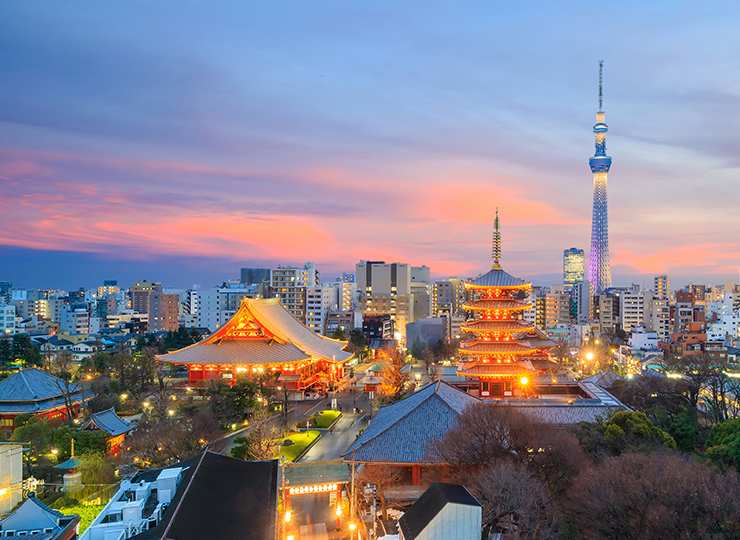 Planning an incentive trip to Tokyo
Incentive travel is an integral part of CTM's internal business, and with a culture of values – Recognise to Reward being one of them –  it's important that these incentive trips reflect the calibre of people that make up our team.
Recently, CTM's peer-rated All Stars award winners embarked on a 4-day incentive trip to Tokyo, Japan, as a reward for their commitment to living and breathing the CTM values. With a unique culture encompassing both historical and futuristic ideals, this year's incentive destination proved to be one of CTM's most talked-about trips. The decision behind Tokyo was carefully considered by CTM's events division, Event Travel Management (ETM), who specialise in group travel and incentives. Below we review the key items to consider when choosing an incentive destination and draw on the experience of our team members' time in Japan's capital.
Factor 1: The art of getting there
While the thought of organising international group travel to a non-English speaking country gives many of us a headache, thankfully the team at ETM are specialists in this kind of travel. Joining their peers from Australia, New Zealand, Asia and the United States, our All Stars flew into Tokyo's Haneda Airport, ranked as one of the world's megahubs, according to OAG's 2018 report. As the 10th most-connected airport in Asia, and 28th in the world, Tokyo Haneda was a convenient destination for our teams to unite. After arriving, our teams were collected by ground transport and escorted to their accommodation for the duration for their stay.
Factor 2: Where to stay
It doesn't take a trip to Harajuku to know that the Japanese have style, and after arriving at the ANA Intercontinental Tokyo it was clear to see that Japan's accommodation is no exception. Mirroring Tokyo's rich diversity, the hotel embodied luxury and elegance in its public spaces and décor, with guest rooms fit for, well, an All Star. Setting the tone for a week of highs, the teams gathered at MIXX Bar & Lounge on the hotel's 36th level and enjoyed getting to know each other at the day one Welcome Function.
Having chosen a hotel that was central and surrounded by Metro Stations, ETM's expert venue sourcing meant that the team could enjoy a reasonable wake-up time the next morning. After enjoying a buffet breakfast at Cascade Café, the All Stars met at 9:00am, ready for their first Business Session.
Factor 3: Engaging the team  
The All Stars gathered in the hotel's Galaxy meeting room, one of 24 total meeting rooms offered by the hotel. Laura Ruffles, CTM's Global COO, hosted a Business Session in the morning to share with the team important updates and what it meant to be an All Star.
Thankfully, the 7,104 sq. ft. venue was spacious enough to hold the All Stars and some rather large guests, with the first team-building activity being a traditional sumo wrestling lesson to loosen up the team and have a bit of fun. While some brave souls challenged the sumo champions, others were happy to watch from afar and learn about the history of this unique Japanese sport.
Knowing fair well that planning a successful conference or event requires strategically placed breaks in the itinerary, ETM scheduled in free-time ahead of group dinners. Meeting later that night, rested and refreshed, the team set sail (literally) for a memorable meal on Tokyo's Sumida River, with a special Geisha Girl appearance and team karaoke for entertainment.
On the second day of the tour, the team engaged in a cultural experience of sushi making and Sake tasting. A trip to Shibuya Crossing and an afternoon of shopping followed, with a group dinner at the famous Gonpachi (a.k.a. Kill Bill) Restaurant.
Making the most of their last day in Tokyo, the All Stars took a walking tour of Tokyo's backstreets and reflected on the past couple of days over a delicious lunch at the Two Rooms Restaurant.
Factor 4: Evaluating success
After a week of mingling, exploring, learning and collaborating, the teams bade their farewells and departed for their home ports. LinkedIn connections grew, local facts exchanged, and a wealth of knowledge was consumed and relayed to colleagues back home. A post-event survey was distributed to participants, asking for reviews on their experience while away. This is a fundamental part of ETM's delegate journey and provides crucial information when planning the future incentive trip.