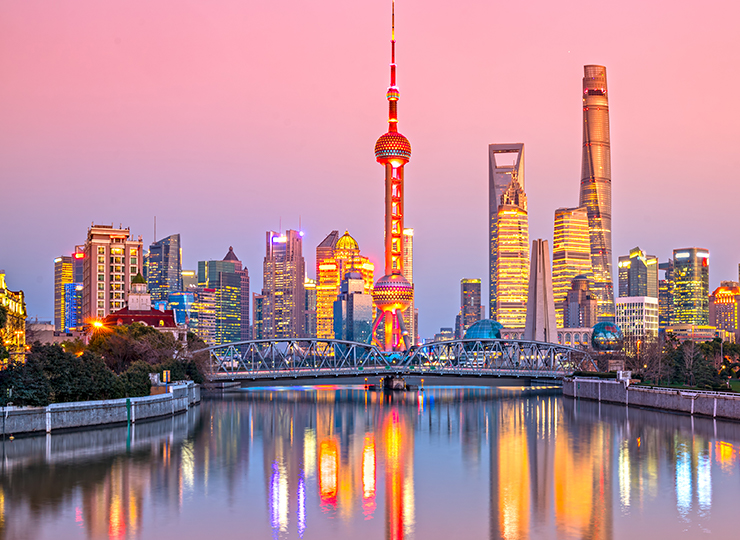 Planning an Event in Shanghai – Tips & Useful Guide
Shanghai is one of mainland China's most popular destinations for travellers around the world and also its best city for businesses. Through years of development, Shanghai has built itself into a global digital city. Everything in daily life can now be managed at your fingertips with a smartphone, including mobile payment, shopping, booking a ride and many more!
Recently, CTM has held the annual Asia Sales Conference & All Stars event, a 3-day fruitful learning and team building journey, in Shanghai. Here we share useful tips and learning for visiting or planning your next event in Shanghai.

HOW TO ACCESS THE INTERNET

Prepaid SIM Card/ China SIM card
The easiest way is getting a prepaid SIM card in your own country or from cellphone service providers in China. The biggest cellphone service providers in China are China Mobile, China Unicom and China Telecom, their SIM cards can be bought from local branches and Shanghai Pudong Airport.

 To use a SIM card in China, you need: 
Your passport – According to the China Legal Information Center, SIM cards in China can only be used after completing proof of identification with your passport.
An unlocked smartphone – Smartphones sold from certain countries including Australia, Canada, Ireland, New Zealand, United Kingdom, United States and Japan may be SIM-locked.

Pocket WiFi
Pocket WiFi is another good option if your phone is SIM-locked. It enables you to connect multiple devices, normally up to five. Pre-booking the device online and pick up at the airport is recommended to save cost and time.
HOW TO PAY

Cash
Though the city is going cashless for residents, cash is still the widely accepted mean for travellers to pay. The Chinese government recently made an announcement reinforcing businesses to accept cash. So, bring some cash with you in case your digital payment doesn't work!

MasterCard/ Visa
International credit card of MasterCard/ Visa is generally accepted in tier 1 cities like Shanghai, for airlines, major hotels and upscale chain restaurants and malls.

UnionPay Mobile Quickpass
UnionPay is the state-run credit and debit card system with the largest reach in China. Cardholders can pay with their smartphones at POS terminals with "QuickPass" signage or complete payment via smartphone App.

Apple Pay
In both Shanghai and Beijing, you can link a transit card with Apple Pay to pay for Metro. Apple Pay can also be used to make payments with UnionPay.

Alipay and WeChat Pay
Alipay and WeChat Pay are the two dominant cashless payment operators in China. Transaction is done simply by consumers scanning merchants' QR code with Alipay/ WeChat Pay app or the merchant scanning QR code generated on consumers' phones.

 To use these payment apps in Mainland China, you must:
Link a debit or credit card issued in Mainland China and verify your identity to pass real-name authentication required by the regulations of China's central bank.
HOW TO GET AROUND

DiDi Rider App
DiDi is the Chinese version of Uber and it has literally been merged with Uber in China. It can get you a ride in minutes, saving you from the hassle of finding a taxi on the road or long wait.


Taxi
The two biggest Taxi companies in Shanghai are Dazhong with Turquoise cars and Qiangsheng with yellow cars. According to the official Shanghai travel website, the taxi fare starts from 14 yuan for the first 3 km and 2.4 yuan per km after. A 30 percent night surcharge is set from 11pm to 5am.
Metro
The Shanghai Metro rapid-transit system and elevated light rail has 16 lines at present and extends to every district in the city. It is one of the fastest-growing systems in the world.
Shanghai Maglev Train
The Shanghai Maglev Train transits from Shanghai's Longyang Road subway station in Pudong to Pudong International Airport. The 30 km trip takes only 7 minutes and 21 seconds and reaches a maximum speed of 431 km/h.

 Aware of potential delay in transportation due to traffic jam in Shanghai
The traffic peak times in Shanghai are from 7am to 9am and 5pm to 7pm. You are recommended to plan your trip ahead and check the traffic status via Baidu Map before your journey to avoid traffic delays.
CASE STUDY – CTM ASIA SALES CONFERENCE & ALL STARS 2019

Develop Agenda with Focused Topics and Engaging Content
Stick with the "less is more" principle and focus on the most important topics to make the biggest impact. Create an agenda with topics relevant and beneficial for the participants. Fill in refreshing exercise, team-building activities and even site visit to build morale and engagement.


Book Venue in Easy-Access Location
To pick the right locations, keep in mind the number of participants, convenience of the location, proximity to public transportation for easy access to different spots. It should be easiest for participants to attend. Hotel where participants are staying with convention rooms is a good venue option for the sake of convenience for both organizer and participants.


Incorporate Brand Communication through Venue Decoration
Venue decoration with company logo and event-themed elements can reinforce corporate brand communication to participants. Utilize various printed or digital communication materials with branding elements and key messages around the venue to present the brand image and bring out the theme of the conference.

Create Party Ambiance with Fun Elements
Adding fun elements to the event can create a cheerful atmosphere in special parts of the conference, like welcome party, celebration or entertainment sessions. Why not creating a specific dress code, fun props and eye-catching accessories to your outfit? Conference can be fun!


Aware of Indoor Temperature of Venue in Shanghai during Summer
The venue in Shanghai can get very warm in the summer. The thermostat of air conditioners must be set no less than 26 degrees Celsius in summer to save energy and resources according to the Chinese Ministry of Ecology and Environment's document advocating eco-friendly behaviour.