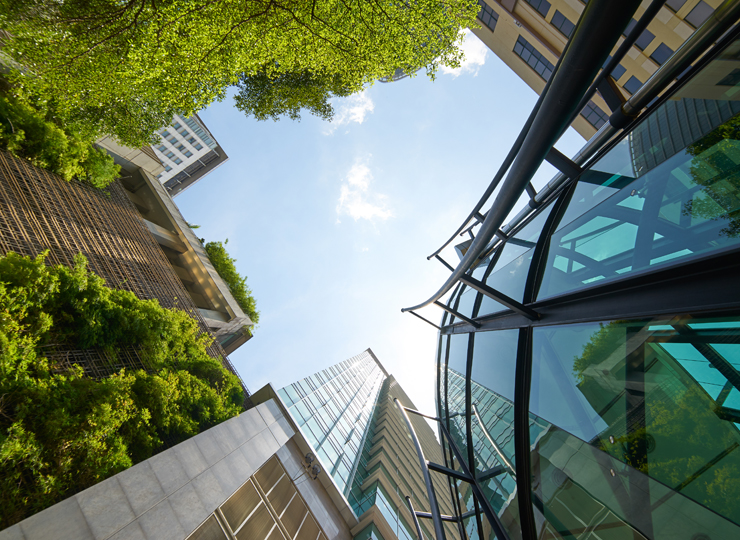 10 Tips for Sustainable Business Travel Programs
Sustainability has become an integral part of business planning and corporate governance processes as businesses and individuals seek to slow the pace of climate change.
For travel program managers, exciting opportunities exist to contribute to the sustainability objectives of your organisation. Now is the time to review and refine your travel policy to meet the needs of a more sustainable future while maintaining the necessary travel activity to support business continuity and growth.
But how do you keep travellers safe, secure and happy while staying within your operating budget and simultaneously supporting your company's sustainability goals? Here are some tips to help build a more sustainable business travel program.
1. Consider the route
Non-stop (direct) flights tend to be better for the environment. They are shorter and use fewer resources, primarily due to fewer takeoffs and landings. In addition to the environmental benefits, direct flights are less likely to cause traveller fatigue, ensuring your team are performing at the top of their game during every business trip.
While not every route can be direct, it's worth identifying which destinations are the best candidates for direct flights based on volume, cost and frequency. Then, work with your travel management company (TMC) and airline partners to negotiate the best corporate deals on these services for maximum impact on the environment, employee wellbeing and your bottom line.
2. Greener on the ground
What requirements do you have within your travel policy regarding local transportation? Do most travellers rent cars when they land at the airport? Do you have policies around how many people must ride together to attend a meeting?  Do your preferred rental car providers offer a good selection of electronic or hybrid vehicles, at rates that fall into the parameters of your travel policy? These are just some of the questions you should ask when developing an environmentally sustainable ground transportation policy.


3. Location, location, location
Public transit options like local and regional rail, subway systems, and express bus routes can also be great options for sustainable business travel.  These services tend to have regular routes and timetables, so it's worth considering the locations of your preferred hotel partners and meetings venues to align with these sustainable ground transport solutions.
To improve public transport adoption, use your travel program's reporting tool to identify the most frequently booked hotels in your most visited destinations. Are those properties located along major public transit routes? Are they within walking distance of your offices or the locations of your top clients? Working with your TMC and hotel partners to make slight alterations to your preferred properties could significantly influence your company's sustainability outcomes.
4. Select green hotels
Sustainability in hotels was once limited to reusing your bath towel. These days, more and more hotel companies are embracing sustainability through innovative solutions such as green roof technology, automatic shut-off on lights and air-conditioners, using local and on-site food sources, implementing water conservation programs, and much more. Take a look at your preferred hotels and work with your TMC to make this a priority when selecting and negotiating with your preferred providers. Finally, get travellers onboard by educating them on the environmentally-conscious reasons they should stay at these hotels.

5. Know the stats
Is your organisation using your TMC's reporting to track and communicate progress towards sustainability initiatives? Corporate Travel Management's (CTM's) customers have access to a wide range of services, including consolidated reporting that tracks CO2 emissions in a number of different ways:
By month
Per trip and per traveller
By service type (air/hotel/car/rail)
By service provider
By fare class
Use these reports to set goals and track your progress, and use them as fuel for travel policy modifications and supplier negotiations.
6. Travel that support your business and other's
We all understand the positive impact of business travel on our own performance and growth. By choosing to offset your travel program's carbon footprint you can positively contribute to a range of sustainability initiatives that support people, communities and economies around the world. Within your travel program, choose to offset carbon emissions created by air, hotel, car rental and rail travel through environmental sustainability initiatives such as rainforest conservation, sustainable livelihood programs, wildlife protection, and renewable energy – learn more about the positive contribution of carbon offset programs here.
CTM's Climate+ program provides detailed carbon reporting tools and carbon offset programs to help your business to achieve its carbon neutrality goals.
7. Reduce, reuse, recycle
As mentioned above, your company likely has some level of corporate sustainability program in place. This program may encourage employees to reduce paper and plastic usage and recycle as much as possible. Extend those initiatives beyond the four walls of your offices to travellers while on the road.
Promote the use of business-approved electronic and mobile services as an alternative to printing itineraries, presentations, etc. Encourage travellers to pack items such as reusable water bottles and toiletry items vs. using single-use, disposable products offered by the hotel or airline. You can even promote sustainability within your T&E program by encouraging travellers to look for locally-owned dining options that support the use of locally-sourced ingredients.
8. Update your travel policy
The chances are that you're already making some important travel policy updates to account for new risk management, health, and safety requirements. This is an excellent time to simultaneously review your travel policy to enhance sustainability. Discuss your travel program's sustainability objectives and potential solutions with your CTM account manager, and refine your travel program in a way that supports business sustainability and employee wellbeing objectives.

9. Provide an incentive
Gamification is certainly a buzzword, and that's because it works. Incentivising employees to make good travel decisions by collectively working towards a common goal can be a powerful tool to strengthen program performance, engage your workforce, and help the environment. By weaving sustainable suppliers into your travel program, you can encourage employees to travel sustainably while supporting your preferred supplier agreements for maximum commercial benefit. Encourage your entire team to participate in building and delivering on your travel program's sustainability objectives – encourage employees to vote for their preferred carbon offset project, and utilise your travel program data to clearly and regularly communicate performance against your sustainability goals.
10. Work together
Sustainability spans many areas of an organisation, such as operations, procurement, HR, corporate security, IT, marketing, and more. Working together on sustainability initiatives can be a great way to fortify those ever-important cross-departmental connections. You might need to rely on those connections for future travel program initiatives. Opportunities such as this can help you demonstrate your travel program's significant value to the organisation.
What tips do you have for creating and managing sustainable business travel programs? Would you like to learn more about CTM's Climate+ program? Simply fill out the short form below, and a member of our team will be in touch.
Time to build more sustainable business travel programmes?
Contact our team today to discuss your needs.