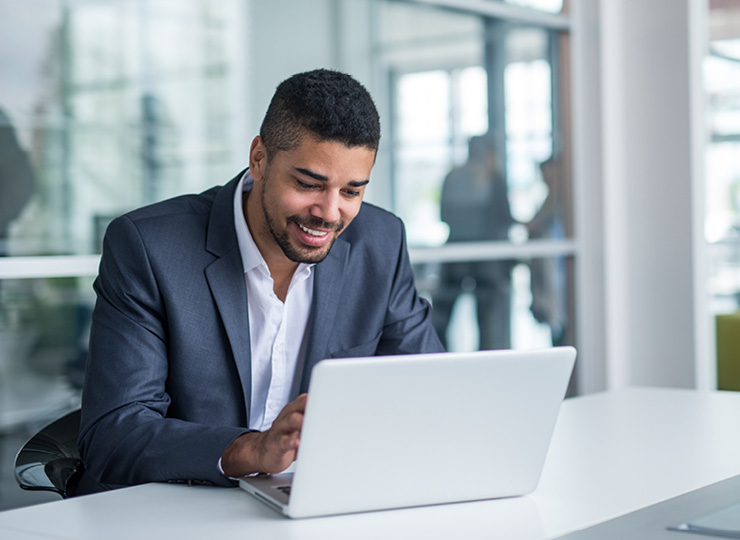 Why switch to Lightning for your online travel booking tool?
Every modern travel programme needs an online travel booking tool, but they're not all created equal. While some offer a basic booking function that ticks a box, the overall experience can leave travellers frustrated with slow interfaces, unintuitive workflows, and limited content that leaves money on the table.
At Corporate Travel Management (CTM), we knew there had to be a better way to improve the travel booking experience and help our clients save money. That's why we designed Lightning – to bring speed, savings, sustainability, and simplicity to the business travel booking experience.
Gain more hours in the day
Travellers have more to do in their day than book travel, so a tool that is fast and efficient is often desired. Lightning's user-friendly, modern interface enables travellers to book travel in 90 seconds, with fewer clicks than other booking tools. At-a-glance details that break down each fare type and cabin class, show if it's refundable, or a negotiated corporate fare, to give travellers exactly what they need to make the best choice.
Have you ever felt overwhelmed when there are too many options, making it difficult to decide? Lightning helps reduce this and soothes overwhelmed travellers by utilising AI-powered "top picks" to make travel choices easier and faster. These personalised results are based on each traveller's purchase history, profile preferences, and most importantly, your company travel policy. These have been shown to significantly reduce overall booking time.

Lightning also reduces repetitive tasks by letting Travel Arrangers quickly start a new search for the regular routes either by showing their favourite destination from the search menu or opening their searched bookings in one click. Thanks to multi-sector bookings, you can even plan and book complex trips quickly inside Lightning, eliminating time spent going back to airline websites, and keeping your people in the right booking channel for payment, duty of care, and data reporting.
A frequent challenge with other online travel booking tools and technology is that they can be slow to make updates or add new features. Lightning is an agile product that runs on two-week development cycles that regularly integrate customer feedback into new feature development and customisations. Other TMCs may have to petition for changes in third-party tools, whereas Lightning's priorities and roadmap are directly driven by our clients.
See more savings
Whether it's time, money, or energy, Lightning is engineered to bring savings to your travel programme. With intelligent and inclusive content, including low-cost carriers like AirAsia and Cebu Air, you can stop searching around multiple sites to get the best priced fares. Owning our technology also means lower fees for our clients, since we aren't reselling other technology that can involve reseller fees by some agencies and technology providers.
Lightning works hard in the background to make sure you're seeing and finding the best prices for your trip. With a direct integration to our Fare Forecaster tool, Lightning runs searches automatically identifying cheaper alternatives to fly within 7 days of your search dates, so flexibility can pay off.

Do you struggle with staff going around company policy to book travel that's non-compliant and over budget? Lightning's powerful integrated policy settings gently guide travellers on what they can and can't book, helping to reduce out-of-policy spend without them having to read the travel policy manual. Fare classes or carriers that are outside company policy can still be shown in results if you choose, but are unavailable to be booked so travellers know they are seeing everything to make the best choice.
Make greener choices
As more companies track, reduce, or offset their carbon footprint, travellers need to be able to clearly see and understand green options when booking travel. Lightning displays granular carbon emissions estimates in search results, so your people can instantly see their potential impact and make greener choices.
CTM partners with RDC Aviation to share carbon emissions estimates by cabin class in Lightning based on individual aircraft's age, engine model, fuel efficiency, seating configuration, and even the airline's investment in sustainable aviation fuel. We found that there can be as much as a 49% variance in emissions on popular routes even when selecting flights on the same day in the same cabin class.
Keep it simple
We know travel booking doesn't happen in a silo, and that your online travel booking tool needs to play nice with other travel tools in your programme. Lightning smoothly integrates with the CTM Tech suite, including CTM Portal, Approvals, and Data Hub reporting, out of the box on Day 1. We also developed a Lightning Mobile app for the region that is available for both iOS and Google Android devices.
Zamil Murji, Chief Technology Officer, Asia shares that "Lightning continues to evolve to support our clients' travel programme goals while making travel booking faster, more cost-effective, and sustainably conscious. Coupled with seamless integrations to our full travel technology suite, Lightning is a great foundation for business travel programme success."

Any good online booking tool would be incomplete without expert support from travel professionals. Lightning comes with proactive, reliable, and real human support for configuration, maintenance, and changes with a dedicated Account Manager and Online Support team invested in your success based in Hong Kong alongside the Lightning product development team.
Get Started
Whether you've never used an online travel booking tool or have been using one for decades, it's time to examine how much it's helping or hindering your travel programme's success. If the idea of a fast, intuitive, and powerful online travel booking tool intrigues you, it's time to check out Lightning and see how it can save you time, money and so much more.
Witness the power and speed of Lightning, CTM's online travel booking tool.
Book your demo with CTM today.