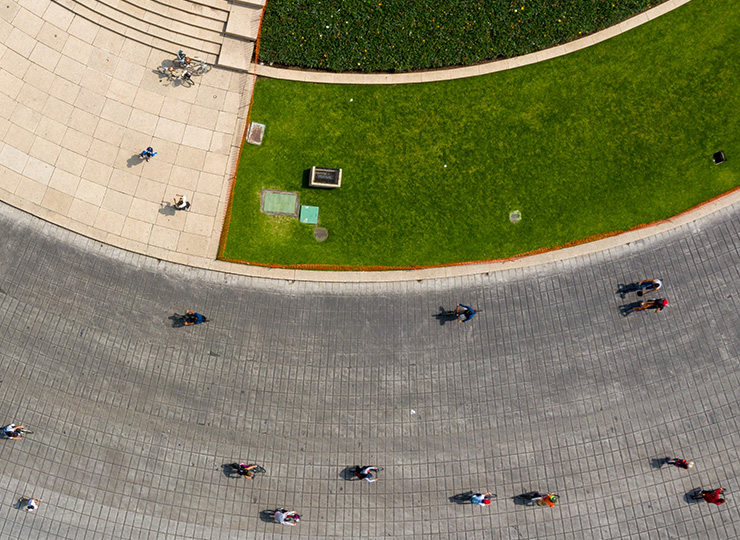 Talking sustainability with CTM's Head of ESG & Sustainability, John Nicholls
There is an increased awareness across the global business community of climate change realities and the direct and indirect impacts of business practices on the environment. As such, organisations are increasing their commitment to sustainable business practices and how they can reduce their overall carbon footprint. Organisations are now paying greater attention to the factors that expose their business, employees and environment to risk and implementing strategic initiatives to support their values and corporate social responsibility.
Corporate Travel Management's (CTM's) 2022 Global Customer Survey, conducted in May, found that businesses and their travel programme stakeholders are interested in learning more about sustainable travel, especially supply chain sustainability strategies (72%).

CTM sat down with John Nicholls, CTM's Head of ESG & Sustainability, to learn more about his new appointment, and the role of the supply chain, supplier, customer and travel management companies in the quest to combat environmental, social and governance impacts.
Can you describe the importance of your newly-created role in a post-pandemic environment?
"As a service industry, CTM's carbon footprint is relatively light, but we understand our role in taking action to mitigate climate change and embrace the opportunity we have to make a further positive impact on the planet by empowering our customers to make more informed and sustainable decisions around their travel activity and supply chain choices by putting the right technology and data in their hands. Our customers are showing an incredible appetite for travel again as well as an increasing demand to partner with a travel management company that can proactively address and support their social and environmental sustainability objectives. This is where I can add value to CTM's focus on sustainable travel."
As Travel Managers review and refine their travel programmess and policies, they have a unique opportunity to rethink their sustainability approach, create measurable goals and deliver impactful results. Would you agree?
"Yes, absolutely. We expect the role of Travel Managers to become much more influential and strategic in delivering on business recovery and growth plans as travel activity increases under the more watchful eye of CFOs and CEOs. This is an exciting opportunity for Travel Managers to own a significant role in driving business performance through effective travel programme development which supports all areas of business including sustainability objectives towards environmental social performance."
Why is sustainable business travel becoming increasingly important to businesses?
"Through global mandates and societal expectations, organisations globally are moving further towards a mature state of sustainability performance which includes how they are providing a value proposition to their stakeholders. Organisations are further increasing their awareness of how their business can benefit local communities through business travel initiatives.
"It is widely acknowledged that business travel is a key enabler of business growth which supports employment and innovation and, as such, organisations are seeking new and improved ways to travel more sustainably to support their growth objectives and operational needs in line with their sustainability objectives and overall values."
What sustainability measures can businesses be taking in their travel programmess?
"Partnering with a travel management company (TMC) like CTM can support the needs of a customer to assist in the measurement and transparency of their performance goals such as enabling and validating the offset of their employee travel (Scope 3) GHG emissions.  Through our long-standing partnership with South Pole, and other great sustainability initiatives and partnerships such as our sustainable aviation fuel (SAF) agreement with Delta Airlines, CTM is well placed to assist and provide customers with the right choices to make when booking their travel needs. Further, we provide customers with a wellbeing measure to indicate their travellers' potential fatigue levels based on the amount of travel, and we work with accommodation suppliers to support the safety and wellbeing of our customers' solo travellers through our Social Sustainability Charter."

How have you witnessed suppliers evolve their sustainable service offerings to accommodate the health, safety and wellbeing of travellers?
"We have observed major hotel chains evolve their business offering to include improved performances towards sustainability. For example, hotels now apply efficiency standards for their guests regarding energy, waste and water management. We are seeing an expansion in their offering to ensure their guests feel safe and provide health and wellbeing offerings through bedding and menu selection choices. At CTM, we understand the importance of aligning our customers' ESG goals with like-minded suppliers and work to secure preferred partnerships that can serve our customers' needs."
How have you seen attitudes towards sustainability change since the pandemic?
"From the onset of the recognised pandemic, the sustainability industry, in general, feared customers and businesses would relax on their push for sustainability performance due to a predicted shrinkage in the market. Since then, the industry has seen quite the opposite effect. It is observed that businesses have pushed on with their social and environmental sustainability plans, increasing their ambitions to drive greater reductions in their environmental and social sustainability impacts, including the consideration of the safety and wellbeing of their employees."
What trends are you seeing (or expect to see) in client RFPs concerning sustainability?
"We have witnessed a great upsurge in sustainability maturity as societal expectations move sustainability performance beyond a 'nice to have' and towards 'business as usual'. We are seeing positive drivers in sustainability emerge globally, such as the International Sustainability Standards Board (ISSB) delivering a further proposal to mandate transparency and performance requirements for businesses globally.
"For organisations, this will mean the industry will rely on travel management companies to assist them in identifying and delivering social and environmental sustainability impacts within the supply chain, to which CTM is well-placed to support its customers through our online booking tool – Lightning, our wellbeing measure, our carbon reporting in CTM Data Hub, and our carbon offset programme."
When it comes to the decarbonisation of business travel, do you feel the industry is doing enough?
"From my perspective, I believe the travel industry is generally consistent with other industries in addressing stakeholders' sustainability expectations. Of course, as with all industries, there are some clear examples of companies leading the movement towards continuous improvement of performance delivery to customers. Certainly, I see CTM as one of those companies which attracted me to the Head of ESG and Sustainability role in the first instance.
"At CTM, our team works to continuously improve our approach to sustainability by engaging with customers, employees and the industry to identify emerging trends and demand for new sustainability solutions. For example, the CTM Climate+ programme enables customers to make a meaningful difference to the environment by making more informed travel decisions, understanding the impact of their travel programme, and offsetting their travel emissions. We also continue to take a proactive approach to educating our customers on evolving sustainability news and initiatives across the travel supply chain, and in developing our relationships with suppliers who are leading the field in sustainable travel solutions."

How can we improve supply chain readiness?
"We simply must continually improve supply chain readiness, as it is important to our customers. CTM's 2022 Global Customer Survey, found that 57% of respondents seek environmental sustainability features when selecting an airline, hotel or car rental provider.
"To maximise sustainability performance in the industry, I see it as a great benefit for all stakeholders to continue driving proactive partnerships to identify and continually push the limits of opportunities that improve sustainability outcomes within the supply chain to deliver positive outcomes for stakeholders and the planet."

As an intermediary, what do you believe CTM's role is in building awareness and encouraging action?
"CTM has a clear purpose for what it strives to deliver every day; that is to continue to deliver an enhanced value proposition to our customers and their corporate travellers. This is achieved through being an innovative and inspiring company of choice for our stakeholders, improving customer experience and enabling positive change for a better tomorrow.
"When it comes to the success of our customers' travel programmes, we place the Travel Programme Manager in the box seat. Our continuous feedback loops empower our customers to share ideas on how to improve our service and product offering. We enable our customers to demonstrate their strategic influence on their organisation's sustainability initiatives by setting realistic CO2 emission targets for their business travel programme. Further, CTM partners with South Pole to offset its employee travel and provides customers with the option to offset the carbon impact of their travel programme by supporting their choice of a range of global sustainability projects, which benefit local communities."
What does the future of sustainable corporate travel look like? Any predictions? What new partnerships and /or tools can we expect to see?
"I believe organisations will continue to improve and validate their Scope 3 GHG emissions and improve their governance of the care and wellbeing of their employees. With further mandated improvements to sustainability reporting, there will be an increase in demand for reporting validations, to which CTM are already well-placed to support our customers' needs.
CTM works continuously with our industry partners to improve travel outcomes for our mutual customers. CTM continually strives to push the boundaries of innovative, market-leading tools and services which provide our clients with early access to solutions to maximise their ESG and sustainability performance."
Learn more about the CTM Group's Sustainability Strategy here.