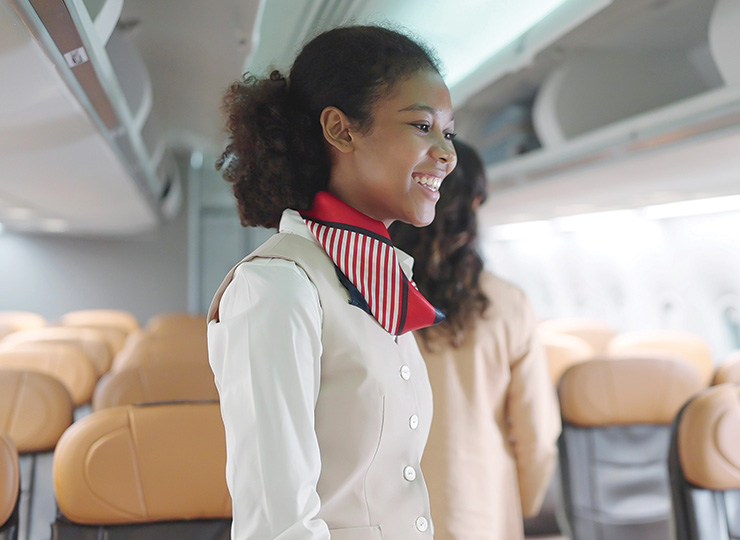 How travel suppliers are elevating their service and product
Travel suppliers are adapting and evolving their services in response to customer needs, traveller experience and wellbeing expectations, sustainability concerns, and advancements in technology. These drivers have become pivotal in shaping the way suppliers operate and deliver their services.
Corporate Travel Management's (CTM's) 2023 Global Customer Survey found one of our customers' top learning opportunities for the year ahead would be to better understand supplier offerings and their points of difference. We asked our Global Supplier Relations team to share their insights and what they are witnessing from the airline, hotel, and car rental market.
Supporting traveller experience and wellbeing
By placing the traveller experience and wellbeing at the forefront, suppliers aim to create lasting memories and forge deeper connections with travellers. They understand that a positive, memorable, and satisfying experience not only encourages repeat business but also generates positive word-of-mouth recommendations and fosters brand loyalty.
Erik Shor, CTM's Chief Partnerships Officer North America & Global Hotels explains, "We're seeing exciting transformations in airlines, especially in premium classes, with international refits taking place. Additionally, in-flight Wi-Fi has become readily available, ensuring a connected and convenient travel experience. It's interesting to note that select international carriers are now offering significantly reduced stop-over rates – strategically positioning transit points to promote bleisure travel. This trend aligns perfectly with the resurgence of hybrid and remote working, as well as a renewed focus on employee retention. Further, airlines are investing in expanding and improving lounges both domestically and internationally to accommodate more travellers and enhance their offerings.

"When it comes to international hotel chains, we're witnessing a shift towards creating niche brands that cater to specific markets and audiences, allowing for a more tailored and personalised stay. What's even more exciting is the inclusion of lifestyle amenities in new hotel builds such as rooftop bars and restaurants and in-house spas that create a "destination" within the hotel itself, providing guests with more memorable experiences."

Marriott, Hilton, IHG Hotels & Resorts, Accor and Best Western Hotels are some of the largest global hoteliers, with IHG as an example offering 19 hotel brands across 6000+ destinations to broaden the choice for customers. The brands appeal to a wide customer base, whether people are staying on a budget or are seeking a luxury experience. No matter whether customers seek to save or splurge, all brands offer a welcoming experience. IHG has brands categorised by luxury and lifestyle, premium, essentials, suites collection and exclusive partners.
"Working with a travel management company will be important to understand the right hotel offering for not only a company but also the individual traveller", Shor adds.
Sustainability initiatives
With sustainability emerging as a prominent corporate focus, travel suppliers have made substantial investments in initiatives aimed at diminishing their carbon footprint and showcasing their commitment to environmental preservation. In fact, a 2023 GBTA Climate Action report states 86% of business travel suppliers say that they have integrated or are planning to integrate sustainability into their commercial objectives, with Europe ahead of other regions (91%).

CTM's Chief Partnership Officer Global Air & GDS, John Balloch explains, "Airline fleet renewals are primarily motivated by the need for fuel efficiency, while hotels are implementing comprehensive sustainability programmes and striving to uphold numerous environmental certifications, and car rental companies are increasingly introducing electric vehicles (EVs) into their fleet. However, regions like Australia are struggling to keep pace with sufficient public charging stations, in comparison to other regions."
Technology to support a seamless experience
Technology advancements are revolutionising the way travel supplier's services operate. They are leveraging innovative solutions to streamline processes, enhance efficiency, and improve the overall travel experience.
The hotel market is responding to the customer expectations of innovation and customer experience. The introduction of artificial intelligence and chatbots are allowing hotel brands to service their in-house customers 24/7, while freeing up their operational staff to attend to more complex tasks. According to Hospitality Technology, some of these chatbots are even built to detect emotion and distress signs, allowing the chatbot to reply appropriately.
For those needing to inspect a hotel, Calvin Ng, CTM's General Manager, Supplier Relations (Asia) says, "Some hoteliers are making use of virtual reality to provide tours of their products and services. This is especially helpful for Travel Programme Managers who are not located in the same city/country and allows them to understand the quality of the product they are including in their travel programme. There is also the use of mobile check-in that can be conducted on the go, smart hotels that extend automated checkout, self-service kiosks, guest apps, and keyless room entry, that all make the customer experience fast and efficient."
Airlines have also been investing in technology to improve customer service, in the airport, at the gate, and during the onboard experience. Qatar Airways has embraced the use of virtual reality with their "QVerse", allowing customers to experience and navigate the Premium check-in area at Hamad International Airport and the cabin interior of the airline's aircraft from the convenience of their electronic device.

Further, biometrics continue to be used by airlines to evolve and further reduce the time it takes from check-in to boarding. Some airlines have adopted the biometric passenger experience, which eliminates the need to present boarding passes or passports at the airline's various service points. Those passengers who enrol for this service are automatically recognised at the self-service bag drop, airline lounges or boarding gate with no need to present any travel documents, shaving off time that can instead be utilised enjoying the terminal facilities, airport lounges, catching up on work or rest. Star Alliance, as an example, is aiming to have 12-15 of its airline members implement biometric solutions by 2025.
Are you ready to review your preferred travel supplier's service?
Talk to our expert team today.