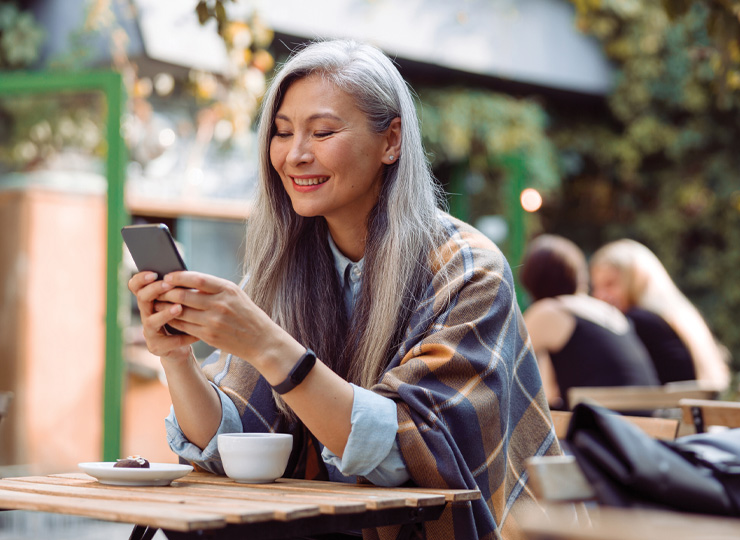 Talking traveller health and well-being with CTM
Looking after our mental health and well-being is vital to how we function in our daily activities, our ability to feel motivated and energised and how we nurture and maintain our relationships – whether that be personal or professional. Circumstances or events can have an impact on our mental health at any age and at any time, and that is why it's important that organisations like the World Health Organization endeavour to raise awareness of mental health issues and to mobilise efforts in support of mental health.
At CTM, our employees are at the heart of our business, and supporting their health and well-being is of utmost importance. To mark this year's World Mental Health Day, we asked our very own frequent business travellers to share their insights and tips for keeping a positive mindset and staying productive, fit, and healthy while on the road and away from home.
If you could share just one tip for maintaining happiness and health during business travel, what would it be?
Paul Prator – CTM's Director of Business Development (North America)
"Avoid looking at your emails when you first wake up; they can wait until you have had your personal time, whether that be sitting down with a morning coffee or fitting in some exercise."
Josh Gunn – CTM's Global Head of Product Marketing (UK)
"Find a great book, podcast or audiobook – it's a great way to alleviate boredom waiting in lines or walking through airports. I find keeping my mind busy with books is a positive distraction during my flight."
Tracey Edwards – ETM's Global Strategic Lead & General Manager (AU/NZ)
"In preparation for your flight, create a playlist of songs. I recently travelled overseas and created playlists based on the cities I was visiting. There's an undeniable magic in music that brings happiness."
Nicola Veltman – 1000 Mile Travel Group Founder and CEO (North America)
"Remember to make time for personal moments during your travels – whether it's immersing yourself in a captivating evening theatre performance, sharing a dinner with a friend, engaging in a workout at the hotel gym to rejuvenate your mind, or even extending your trip by a day or two during annual leave to savour some leisurely moments before rejoining the office."

How do you strike a balance between your work commitments and personal life when you're travelling?
Chris Rose – General Manager CTM Hotels (AU/NZ)
"I am a morning person, which is why I prefer to begin my workday earlier. This allows me to complete my tasks during business hours, giving me the evenings to unwind, connect with loved ones, and enjoy some relaxation. Effective time management plays a crucial role in maintaining a healthy work-life balance."
Tracey Edwards
"I've been lucky enough to have lived in many countries throughout my career, where I have made a lot of friends. So, it's important to me that I take the time to catch up with them when I'm in town. It not only fills my heart, but it also helps me stay up to date with what's going on in our industry all around the world."
What strategies can be used to stay connected with loved ones while travelling for business?
Eleanor Noonan – CTM Global Chief Operating Officer
"I cherish my role as the self-appointed favourite aunt to my 16 nieces and nephews. To ensure I never miss a birthday call, regardless of my global location, I make it a point to schedule them all in my Outlook calendar, adjusting for the relevant time zone."
Josh Gunn
"Don't forget the impact being away for a few days can have on partners, particularly those with young children. Practical steps like preparing meals in advance and making time to speak over video calls regularly all help to ensure they don't feel like they're left on their own to battle by themselves, and ensures you keep connected."
How do you maintain your mental well-being and a healthy diet during your travels?
Kate Suddards – CTM Sport Business Development Director (EMEA)
"I have always been a big fan of ginger shots for my immunity and enjoy fresh fruit with yoghourt for breakfast. Exploring the local cuisine of the destination brings me joy, and that is a big tick for my mental health. Additionally, I always prioritise fresh air and outdoor activities to help me escape screen time and enhance the travel experience."
Stephy Chan – CTM Marketing Manager (Asia)
"I like to chill out at a café with good coffee and my favourite book. It is good for the soul. Staying well-hydrated remains a top priority throughout the day, and when time differences disrupt my appetite, I turn to nourishing soups. It's a way to ensure my body receives the sustenance it needs, no matter where my journey takes me."
Mary Ellen Hess – CTM Executive Vice President, Business Development (North America)
"I always make sure I have my smartwatch on to track and keep me honest with physical activity, whether that be walking through the airport instead of using the travelators, walk and talk meetings or anything that gets my body moving. I reset my goals each week and this ensures not only my physical well-being is in check, but my mental health is nurtured as well."
Chris Rose
"Keeping a balanced diet is such an important part of ensuring my mind is healthy and happy. Whilst the buffet breakfast and pub dinner are tempting when travelling away from home, I try to keep things healthier and light… or at least for the first few days. Where possible, I like to stay at a hotel that has an onsite gym to stay active and keep a similar routine to that of home."

How do you prioritise your physical health while travelling, considering factors like jet lag and irregular schedules?
Eugene Tan – CTM General Manager, Sales and Client Value Management (Asia)
"I mastered the art of flight comfort as a way to maximise my well-being inflight, allowing myself to feel relaxed and provide an opportunity to rest and sleep on international services rather than risking the temptation of bingeing on movies, inflight meals, snacks and the complimentary drinks."
Eleanor Noonan
"Exercise is key. I am more disciplined at exercising on a work trip than I am in my home life because I know how much it matters to well-being. I try to walk for 30-45 minutes each morning I am away, even if it's with a beanie and gloves in some regions. If I get 10 minutes to try to find a good espresso, that's a tick on the exercise front. The fresh air, perspective, and things you notice about your location are interesting and provide some good content for your discussions with your colleagues that day."
Josh Gunn
"For me, having a cold shower in the morning works a treat to regulate my mood and makes me feel revitalised and fresh, assisting with jet lag. The other strategy I have is if I'm travelling west, I'll try to fly during the daytime and stay awake until the evening local time when arriving. Going east I'll do the opposite and try to travel overnight. This approach helps me adjust, even if the sleep is less than ideal given my height at 6'3″, allowing me to function at full capacity on the day of arrival."

Any tips for when things don't go to plan?
Nicola Veltman
"Always make sure you have paid for the maximum number of pages on your passport and have a technology travel kit that includes wireless headphones, converters and chargers in your carry-on luggage ready to go."
Tracey Edwards
"Travel can be tiring, so ensure you pack your patience in the event of any unforeseen changes to your schedule and, most importantly, make sure you have the contact details of your Travel Agent to assist in rebooking if needed."
How do you ensure you get your "tourist fix" during your business travels?
Kate Suddards
"Travelling for business can take you to places that you may never go to again, so make sure you take time to see the places you are visiting. I try to avoid the main tourist attractions and instead get recommendations from friends and colleagues on where to visit or which restaurant is popular with the locals."
Paul Prator
"Take every opportunity on the road to meet new people, hear their stories, and share yours."
Tracey Edwards
"Make sure you schedule time for yourself. The best piece of advice I was once given is "Ensure you look in and up." Take the time to look around and enjoy the destination you are in."

Disclaimer: The information provided in this blog is solely the opinion of the contributors and should not be considered a substitute for professional mental health advice. Always seek the advice of a qualified mental health professional or healthcare provider with any questions you may have regarding mental health concerns. The opinions expressed in this blog are personal and do not represent the views of any organisations associated with the contributors.
 Found our business traveller health-wellbeing blog insightful? 
Speak to our travel experts to arrange your travel today.