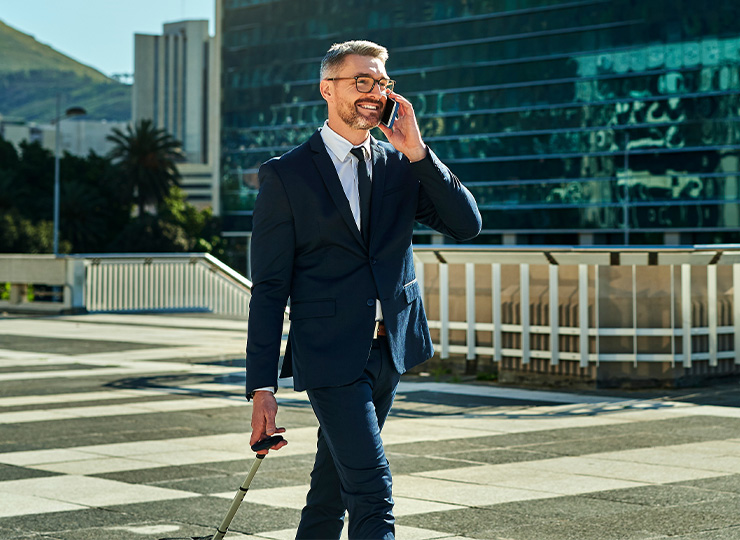 Balancing travel policy compliance with the traveller experience
The modern-day business traveller is evolving. Their expectations are changing as a result of remote working and world events. What was valued in previous years may not be a business traveller's priority this year or next. According to a recent survey from Concur, 96% of global business travellers are willing to travel for business over the next 12 months. How companies meet the new and evolving needs of their travellers whilst promoting travel policy compliance will be a careful balancing act.
For businesses, delivering the same travel policy each year and expecting the same level of compliance and traveller satisfaction may be a challenge.
Employees have come to expect more flexible working conditions and flexible travel programmes to better integrate business travel with their personal lives. According to Concur's research, new benefits that business travellers now expect from their employers include the ability to choose direct flights (52%), stay in four- to five-star hotels (41%), and select premium seating, like first or business class (39%).
Businesses that invest in evolving their travel policies to support the objectives of productivity, comfort, safety, and wellbeing may find the perfect balance between policy compliance, traveller experience, and employee engagement.
Modern-Day Traveller
Hybrid working models have provided people with flexibility and, as such, created a new level of expectation for the end-to-end traveller experience. Employees are more likely to prioritise their comfort, safety, convenience, and brand loyalty over their employer's goal of savings and compliance.
Duty of care is more important than ever, with safety continuing to be a priority for business travellers and travel managers. Corporate Travel Management's (CTM's) 2021 Business Travel Survey demonstrated that traveller risk, safety and wellbeing were the top priorities for travel programmes in 2022. Where travel services were once selected by price, on-time performance, seat pitch, and luggage allowance, today's travellers want to understand the supplier safety and cleanliness measures of hotels, airlines and airports at the time of booking. Preferred suppliers must today be able to meet the requested standards of companies as well as the expectations and preferences of the business traveller to drive ongoing compliance.
A 2022 report from the American Hotel and Lodging Association (AHLA) indicated that heavy workloads and unused vacation days mean employees plan to make the most of their upcoming business travel, with 89% of global business travellers surveyed saying they will add personal vacation time to their business trips in the next 12 months. Travellers are increasingly blending work and leisure and, as such, seeking flexibility with travel arrangements, dates and schedules.

Business traveller expectations are evolving. Have you updated your travel policy?
CONTACT US
Recruitment and retention
With many people currently reconsidering their career paths, corporate travel policies are increasingly positioned as a key differentiator for retaining and recruiting talent. Since travel policy and experiences directly impact the quality of the employee experience, there's great strategic value for Human Resource Managers to have visibility into travel policies and a strong relationship with their company's Travel Managers, or the department that manages travel.
The effects that a travel programme has on employee recruitment and retention are often overlooked. According to the Global Business Travel Association (GBTA), 79% of North American business travellers, 83% of European business travellers, 81% across the Asia-Pacific region indicated that their business travel experience impacts their overall job satisfaction. In North America, 59% of travellers say that a company's travel policy is an important factor when considering a new job.
Traveller-focused programmes lead the way in addressing ancillary travel services such as dining and parking in their travel policy. Those that have ancillary services included in their policy are also often likely to have traveller satisfaction programmes that allow them to measure their employee's travel experience. Categories that are measured might be air, hotel, ground transfers, dining, parking and leisure travel. A report conducted by GBTA[1] found on average 60% of buyers who measure such categories say they drive significant traveller satisfaction. Over half of the companies that measure the effectiveness of their traveller satisfaction programme do so through cost savings and policy compliance.
It is important to keep a company's culture and business goals in mind while setting policies that help the traveller achieve their business goals when travelling. Policies should support the company's overall goals while also enabling employees to be the most productive, safe and comfortable they can be while travelling for work.
Understanding your employee's travel needs, whether via traveller surveys or traveller focused programmes, will enable a business to deliver a carefully crafted travel programme with a flexible policy that promotes compliance and delivers a positive traveller experience.
[1] GBTA – Traveller satisfaction outlook: Are companies focused on what matters? 2019
Business traveller expectations are evolving. Have you updated your travel policy?