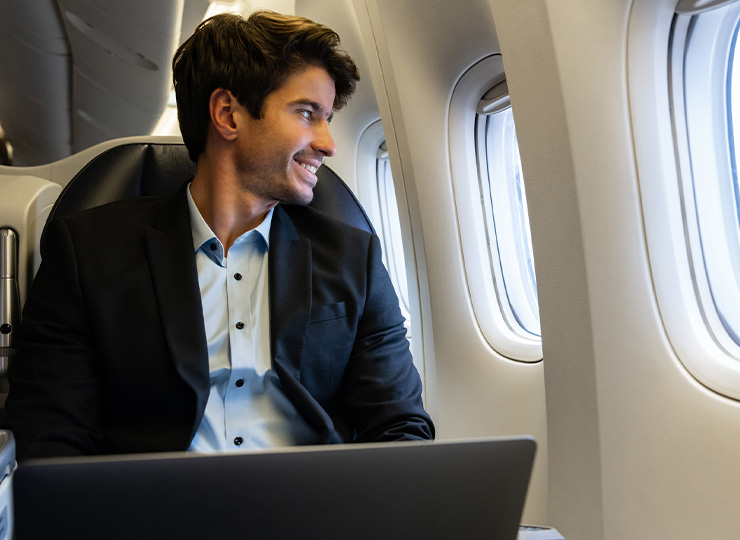 Business travel with purpose: Can you afford not to go?
After a two year pause, the world has reopened to business travel. In fact, business travel recovery is predicted to experience 38% year-over-year growth in 2022 to USD$1 trillion, and exceed pre-pandemic 2019 spend levels (USD$1.4 trillion) by 2024, a year earlier than previously forecast according to the Global Business Travel Association's (GBTA) 2021 business travel index (BTI).
Further, of the 400 global business travellers polled in GBTA's BTI research, 86% reported that they need travel to accomplish their business goals, and 81% believe that their volume of domestic business travel will be greater or on par in 2022 than it was before the pandemic.
For most businesses, the return to business travel is no longer a matter of 'if' or 'when', but 'why'. As such, companies are more focused than ever before on understanding the return on investment of their travel spend.
According to GBTA's research, Chief Financial Officers (CFO) felt the top return-on-investment reasons for business travel in 2022 would be:
Sales and business development (68%)
Internal business planning and strategy (50%)
Client account management (48%)
Employee training and development (48%).
This makes sense given the proven impact of face-to-face connectivity to winning and retaining business.
According to the Harvard Business Review, face-to-face communication is up to 34 times more powerful than online communication. This is further supported by a study conducted by Forbes where 95% of respondents said face-to-face meetings are essential for long term business relationships. People prefer in-person meetings because they:

Corporate Travel Management (CTM)'s 2021 Business Travel Survey asked what business travellers were most looking forward to achieving from their business travel in 2022. Beyond sales and customer retention motivations, respondents listed engaging with partners and suppliers and driving innovation and knowledge sharing within their top 5 objectives, demonstrating a shift to more purpose within business travel programmes.
When we need to reach an agreement, collaborate, and ensure a mutual understanding between people, the function of face-to-face meetings is an unrivalled solution for many.
Designing a travel programme that can demonstrate its value as an enabler to your business strategy instead of a budget line item will not only give your business a competitive edge in sales and customer retention but also provide opportunities for further savings (and improved ROI) through increased employee engagement, development and retention while supporting ideation and innovation.
Start measuring business travel with purpose. Speak to a travel expert today.
Contact us
Business travel for sales and customer retention
Retaining customers is considered to be at least five times more cost-effective than finding new ones, which is why retention of customers is critical to business performance.
According to a Harvard Business Review, an increase of 5% in customer retention can lead to 25%-95% higher profits. Investing time and money into in-person meetings highlight the importance of the business relationship. If you're not connecting face-to-face with your customers but a competitor is, the risk of losing your customer could far outweigh the cost of your trip.
Mary Ellen Hess, CTM's Executive Vice President Business Development – North America, knows first-hand the importance and value of in-person meetings and says "Procuring travel services involves building relationships, rapport and trust. At CTM we've been fortunate to experience significant growth during the pandemic and the key to this has been the continuation of meeting in person where possible. Personalised service is a core value at CTM and there's just nothing like face to face communication to demonstrate loyalty and trust."
A travel management company (TMC) can also support organisations in their analysis of the value of their business travel expenditure, as it aligns to your business's goals and performance data, by capturing the 'reason for travel' at the point of booking. A shift in 'reason for travel' aligned to a rise or fall in business performance (for example sales, customer retention, employee churn) may be a valuable indicator to reviewing your travel programme, budget or approval processes.
The data [1] below represents a CTM customer's travel activity by reason code pre and post-pandemic. Pre-pandemic (2019), the customer's top 3 reasons for travelling include:
Internal Meetings
Client Meetings
Business Development
In contrast, the customer's post-pandemic travel data presents some interesting shifts in the reasons for travel, including:
Internal Meetings dropped from #1 to #12 with a change of focus reflective of post-pandemic business needs
Client meetings remained at #2 – demonstrating a recognised value in customer retention travel activity
Business Development dropped from #3 to #9 – with more prioritisation placed on project-based business trips and staff relocation.
[1] CTM AU/NZ travel activity – legal industry customer. Date: July 2019 – February 2022.
CTM's Managing Director Jamie Pherous acknowledges the value of CTM's own travel activity as the driver of record new business wins during the first half of FY22. Pherous said "I have made 26 flights in the past seven weeks, including international travel. We have won significant new client accounts because we are prepared to get on a plane and meet face to face, showing our investment in building relationships and going the extra mile for our customers. We've been able to effectively resolve supply chain constraints due to face-to-face engagement, which has been a great benefit to our business and customers and could not have been possible without travelling."
In a recent interview with Business Travel News, Pherous spoke about the impact on businesses operating in countries with closed or restricted borders. "If you're closed out, you're going to miss winning market share or you're going to lose customers. And as we all know, supply chain issues right now are a big, global problem. Those that can get on planes and see their supplier and sort it out get in front of the queue of the others that can't. There's a real cost now to those that don't open up when the rest of the global economy has opened."
Pherous also explains "Our teams have been able to fast-track some complex projects by getting together in a room, achieving tangible outcomes in a matter of hours instead of weeks or months. On a recent business trip to North America, we were able to achieve resolutions within four days of meeting in person that would have taken months to resolve via virtual means. The benefits of collaboration and problem solving as a team together in one room are undeniable."

Business travel for employee engagement, development and retention
According to the Work Institute, it costs as much as 33% of a workers' annual salary to replace them, and in a highly competitive recruitment market, those costs can be even higher.
CTM's 2021 Business Travel Survey found that training and developing employees, engaging and retaining employees, and recruiting new employees were within the top 10 motivations for business travel in 2022. Additionally, the top three types of business events that business travellers expect to attend in 2022 include internal meetings (64%), conferences (59%) and team-building and training (41%).
Well before the pandemic, organisations have been challenging traditional approaches to the training and development of employees. While previously there was a desire for more digital learning – for the benefits of accessibility, efficiency and customisation – the perceived benefits of digital and remote learning have not necessarily played out with some competencies best taught and learned in person. Layering remote learning with extended periods of remote working has left many employees feeling disconnected and disengaged from their employer and colleagues.
CTM's events division, Event Travel Management (ETM), specialises in delivering strategic business events, conferences, incentives and team-building experiences for a wide range of corporate businesses. ETM's Global Strategic Lead, Tracey Edwards says "We've received an increase in events enquiries where customers want to get their team members together for face-to-face events to provide a focus on company culture and to recognise and reward their staff where they haven't been able to over the past 18 months."
ETM's customers have acknowledged the importance of knowledge sharing, relationships and engagement with employees and the benefits this brings to their business. Marcy Holdsworth; Manager, Aboriginal and Torres Strait Islander Health at James Cook University says "The work we do in Aboriginal and Torres Strait Islander health is all about relationship building which made it easy to decide on a face-to-face delivery as opposed to going virtual for the 2021 programme. It is important to note, if COVID-19 had prevented us from face to face delivery then we would have pivoted to virtual. However, there is no substitute for in-person connection which allows for networking, collegiality, building rapport, and stakeholder engagement."
According to an article by Forbes, those organisations looking to develop employees' interpersonal skills, emotional intelligence and the ability to engage and influence others are not as able to do so in an online environment. Ultimately the desire to learn and grow is fundamental to human nature, so investing in training and development opportunities can be an effective strategy for increasing employee satisfaction.
Determining a return on investment (ROI) from purpose led business travel will be unique to each company and industry depending on the role of the traveller, the intended outcome of the trip and the business's unique growth goals and objectives – which may have shifted significantly in response to the pandemic. For some businesses, the travel budget may be driven by sales and customer retention goals. For others, travelling for employee recruitment and development might be the priority.
While digital communications are here to stay, their valuable contribution to achieving strategic growth goals is becoming better understood. With travel restrictions easing, the travel industry is witnessing a resurgence in business travel activity, with pent-up demand for in-person connectivity being evident in bustling airports, increased airline routes and schedules, and travel activity surpassing early predictions.
Ensure your travel management company can track and report on your travel spend and reasons for travel to help evaluate the ROI of your travel investment by the purpose of travel and its contribution to your business's overall performance.
Start measuring business travel with purpose. Speak to a travel expert today.