Travel risk management tools
Corporate Travel Management (CTM) provides risk management solutions to our customers, enabling businesses to identify risks, track and communicate with their travellers.
CTM's risk management solutions are designed to help our customers meet their duty of care obligations, while providing business travellers with the confidence they need to make business travel safer, more productive and enjoyable.
From traveller tracking tools to SMS risk notifications, we can tailor a risk management solution to meet your specific business objectives.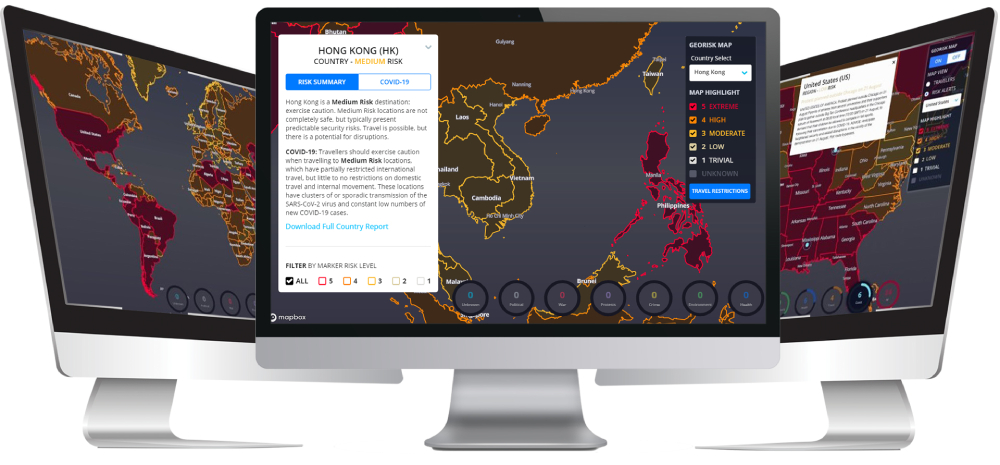 COVID Hub
Make informed, responsible travel decisions with CTM's COVID Hub.
The COVID Hub provides central access to real-time global travel advice relating to COVID-19 travel restrictions, including border controls, quarantine requirements, travel permits and destination health insights, via an interactive global map and itinerary-based trip search.
Accessible from the CTM Portal, this global trip planning tool gives travel program managers and travel arrangers complete visibility of country-level travel advice and critical information to enable efficient, effective and responsible travel planning, while supporting traveller confidence.
Users can select a country via the interactive global map, or search based on their proposed travel itinerary, to view current travel restrictions and advice, health status, and access detailed downloadable country travel guides.

Traveller tracking
CTM's Traveller Tracker platform supports your duty of care program by tracking travellers' locations via their travel itinerary, anywhere in the world.
Updated in real-time and fully integrated with the individual's travel itinerary, CTM's interactive global mapping tool provides an instant picture of country-by-country risk levels via a colour-coded map.
Save time, increase safety and maximise your duty of care program with CTM Traveller Tracker.
Pre-trip risk assessment
CTM's pre-trip approval solutions enable businesses to identify potential travel risks prior to booking travel, reducing travel risk and mitigating cost wastage.
With highly customisable approval workflows and question logic, companies can tailor their risk assessments for maximum control and enhanced duty of care.
Travel risk alerts
CTM Risk Alerts is a risk management dispatch solution keeping travellers abreast of developing travel risks as they happen.
Configurable risk ratings match travellers with potential risks based on geographic location and pre-determined risk ratings, enabling notification via email to affected travellers.
Ensure your travellers are kept informed of breaking travel alerts as they happen with CTM Risk Alerts.