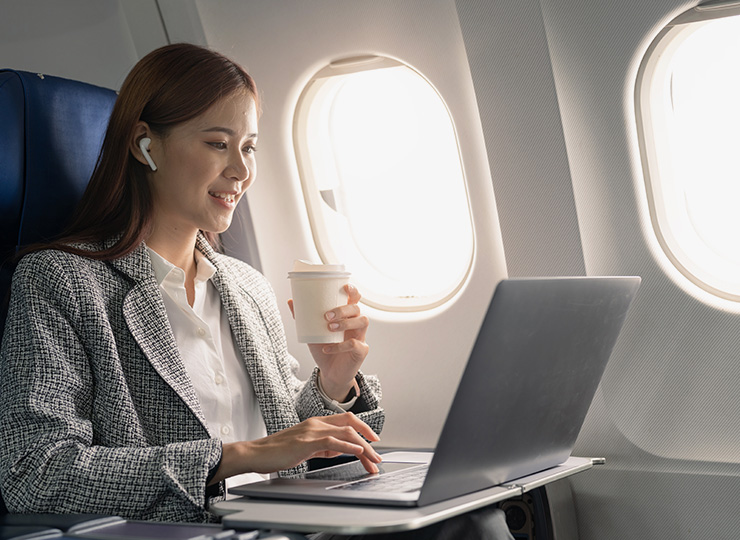 Premium Economy business travel - is it worth it?
Business travel in Premium Economy has become increasingly popular in recent years, with many business travellers seeking a more comfortable experience on long-haul flights. But is it worth the extra cost?
Depending on your business travel policy, Premium Economy can be a preferred option for short-haul, long-haul or frequent travel, offering added comfort to standard Economy without the high costs of Business Class. But with fares ranging from anywhere between 30% to double the cost of Economy, is the Premium Experience worth the price?
In this blog, we'll take a closer look at Premium Economy, and help you decide if it's the right choice for your travel policy or next business trip.
Premium Economy benefits
One of the biggest bonuses of Premium Economy is the extra legroom and wider seats. On most airlines, Premium Economy seats offer approximately 38 inches of legroom, compared to the standard economy seat of around 31 inches. This extra space can make a huge difference on long-haul flights, where you'll be sitting for several hours at a time. Additionally, Premium Economy seats are typically wider (17-21 inches) and more comfortable than economy seats (17 inches), with added features like adjustable headrests and footrests.
Another benefit of Premium Economy is the increased baggage allowance. Many airlines allow Premium Economy passengers to check in an extra bag, or to have a higher weight limit for their checked bags. This can be a huge convenience for business travellers who need to bring extra luggage with them.
Premium Economy passengers also have access to a wider range of amenities and services. On most airlines, Premium Economy passengers receive priority boarding, which means they can board the plane before Economy passengers and find a place to store their carry-on luggage. They also have access to a dedicated cabin and a quieter atmosphere.
Finally, many airlines offer Premium Economy passengers a more extensive menu, with higher-quality meals and snacks. They may also be offered a wider range of drinks, including complimentary alcohol.
Things to consider before booking business travel in Premium Economy
All of these benefits are certainly attractive, but they come at a cost. Premium Economy airfares are typically more expensive than Economy, and the price difference can be significant. This cost can be a barrier for businesses pending their travel policy.
Additionally, while Premium Economy offers a more comfortable experience, it's still not quite the same as flying in Business or First Class. The seats are not as wide and the in-flight service is not as personalised. For business travellers who need a flatbed to be well-rested on arrival and need additional privacy for working on confidential documents, Premium Economy may not be a suitable option.
Premium Economy offering
Singapore Airlines – Singapore Airlines Premium Economy Class offers priority check-in, boarding and baggage handling as well as a 35kg checked allowance and two carry-on pieces. Seats are a spacious 19.5" with a 125° recline in a dedicated cabin with a 2-4-2 configuration. The in-flight entertainment is extensive, and passengers are provided with active noise-cancelling headphones. The 'Book the Cook' service offers meals created by international chefs that can be booked up to 24hrs before departure.

Japan Airlines –  Japan Airlines Premium Economy Class offers advanced airport services to passengers, including special check-in counter, pre-flight airport lounge privileges and priority baggage service upon arrival. Sky Premium seats in Premium Economy Class provide extra legroom and personal space to ensure passengers enjoy a pleasant flight.

United Airlines – Known as United Premium Plus offers you extra space, added comfort and more ways to enjoy your trip on select flights. Your seats are closer to the front of the plane, giving you more legroom, elbow room and room to recline. Each seat has its own power outlet and USB charger. You'll also get free drinks (including alcohol), hot meals, snacks and desserts. Top it all off with two free standard checked bags, Premier Access boarding and discounted United ClubSM passes.

British Airways – World Traveller Plus is BA's premium seating product, offering similar perks to its peers including double the baggage allowance, newly-crafted menus and larger, more comfortable seats than Economy. There is a personal entertainment system with noise-cancelling headphones and priority boarding.

Is it worth it?
So, is Premium Economy worth it for business travellers? The answer is that it depends on the organisation's priorities and travel policy. Premium Economy is a great option for business travellers who are looking for a more comfortable experience on long-haul flights. The extra legroom, wider seats, increased baggage allowance, priority boarding, improved in-flight amenities and services, and better food and drink options are all attractive benefits.
In short, here are the top things to consider before purchasing a Premium Economy fare:
Research the type of aircraft you are flying on, as Premium Economy may differ in size and comfort.
If flying overnight, does the seat recline enough to allow for a better night's sleep?
Is the fare an upgraded Economy ticket? If so, check the fare restrictions before booking.
Corporate Travel Management's (CTM's) Account Management team works in partnership with our customers to provide the best possible supplier fares and conditions.
Eager to find out more about business travel in Premium Economy?
Find out more about how CTM can provide a greater return on your travel investment.