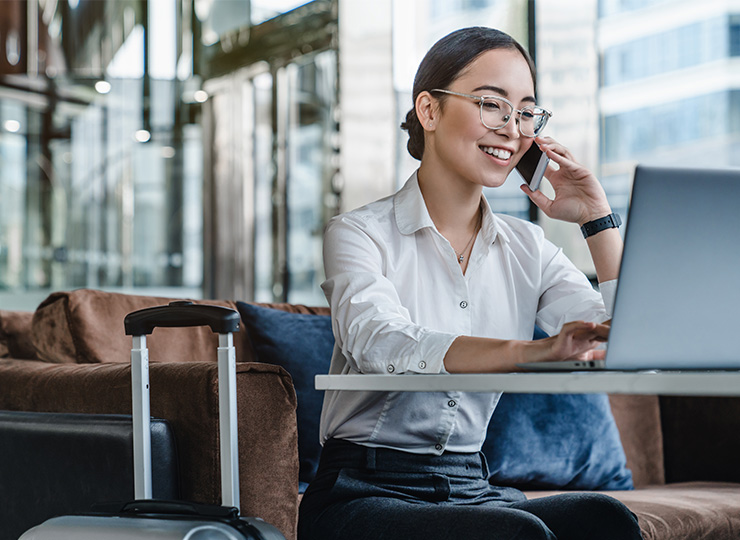 2023 Business Travel Outlook
What a difference 12 months can make in travel. We commence 2023 with a much-welcomed sense of normalcy and familiarity in the travel experience, with traveller confidence, demand, and activity fast returning to pre-pandemic levels. Businesses have now shifted their focus away from pandemic travel considerations, and towards a more acute focus on regional economic impacts that may influence the form and function of the travel programme's strategy and budget.
As we enter the new year, we welcome the much-anticipated re-opening of China, the 'final piece of the jigsaw puzzle' creating a truly reconnected world. We expect China's re-opening to add critical airline competition in regional and international markets in 2023, putting downward pressure on unsustainably high international airfare prices as extra services and seat capacity extends into the US, European and Australasian markets.
In our 2023 Business Travel Outlook, we share some of the latest global travel industry research alongside Corporate Travel Management (CTM) leaders' expert insights to explore the key trends impacting travel pricing, technology, and sustainability in 2023 and beyond.
2023 Business Travel Snapshot
One of our key takeaways from the last few years of travel is learning from disruption and how our customers and their travellers continue to evolve, adapt and embrace new opportunities for engagement, collaboration, and growth.
According to research conducted by the Global Business Travel Association (GBTA) [1] released in October 2022, "Economic considerations have eclipsed COVID concerns for the industry, but a majority of companies are not limiting their business travel specifically due to economic concerns." Despite this shift in focus, the survey showed strong ongoing demand for business travel activity in 2023:
75% of Travel Managers said their company had no immediate plans to limit business travel because of economic concerns.
78% of Travel Managers expect the number of business trips taken by employees at their company will be higher or much higher in 2023 versus 2022.
80% of travel suppliers expect travel spending by corporate clients will be higher or much higher in 2023.
66% of Travel Managers anticipate that their company will conduct more internal travel (colleague meetings or regional office travel) and 67% expect more non-internal travel (sales meetings/conference travel) in 2023 compared to 2022.
72% of respondents do not expect remote/flexible work models to impact the number of business trips taken by their employees. Additionally, 14% expect it will lead to more business travel.
[1] GBTA business travel recovery poll results – October 2022.

Supplier Snapshot
2023 will be a year of increased airline capacity and resources, improved service offerings, and new routes – better connecting our world. Setting the tone for an exciting year ahead, our teams are already witnessing a broad range of enhancements to supply services and routes across all CTM operating regions, positively impacting the way our customers travel.
Asia
Hong Kong fully reopened its borders with China on the 8th of January, allowing 60,000 Hong Kong travellers to enter mainland China daily.
Air China: Doubling Hong Kong – Bejing flight services from twice to four times per week.
China Southern: Resuming Hong Kong services to various key China routes commencing from the 12th of January.
Cathay Pacific: Cathay Pacific will more than double its flights into the Chinese Mainland, operating 61 return flights per week between Hong Kong and 13 Mainland cities from 14 January 2023.
Hong Kong Airlines: Plan to hire 1,000 workers and boost its number of flights as it seeks to reach 75% of its operating capacity by the end of 2023.
Australia & New Zealand
Qantas and Virgin Australia: Announcing additional capacity increases for the end of March/April which will see an additional 10% domestic capacity to the market.
Virgin Australia: Introducing a new direct Cairns to Tokyo service commencing in late June.
Singapore Airlines: Reintroducing their A380s into Melbourne to operate double daily flights effective mid-May. This will bring their capacity back to 76% of pre-COVID.
With China reopening, major Chinese carriers will be recommencing flights with Air China restarting Sydney services in early February with an initial offering of 3 flights per week.
Emirates: Commencing February, Melbourne will become the second Australian destination to be served with the signature Emirates A380 featuring Premium Economy.
North America
Delta airlines: Overall flight capacity in 1Q23 is expected to be only 1% down from 2019 levels.
Airline resourcing: In response to challenges around service resumption, collectively U.S. airlines have now employed the most employees in nearly two decades.
Rebound in air traffic between the U.S. and China is expected in late 1Q23 subject to government approval.
American Airlines: Resuming non-stop flights to Shanghai from Dallas Forth Worth twice a week commencing late March.
United Airlines: Implementing a large expansion of its North Atlantic schedule including 3 new routes to and from Newark and Malaga, Stockholm, and Dubai. United's total Trans-Atlantic capacity is expected to be 10% over 2022 and 30% over 2019 levels.
Europe
Air France and KLM: Flight capacity is back to 93% of 2019 levels. New routes are commencing and returning in 1Q23 including Aarhus, Innsbruck, and Salzburg, and increasing flights to China, Hong Kong, and Singapore.
British Airways: Growth is predicted for North America where the airline will service 27 U.S. destinations from London commencing in the summer of 2023.
United Airlines: Increasing their daily flights from 17 to 23 between the UK and North America by the end of 1Q23. This includes a second daily service between Heathrow and Los Angeles, in addition to a daily service to Boston.
Air Canada: Capacity is back to 95% of pre-pandemic levels, including all routes from the UK except services between Heathrow and Ottawa. This service is not likely to return before 2024.
Lufthansa Group: There is a focus on regional flights with Bristol-Zurich returning from the 4th of February and Gatwick-Frankfurt / Belfast-Frankfurt returning on the 23rd of April 2023. Lufthansa is also rolling out their long-haul product 'Allegris' during 2023 which will have a First Class Suite, a new Business Class Suite, and a Premium Economy product.
Business Travel Trends
At CTM, we continue to witness exciting developments in the way our customers travel for business and leisure, from their servicing needs and communications channels to technology adoption and content choices. 2023 is set to be no different, with many exciting new trends arising which will pave the way for more effective, more sustainable, and more personalised travel solutions in the year ahead.
CTM's leaders share their insights and views on the key trends shaping travel programme development and innovation in the travel industry in 2023.
Technology & Innovation
It is no secret that 2022 presented widespread resourcing challenges across the travel industry, as the rebound in travel activity out-paced recruitment and onboarding of staff across agent and airline service teams, airport services and security, and hoteliers. This challenge provided an opportunity for travel and hospitality businesses to innovate the way they provide service to travellers, with advancements in the use of robotics, AI, and automation becoming key drivers to overcoming the industry's resourcing challenges in 2023 and beyond.
Automation and AI will continue to change and enhance the way travel management companies (TMCs) deliver services and solutions to travellers throughout every step of the travel management experience and for every travel stakeholder. From trip research to travel booking, navigating airport processes, and in-trip experiences, technology has the power to deliver exceptional outcomes for customers at greater speeds, with more relevance and heightened personalisation by automating manual processes. In turn, automation will allow greater capacity for human expertise to focus on managing more complex travel requirements, presenting a win-win-win scenario for travellers, corporate customers, and the travel industry in general.

CTM's Global Chief Technology Officer, Mike Kubasik explains how hyper-automation and robotics are transforming the travel and travel management experience:
"Hyper-automation involves the orchestrated use of multiple technologies, tools or platforms such as AI, machine learning, robotic process automation (RPA), integration platforms and low-code/no-code tools, to deliver high-speed outcomes via the users' choice of service channel – whether that's email, chat, in-app or phone.
"This type of technology investment behind the scenes will have a significant impact on the front-line traveller and travel arranger experience, as traditional booking and in-trip processes become faster and more relevant for customers. The use of hyper-automation enables us to identify, vet and automate processes, which frees up Travel Advisors' time to focus on more complex service-related tasks. As advanced automation and AI continue to be built into the booking experience, through online booking tools and the tools our Travel Advisors use to make offline bookings and service requests, it will ensure every avenue for booking and trip management is optimised for speed, relevance, and personal preference, all of which support increased customer satisfaction and efficiency."
Sustainability
2023 will be an important year for sustainability across the travel industry, as travel continues to demonstrate its role as a strategic enabler to reaching 2030 sustainability targets. Organisations globally now increasingly rely on TMCs to support the delivery of their sustainability objective and targets through sustainable travel solutions.
Business travel can play a positive and important role in supporting businesses to reach their sustainability targets, by reducing carbon emissions through the choice of environmentally-focused suppliers and travel options, including rail and electric vehicles, and by promoting sustainable travel practices, such as the use of locally engaged suppliers and enterprises that support community prosperity through employment and local sourcing of materials and products.
CTM's Global Head of ESG & Sustainability, John Nicholls explains:
"Social connection is a new travel trend in 2023, and one which requires social health and well-being enhancements across airlines, hoteliers, and car hire, in alignment with the UN Social Development Goals (SDGs). Corporate travel buyers and managers need to embrace local and social connections as part of their sustainability purpose to enhance the prosperity of people and communities."
In 2023, we can expect to see an increase in collaborative partnerships between corporate clients, TMCs, and supply partners to deliver proactive sustainability benefits, with a continued focus on reducing and/or abating carbon footprints, advancements in the online booking experience to support sustainable travel booking behaviours, and widespread access to sustainable travel data that will support and enhance sustainable travel programme development.
There has been much focus recently on the development of Sustainable Aviation Fuels (SAF) as a leading solution to reduce airline emissions to meet Net Zero Targets. However, the scope of impact remains constrained by infrastructure, manufacturing and distribution limitations. We expect to see continued SAF investment across industry and airlines in 2023 and beyond, which will need to be coupled with Government support to overcome infrastructure and supply constraints.
Supply & Content
Traveller expectations are increasing and, as such, the traveller experience will be increasingly important in 2023. Suppliers will be seeking to retain and gain new customers not just by simply offering low prices, but equally by providing additional value through their services and experiences.
Air
We can expect to see the airline industry recover and gain momentum in 2023. The International Air Transport Association (IATA) has predicted that the airline industry could return to profit in 2023 as travel demand continues to build momentum.
The travel experience will continue to be a focal point in 2023, with airports and airlines continuing to navigate traveller expectations and remedy the pain points (cancellations, lost baggage, heightened screening, and security) around the passenger journey.
According to CAPA Centre for Aviation, traveller expectations have created a competitive landscape for airlines where experiences will be key to securing new customers. Travellers will be looking for more – whether that's the best in-flight experience or premium class services – and will be willing to pay more for those services should they be deemed 'valuable'.
Hotels
Personalisation is gaining momentum. Measuring 'value' in hotel programmes is no longer just about cost, but also the value in demonstrating sustainability practices as well as knowing unique traveller preferences and delivering personalised experiences – including additional amenities, welcome gifts, pillow menus, and customised messages.
Hotels are also adapting to the remote worker movement, ensuring their facilities can accommodate co-working spaces, fast Wi-Fi, and meeting spaces, and adopting new technologies to service guests, whether through mobile check-in or virtual concierge chatbots that provide customer service around the clock.
Following meteoric growth in 2022, we expect hotel average daily rates (ADRs) in key markets to show some stabilisation in 2023 as price elasticity increases and capacity and resourcing constraints level out. In markets still recovering from COVID-19, we expect to see some moderate ADR gains in 2023.
Meetings & Events
Many businesses are continuing to adapt to the unique needs, challenges, and opportunities presented by operating a more decentralised workforce. This global shift in workplace environments continues to challenge the way businesses and their employees connect and collaborate to drive strategic outcomes. Ultimately, we can expect to see growing demand for more frequent, small-group, and in-person collaboration between both internal and external stakeholders, putting pressure on venues and business services in key hub locations.
Advanced bookings will be key to controlling budgets while maintaining maximum choice and relevance for meetings venues. Additionally, companies and Travel Managers will need to be creative in their development of engaging and strategically planned meetings, and in motivating employees in a more decentralised work environment in 2023.
Event Travel Management (ETM) Global Strategic Lead, Tracey Edwards explains:
"Booking well in advance to meet expectations around the destination and budget will be of high importance going into 2023 with the high venue and accommodation demand. We are seeing savings of up to 40% on venues when booked more than 6 months in advance. There are however more benefits to booking in advance above and beyond securing availability.
"Equally, exploring opportunities to motivate, connect and reward employees will be key to attracting and retaining employees, from the frequency and style of face-to-face meetings to large group conferences and events. We are seeing an increased demand for incentive travel programmes across our customer portfolio as an effective way to reward performance, build connections, and memorable one-in-a-lifetime experiences that are unique to the company and culture.
"The ability to plan an entire event experience for attendees that makes the most of the chosen destination, building in cultural experiences, meeting sustainability goals and tying back to the purpose of the meeting, incentive or event will also be important."

In Conclusion
Our travel teams in every region continue to work closely with industry partners, customers, and our employees to ensure our services meet and exceed the needs of tomorrow's travel environment. As we embark on 2023, we look forward to working with our customers and prospective customers to evolve and elevate their travel programmes to embrace the opportunities of the new travel environment and to deliver more effective travel outcomes that drive business success.
Eager to find out more about the 2023 Business Travel Outlook?
Contact our expert travel team today to discuss your travel needs.