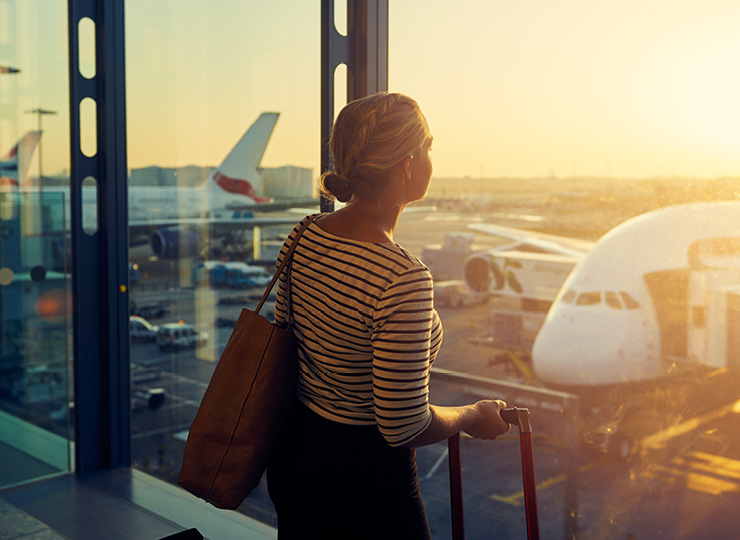 Corporate Travel Management Year in Review – 2022
Dear customers and partners,
On behalf of the CTM team, I would like to thank you for your continued support, partnership and collaboration throughout the year. For our team, our travel industry partners, and many of our customers, 2022 will be remembered as the year of recovery, reconnection and rebuilding, of advancements and agility as we continue to adapt to and embrace the new era of travel. I am energised by the sense of optimism and excitement felt across our business and the wider travel industry as we close out the year.
But the year has not been without its challenges. At the outset of the year, as COVID-19 became endemic and travel impediments were withdrawn in most key markets, we started to witness a rapid rebound in our customers' travel activity. The overwhelming appetite for face-to-face connection was felt across every area of our business as our teams rallied to support the new and increasing travel needs of our customers. Those servicing needs were often complex and significantly impacted by fast-changing travel and health regulations, restricted supplier capacity being outweighed by demand, and wide-scale resourcing challenges across every area of the travel supply chain, from baggage handlers to retail, service specialists to security, and everything in between. I wish to thank every one of our customers, employees and supplier partners for their patience, resilience and collaboration throughout the year as we strived to meet heightened servicing needs in a challenging travel environment.
However, challenges always provide opportunities to transform the way we do business for the benefit of our stakeholders. By combining our customer-first commitment with an innovation mindset, we have deployed many exciting initiatives throughout the year that have transformed the way we operate and provide value to our customers.

People & Service
We acknowledge that it has been a challenging year for some of our customers and their travellers; many of who have experienced extended service response times and the uncertainty of travel disruptions. Your patience, understanding and ongoing support are immensely appreciated across our business and the broader travel industry.
This year, we have been excited to 'welcome home' many of our alumni back to the CTM family as we rebuild our teams in line with increasing travel activity. We have welcomed our teams back to our office spaces to reconnect with peers while continuing to support a blend of in-office, work-from-home and remote employment options to support the expectations and needs of our employees and customers, ensuring a strong and flexible workforce both operationally and culturally. We are proud of the extensive collaboration established between our regional and departmental teams, in designing and implementing effective servicing solutions in a highly dynamic travel environment, such as follow-the-sun servicing for global clients, providing overflow servicing to meet regional fluctuations in demand, and supporting special projects. And we are extremely proud to have implemented new initiatives, such as the CTM Academy, to attract a new generation of talent into the travel industry, leveraging our relationships in the education sector to attract, train and onboard new travel advisors at maximum speed to deliver tangible benefits to our customers. At the time of writing this note, CTM's total staff numbers are back to over 3,000, similar to our pre-COVID workforce.
We have continued to develop and deploy innovations across every area of our business, leveraging big data, automation and artificial intelligence to either eliminate or automate processes and create capacity for more complex servicing and support. This investment in innovation continues to drive both internal and customer-facing benefits through efficiencies, empowerment, and more effective decision-making, making CTM's services more impactful and relevant than ever before.
The results of these initiatives are reflected in the positive customer engagement we continue to experience. In our 2022 CTM Global Customer Survey, conducted in June 2022, we found:
the top priority for our customers' travel programmes was 'travel expertise and customer service', and
over 90% of our survey respondents rated their CTM travel advisor's service as good – excellent.
We are extremely proud to have retained 97% of our customers globally throughout FY22, as well as securing record new customer accounts in CY22. These results demonstrate the confidence our customers have in CTM's ability to outperform in customer service, technology and return on investment, as well as our ability to deliver strong financial performance and ongoing financial security in the most challenging of environments.
These achievements have also been acknowledged within the travel industry during 2022, with CTM being award 'Most Outstanding Travel Management Company' at the Australian Federation of Travel Agents (AFTA) awards, 'Best Corporate Travel Agency' at the TTG Travel Awards (Asia), and the 'United States Leading Travel Management Company' in the World Travel Awards. Every member of our team should be immensely proud of these achievements.

Customer Confidence
As we close the year, we are excited to see a return to 'business as usual' travel sentiment across our customer base in markets where travel restrictions have been removed.
The majority of us have enjoyed the opportunity to travel domestically and internationally during the year. We have witnessed incredible progress in airport processes and experiences in a matter of months. Travel once again feels 'familiar' in most regions, which gives us great confidence in the continued return of travel activity in regions still emerging from the pandemic. Where airline reliability and airport congestion are near normal, CTM is now seeing business travel activity above pre-COVID rates (compared to pro-forma FY19).
The value our customers' place in their travels is echoed in their activity. Results from CTM's 2022 Global Customer Survey found:
80% of respondents expect to travel more or the same amount in the coming 12 months as they did pre-pandemic
The ability to service and retain customers was the #1 goal that businesses looked forward to achieving from their travel programme.

Growth & Diversity
CTM has emerged from the pandemic as a larger, more relevant, more effective and more impactful travel business. Our strong financial position continues to enable us to act on new opportunities that add value to our customers and business by adding scale, geographic spread, and new specialist travel services.
This year we welcomed customers and employees to the CTM Group through the acquisitions of Helloworld Travel's corporate and entertainment businesses in Australia & New Zealand, Safe2Travel in Singapore, and the 1000 Mile Travel Group – a global network of independent travel experts specialising in SME business and leisure travel services. We also announced the opening of a new CTM office in Japan to support customer growth in the region.
Additionally, our travel offering diversified and grew in several niche segments. We grew our global servicing capabilities with new service teams and specialist tools to support the unique needs of global travel accounts. We cemented our expertise in the entertainment travel sector under the Show Group brand, expanded our CTM Sports specialisation with new partnerships across the UK, Australia and North America, and extended our capabilities in the Oil & Gas sector. We also secured new partnerships to enable seamless customer servicing across new markets in Africa, Europe and the Middle East as extensions to our Global Partner Network, providing service capabilities in 130+ countries.
Sustainability
Sustainability remains a critical pillar in CTM's business strategy. As a service industry, CTM's carbon footprint is relatively light, however, we recognise and embrace the opportunity we have to positively impact the environment through the provision of robust and reliable sustainable travel solutions for our customers. We do this through the CTM Climate+ programme, providing customers with the insights to make more informed and sustainable travel decisions at the point of sale, as well as the opportunity to understand the carbon impact of their travel programme and offset their carbon emissions.
In 2022, our commitment to sustainability saw the creation and appointment of a new role in CTM's global leadership team; Global Head of ESG & Sustainability . This role, and its growing team, are responsible for delivering on CTM's sustainability ambitions by maximising sustainability opportunities that deliver value back to our stakeholders and the communities in which we operate.

As a global travel business, we understand that our sustainability responsibilities extend beyond the environment and must equally focus on the community and social impacts of our services and partnerships. In 2022 we were proud to publish our Reconciliation Action Plan (RAP ) which supports our business to collaborate and share knowledge, skills, and expertise to build strong relationships with Aboriginal and Torres Strait Islander peoples and communities. We have had the opportunity to provide specialist travel support for humanitarian travel projects, such as the evacuation and temporary accommodation needs of Ukrainian citizens displaced by the war in Ukraine. Additionally, we continue to seek ways to have a positive impact on the communities in which we live and work by supporting a diverse range of programmes that deliver positive outcomes. These include supporting; returned service men and women via our partnership with Soldier On; victims of domestic and family violence via the Lady Musgrave Trust and Christy's Hope; children suffering from cancer via the Nothing Ventured Campaign; emerging youth talent in sport via sponsorship of the Brisbane Lions AFL Academy. We look forward to sharing updates on these initiatives and many others and communicating ways in which our customers and partners can personally support these initiatives, throughout the year ahead.
In Conclusion
We approach 2023 with a renewed level of optimism and confidence. IATA predicts that by the end of 2023, most regions will be at or exceeding pre-pandemic levels of demand. We continue to see steady increases in travel activity in markets as travel impediments reduce, in line with our customers' shared views on the importance of business travel. We look forward to supporting our customers and industry partners in reaching those goals in the year ahead.
I wish to thank our customers and partners once again for your ongoing partnership, support and collaboration throughout 2022. I also thank CTM's Board, leadership team and every CTM Group employee for their unwavering commitment to excellence and innovation, and their individual and collective contribution to the recovery and growth of our business and the travel industry.
Wishing you, your families and friends a relaxing, safe and healthy holiday season!
Jamie Pherous
Founder & Managing Director
Enjoyed reading the Corporate Travel Management yearly review?
Contact our expert team to arrange your travel today.