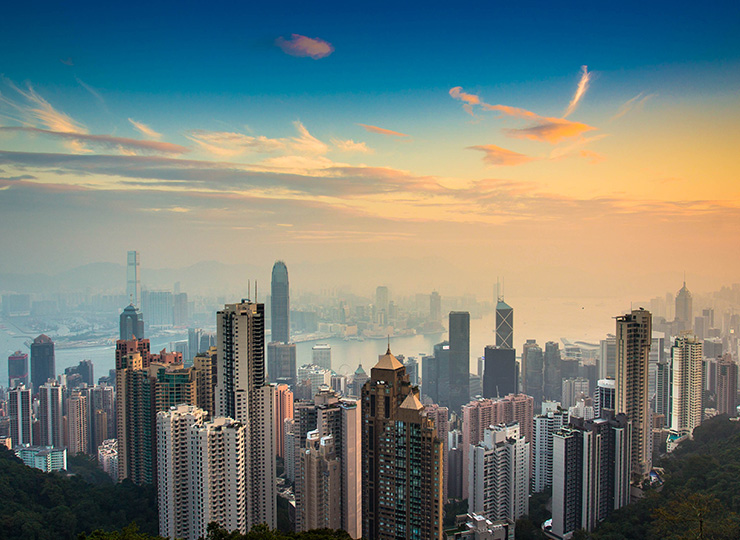 Hong Kong business travel guide
To know what a city has to offer, local insider knowledge is key. From the best area to stay, to the perfect spot for a business lunch to Hong Kong's hidden gems, Corporate Travel Management's (CTM's) Chief Executive Officer for Asia, Larry Lo has lived in Hong Kong for 30 years and has all the tips and tricks.
Why do you love living and working in Hong Kong?
Hong Kong is lively, dynamic, and fast-paced which is what I love most about living and working here. It is also a place of convenience where everything and anything is not too far away and a key reason most residents do not own a car. You can simply exit your apartment building and within minutes there will be supermarkets, restaurants, and anything else you possibly need. The transport systems are very efficient and using the MTR (the underground), taxis or buses will see you get everywhere within half an hour.
What key things differentiate the corporate travel experience of Hong Kong compared to other major Asian cities?
Hong Kong has a fantastic transportation system with plenty of options for getting around making it easy for business travellers to get where they need to be. Business travellers need to be ready as Hong Kong is a very tech-savvy city with a bustling technology sector. The other key thing is that Hong Kong is popular because of its status as an international financial centre and trade hub, which also means that there's a big ex-pat community and plenty of international hotels, restaurants, and other amenities. Hong Kong is considered one of the best places in the world to do business, with a stable economic environment and low taxes. This makes it a great choice for businesses looking to expand into Asia.
What's the best way to get from the airport to the city?
It's very easy. One of the fastest ways to get to central Hong Kong is by travelling on the Airport Express – it takes only 20 minutes. Once you get there travellers can connect with free shuttle buses to all the key hotels. It should be noted that many hotels also offer transportation to and from the hotel. If you decide that a private car or taxi is more your style, it will take approximately 30 minutes. Taxis in Hong Kong unlike other cities are very affordable, so an easy option for the business traveller to get around without costing a lot of money.
What characteristics of the local culture make Hong Kong a great place to travel for business?
It's a city of diverse cultures, bringing together people from all over the world. This cultural melting pot creates a unique and cosmopolitan atmosphere, and it's easy for business travellers to find familiar foods, services, and amenities.
What cultural sensitivities should western business travellers be mindful and respectful of when visiting Hong Kong?
Hong Kong has become a very western and modern city, however, there are still some cultural sensitivities that business travellers should be aware of:
In Hong Kong, most local people are open to addressing them by their western names in addition to their Chinese names.
Handshakes are the customary form of greeting in business settings. Feel free to initiate the handshake and maintain proper eye contact. Hong Kong is a relatively conservative culture, and people value modesty and humility.
Which is the best area of the city to stay in for business travel, and why?
Business travellers usually stay at Tsim Sha Tsui and Hong Kong Island. Both are very convenient providing several options for places to stay and conduct meetings. Most corporate buildings and business activity is conducted in the CBD area which is why Tsim Sha Tsui is very popular.
Any traveller safety tips while visiting Hong Kong?
Hong Kong is one of the safest cities in the world with one of the lowest crime rates. No matter how early or late travellers are out and about they should feel safe in Hong Kong. It is also a city that has a lively atmosphere, so there are always plenty of people around and restaurants open for people to feel safe and in good company.
What should every business traveller experience while in Hong Kong?
My biggest recommendation is to try the local food. I recommend visiting these two iconic places – Mak's noodles and Mak Man Kee to order truly local-style wanton noodles. Lin Heung Tea House and One Dim Sum are some of the places that provide travellers with an authentic Hong Kong dining experience. Originating in Hong Kong, Yuenyeung is a unique drink mixing coffee with tea and is very popular.
What is the most common mistake business travellers make when visiting Hong Kong?
They don't get to stay long enough and miss out on sampling all the local cuisine and tax-free shopping. If anyone has the opportunity to extend their stay I would recommend it. If you are a fan of hiking 70% of Hong Kong's land is mountains and has some of the best hiking locations around.
Hong Kong has a unique blend of Eastern and Western cultural influences, and business travellers need to be mindful of these cultural differences to build strong business relationships and avoid misunderstandings.
Another common mistake is not being aware of the fast-paced business culture in Hong Kong. Meetings and negotiations can be conducted quickly, and it is important to be prepared and has all the necessary information and documents at hand.
What tips do you give business travellers who are looking to experience both the traditional and modern attractions of Hong Kong?
For the traditional experience, I would recommend:
Take the time to visit some of Hong Kong's historic temples, such as the Man Mo Temple and the Tin Hau Temple, to experience the city's rich cultural heritage.
Stroll around the cha chaan teng (local diners) for traditional Cantonese cuisine. Be sure to try some of the local dishes, such as dim sum or roast duck, to get a taste of the city's traditional culinary heritage.
Visit one of Hong Kong's bustling markets, such as the Temple Street Night Market or the Stanley Market, to see the traditional side of the city and sample some of its delicious street food.
For the modern experience, I would recommend:
Take a stroll through the streets of Central, the city's CBD, to see the mix of old and new architecture and get a sense of the fast-paced energy of the city.
Take a ride on the Star Ferry which is an iconic part of Hong Kong's history and offers stunning views of the city's skyline.
Take a trip up to Victoria Peak to get a panoramic view of the city and see the modern skyscrapers that define the city's skyline.
There are many galleries and museums to explore. Check out the M+ Museum or the Hong Kong Museum of Art to experience the city's contemporary art culture.
Enjoy a day out at Disneyland.

What's the best and worst time of year to travel to Hong Kong, and why?
Hong Kong is located in a tropical climate so during the summer months, we can experience typhoons, but not to the same degrees as somewhere like the Philippines. The weather is certainly hot and humid, so not a comfortable time of year for business travellers to be commuting. During the spring and autumn, the weather is really pleasant and not humid at all. At least not as warm as Singapore so it makes it an ideal time of year to visit.
All opinions and recommendations are the interviewee's own. CTM recommends all travellers conduct their own thorough, independent research into their travel destination(s) before making any travel decisions, and take out adequate travel insurance before travel.
Want to know more about business travel in Hong Kong?
Take advantage of our expert knowledge and get in contact with CTM today.