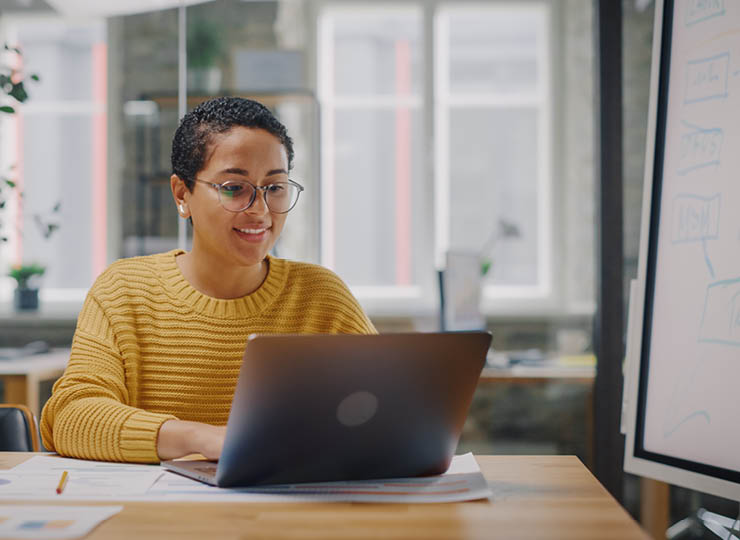 Maximise Your Business Travel Budget With Fare Forecasting
Global travel prices are expected to increase throughout 2023, according to the 2023 Global Business Travel Forecast from GBTA. With primary drivers including fuel price hikes, labour shortages, and increased costs of raw materials, it's a perfect storm for fare pricing. But there's still an easy way to get the most out of your travel budget and secure the cheapest available airfare every time you travel.
Cost reduction is a focus
Demand for travel continues to boom. According to a 2023 Corporate Travel Management (CTM) global customer survey, customers are expecting to travel more (44.59%) or the same (49.08%) as they did in 2022 for customer meetings.
Looking to the year ahead, the 2023 Global Business Travel Forecast estimates that airfares will increase in 2023 by 8.45%, hotel rates by 8.2% and ground transportation by 6.8% year-over-year.
The 2023 CTM Global Customer Survey indicated that cost reduction is a top focus area for travel programmes. With a spotlight on travel budgets and heightened pressure on Travel Managers to demonstrate a return on investment (ROI), customers can still find savings if they know where to look. It's never been more important to get the best price for travel suppliers booked and demonstrate the ROI to the company. Simple adjustments to travel patterns can reap significant dividends to the company's bottom line.
That's where CTM's Fare Forecasting technology can help. Simply enter your travel criteria to view the cheapest time to travel across surrounding days, within a single search.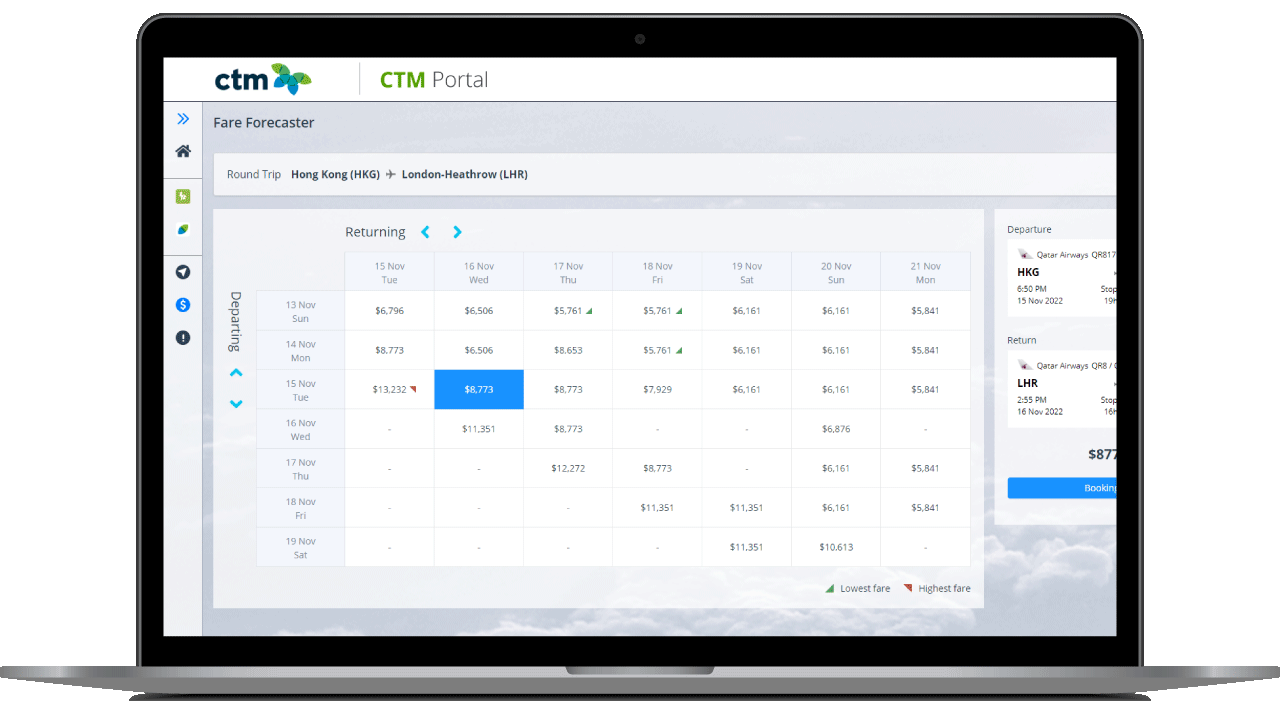 Where can I save money?
Using CTM's Fare Forecaster feature, we analysed* the top routes across the US, Europe, Australia & New Zealand, and Asia. CTM found that shifting an overnight itinerary by just 24-48 hours could regularly save business travellers upwards of 20%, and in some cases up to 50%, on their flight price. While not every trip can be moved to a different day, the savings on offer mean that even if a minority of travellers switch their travel dates by just one or two days the savings to an organisation's travel budget will still have a positive impact.
As an example, we found that it was possible to save between 5-32% on flights from Hong Kong (HKG) to London (LHR), and 14-19% on flights from Hong Kong (HKG) to Shanghai (SHA)  for multiple travel dates across September through November 2023.

How does business travel Fare Forecasting work?
CTM's Fare Forecaster feature is a proprietary development by CTM and is available in all regional markets we serve. Fare Forecaster displays the cheapest fares available 7-days on either side of your selected travel date, including your corporate travel deals, so you know you're seeing all the options that matter.
By maintaining an agile approach to our technology development, we're able to continually add new content sources to make business travel fare forecasting even more helpful in deciding when to travel.
Fare Forecaster is built into the CTM Portal alongside a wide range of travel tools so you and your travellers have instant access to easily search for the best time to travel. Thanks to business travel fare forecasting, travellers and travel bookers no longer have to keep multiple search windows open on their company booking tool, saving them both time when booking for themselves or on behalf of others.
What is the best day of the week to travel?
There is no one 'best' day of the week to travel as airfares will fluctuate based on carrier, routes, schedules, capacity and availability. The other new factor to be considered is that many organisations have moved to a hybrid work environment post-covid. Historical travel patterns have changed as a result, meaning that some of the limitations facing business travellers' availability to travel in the past may be mitigated. Last-minute bookings and minimal flexibility were once the hallmarks of the road warrior; now there's an opportunity to realign booking behaviour among your travellers as they have more lead time to plan office visits, client meetings and conference travel to ensure you get the most value for money from your travel programme.
The benefits of Fare Forecaster
Highs and lows– instantly see days with the highest and lowest fares, with the best flight prices highlighted as recommendations.
7-day window – up-to-date flight prices are displayed by specific journey or destination across a 7-day window, saving time on multiple searches.
Advanced purchase – search for airfares up to 11.5 months in advance of travel dates to compare the most affordable airfares, avoiding unforeseen events or holidays that might trigger premium prices.
Lightning Integration – the Lightning online booking tool integrates with Fare Forecaster allowing customers to configure to their travel programme's supplier preferences and policies, ensuring travel policy compliance and best practice booking behaviour, and deep-link straight into the booking tool to complete the booking.
Fare analysis conducted in May 2023 for travel in September, October and November 2023.
If you'd like a demo of CTM's business travel Fare Forecasting tool, contact us today.