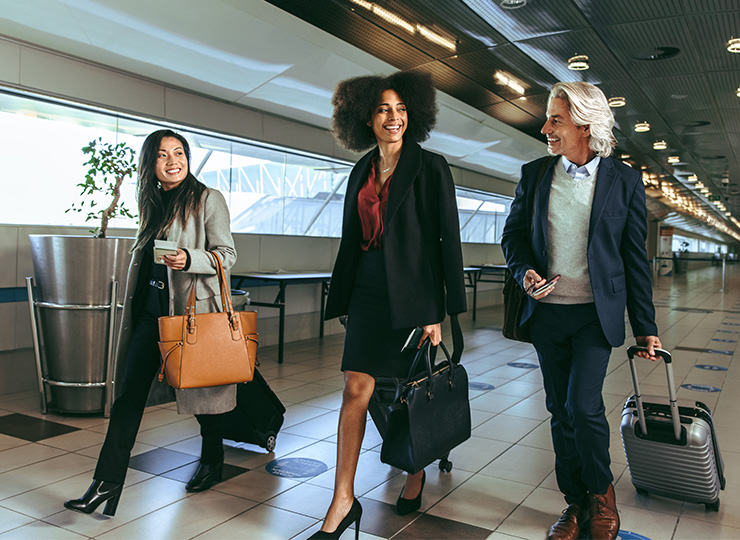 Reducing corporate travel stress: tips and solutions
Corporate travel can be both exciting and stressful. While it provides opportunities for professional growth and new experiences, it can also be a source of anxiety, discomfort, and burnout. Between the often-packed layovers, middle seat squabbles, meetings and meals on the go, travel can be a stressful experience – however, with the right planning and preparation, it's possible to reduce these stressors and make corporate travel a more positive and enjoyable experience.
This blog provides 3 tips to help reduce corporate travel stress, so you can focus on supporting company goals and travel programme requirements without sacrificing the traveller experience.
1. Review your travel policy
An overly complex travel policy can make corporate travel stressful, while an outdated one will not address your traveller's needs. Start by refreshing your travel policy each year to reduce friction points and include elements focused on enhancing the traveller experience.
Some areas for consideration are:
Provide guidelines for trip planning and preparation, such as booking in advance and ensuring the accommodation is booked in a convenient location for the purpose of the trip and car hire pick up and drop off locations are logical for the itinerary.
Include provisions for maintaining a healthy lifestyle while travelling, such as access to healthy food options, opportunities for exercise, and strategies for managing stress.
Provide guidelines for managing expenses related to business travel, including reimbursement procedures, per diem allowances, and guidelines for choosing cost-effective travel options.
Provide guidelines for ensuring the safety and security of business travellers, including tips for staying safe in unfamiliar environments, and procedures for reporting incidents.
Include provisions for staying connected and supported while on the road, such as access to secure communication tools, a designated point of contact for emergencies, and resources for addressing mental health and well-being.
Address the need for maintaining a work-life balance while on the road, such as guidelines for scheduling time for rest and recreation, and support for managing the demands of work and travel.
2. Plan for comfort and convenience
Business travellers should be able to consider their comfort needs when making travel arrangements and choose options that best meet those needs within the parameters of their travel policy. This might mean booking a business-class seat based on travel time to ensure they are well-rested upon arrival, or securing accommodation from the night before so they can check straight in, shower and change if needed.
Taking advantage of downtime will help travellers relax and recharge.  Physical activity might be one-way travellers wish to use their downtime and can help alleviate stress, and tension, and promote overall wellbeing. This means travellers should have access to hotels that have onsite health facilities or wellness programmes.
Make sure your online booking tools are mobile optimised and mobile apps are configured for the best possible traveller experience. This will ensure your travellers have their travel information at their fingertips.
3. Share perks and upgrades
Leverage your airline rewards and supplier-negotiated perks to incentivise road warriors and reduce friction elements on high-stress trips. In addition to individual frequent flyers and other travel reward programmes, businesses can leverage company and other supplier reward programmes to return perks to travellers—such as lounge access, seat upgrades, or status upgrades.
You can also leverage the frequency of your company's travel into tangible rewards for your travellers. For example, monitor complex international itineraries for opportunities to redeem class upgrades for long-haul flights, improving the traveller experience and saving your travel budget.
Where possible, look at your frequent travellers and use frequency as an indicator to distribute complimentary lounge access or seat upgrades on domestic flights. Finally, by honing in on specific elements of your travel programme and implementing regular surveys and feedback loops with your travellers, you can ensure that your traveller experience is fully optimised.
We are experts in reducing corporate travel stress.
Find out how you could be getting better value, and enjoyment, from your corporate travel programme.