Save on business travel with fare forecasting
Picking the right time to fly has always been a challenge. The volume of flights on busy routes can make it incredibly complex to calculate when to fly, when to return and sometimes even which route to take if there's no direct option.
Airlines know that business travellers often have to book last-minute and take advantage of this by increasing prices as the departure date gets closer, unlike traditional retailers who discount leftover stock to sell the maximum total volume.
The global travel restrictions imposed during 2020 drastically impacted business and leisure travel activity, with carriers reducing their schedules and even retiring once-profitable routes to match demand. As airlines now move into 'travel recovery' mode, they're reintroducing services and adjusting pricing and availability once again, causing prices to fluctuate for the foreseeable future.
As business travel activity returns, there's extra scrutiny on travel budgets and heightened pressure on travel managers. It's never been more important to get the best price on travel and demonstrate the ROI to the company. Thankfully, simple adjustments to travel patterns can reap significant dividends to the company's bottom line.
That's where CTM's Fare Forecasting technology can help. Simply enter your travel criteria and you'll be presented with the cheapest time to travel across +/- 3 days, all in a single search.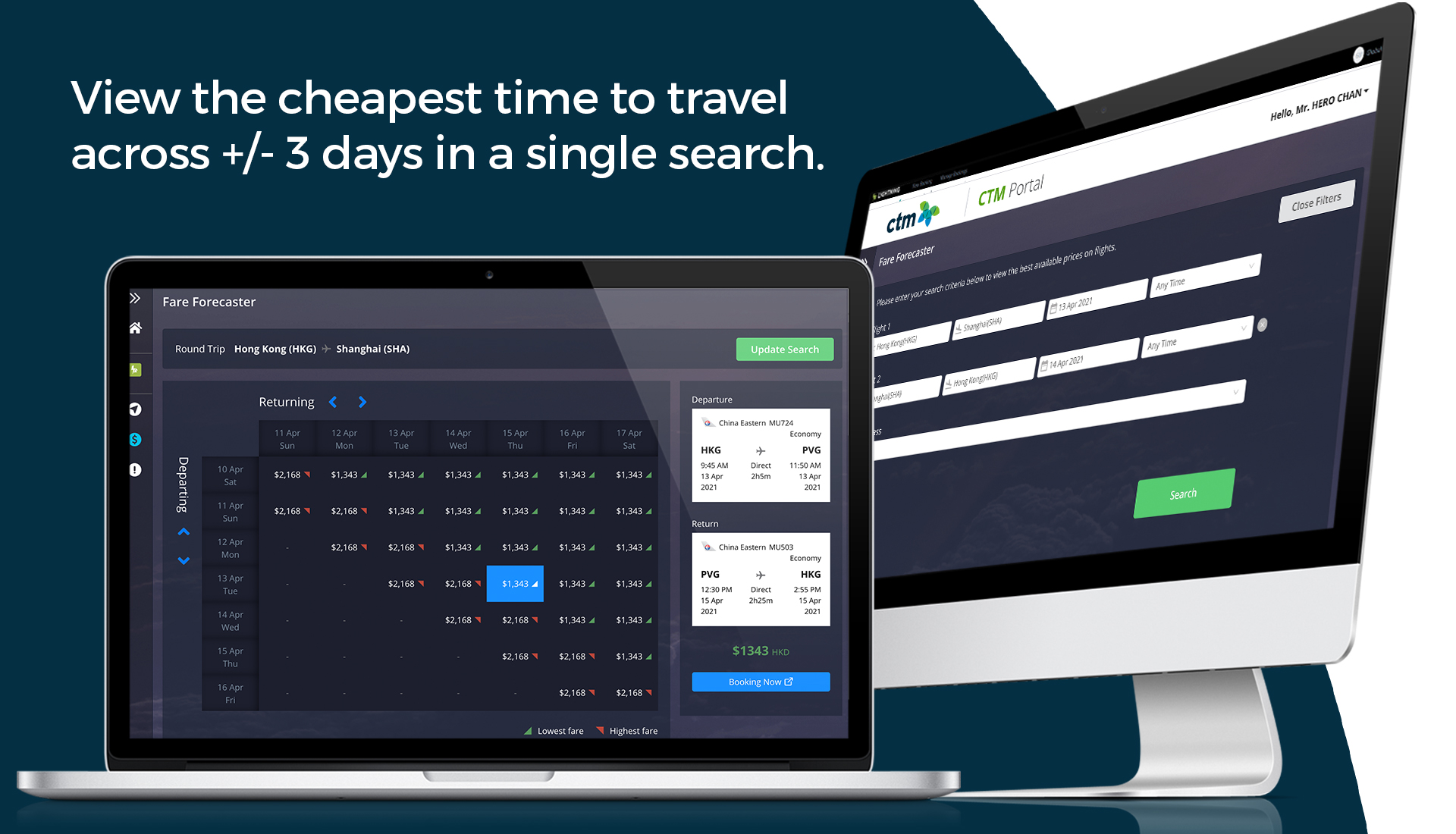 Are you paying too much for business travel?
In a recent global analysis*, Corporate Travel Management (CTM) found that shifting an overnight itinerary by just 24-48 hours could regularly save business travellers upwards of 20%, and in many cases over 40%, on their flight price. This was consistent across the US, Europe, Australia & New Zealand, and Asia. While not every trip can be moved to a different day, the savings on offer mean that even if just a minority of travellers switch their travel dates by just one or two days the savings will still be impactful.
As airlines gradually bring back routes and capacity, it will have a knock-on effect on demand. You can expect jumps in availability to cause fluctuations in pricing that weren't as common pre-COVID. Match that with companies getting their people back out on the road again thanks to a vaccine and refined safety measures, and you've got a recipe for inconsistent pricing by airlines day to day and week to week.
Show me the money – where can I save?
Using CTM's Fare Forecaster feature, we analysed* the top routes across the US, Europe, Australia & New Zealand, and Asia.

When you're able to achieve savings of over 10% regularly on flights, that has a big impact on an organisation's annual travel budget, which will be more important in the coming year and beyond than in previous years.
How does Fare Forecaster work?
CTM's Fare Forecaster feature is a proprietary development by CTM and is available in all regional markets we serve. Fare Forecaster displays the cheapest fares available 3-days either side of your selected travel date, including your corporate travel deals, so you know you're seeing all the options that matter.
By maintaining an agile approach to our technology development, we're able to continually add new content sources to make Fare Forecaster even more helpful in deciding when to travel.
Fare Forecaster is built into the CTM Portal alongside a wide range of travel tools so you and your travellers have instant access to quickly and easily search for the best time to travel. Thanks to Fare Forecaster, travellers and travel bookers no longer have to keep multiple search windows open on their company booking tool, saving them both time and frustration when booking for themselves or on behalf of others.
Lightning OBT integration
At CTM we've been able to leverage the benefits of our proprietary technology further by deep linking from Fare Forecaster into Lightning, our proprietary online booking tool. This integration means you can go from a simple Fare Forecaster flight search to identify the best date to travel, all the way through to booking those cheaper flights in just a few clicks within Lightning, without repeated searches on different tools. This helps save your people time and money while keeping your business travel booking experience simple and secure.
Manic Monday or a Ruby Tuesday? Friday, I'm in love.
If you're looking for a simple answer to the question "what day should I fly?", there isn't one. When analysing flight pricing across multiple regions and routes, the most consistent part of pricing variations is the inconsistency. While it's often cheaper to fly at weekends, we ruled out flying on Saturdays and Sundays from our cost comparisons to focus on weekdays, when business travellers are more likely to be flying.
2020 ushered in mass flexible working, which should help combat some of the historic limitations facing business travellers' availability to travel for work. In the past, last-minute bookings and minimal flexibility were the hallmarks of the road warrior, but now there's an opportunity to realign booking behaviour among your travellers as they begin planning office visits, client meetings and conference travel to ensure you get the most value for money from your travel program.
Let's recap the benefits of CTM Fare Forecaster
Cost savings – with mature travel programs it's tough to find additional savings. Giving your travellers and bookers the tools to quickly see the value of switching travel dates gives you an immediate saving and helps demonstrate the value of your travel program to other company stakeholders.
Efficiency– even when you work with a trusted travel partner, employees often try to find fares outside of approved channels. With Fare Forecaster, you can help them find the best deal, while also keeping bookings compliant with policy and tracked for reporting purposes.
Lightning Integration – Having access to both Fare Forecaster and Lightning for booking travel makes the whole process incredibly easy and user-friendly, vital to keeping your business travellers engaged in your travel program and booking within policy.
If you'd like a demo of Fare Forecaster, our Lightning online booking tool, or any of our other travel products­, just fill out the below form and one of our team will contact you today.
 *Fare analysis conducted in Dec 2020 for travel in January, February and March 2021.
Save on business travel with CTM's Fare Forecaster. Take a tour today.