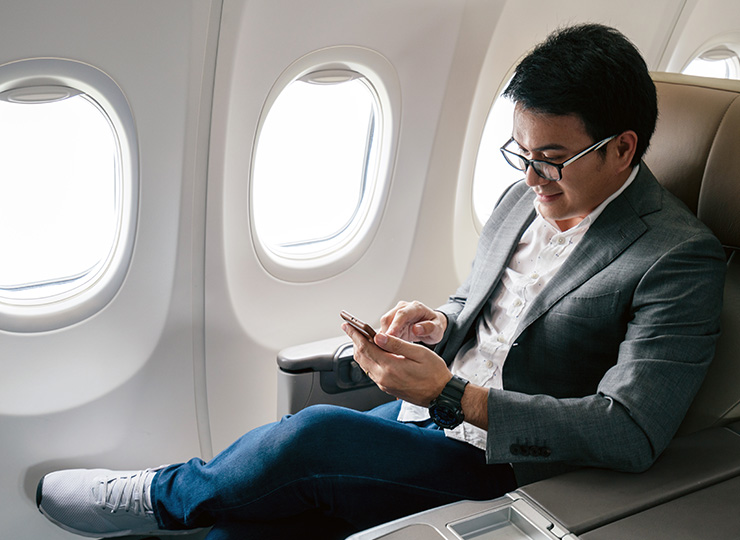 Business travel expertise is vital to SME growth
Small to medium-sized enterprises (SMEs) are a large contributor to a growing globalised workforce, with SMEs collectively representing approximately 90% of all businesses and more than 50% of employment worldwide, according to data from World Bank.
SMEs have the ability to grow their business at a faster rate than large companies by adopting the tried and tested strategies, technologies and practices of successful larger organisations.
In the post-pandemic environment, SMEs have also resumed their business travel activity at a faster rate than large organisations because they are not subjected to the approval processes, travel policies and compliance mechanisms of larger, more complex travel programmes.
The 'fear of missing out'
According to McKinsey & Company, this early resumption of SME business travel is likely to cause a ripple effect within the segment, with competitors taking to the skies to retain their customers and prospect new ones. This 'fear of missing out' (FOMO) segment of business travel made up 60% of corporate travel expenditure in 2019. "SMEs are likely to trigger a domino effect where one company's resumption of business trips will catalyze its rivals' return to work-related travel. Faced with intense competition, different players in the company (leadership, management, staff) coalesce to reinstate corporate travel at scale to seize the first-mover advantage over rival businesses."
Despite the 'fear of missing out' fueling the SME market, not all SMEs utilise the services of a professional travel management company (TMC) and those that don't may be missing out on other significant competitive advantages; cost savings through global buying power and internal efficiencies, and risk reduction through duty of care solutions.
Travel solutions drive speed and efficiency
A pre-pandemic study conducted by YouGov, an international research data and analytics group, revealed that the average small business was taking a total of 88 minutes to plan and book a business trip, and even longer for those companies with more than 50 employees. Medium-size enterprises were spending an additional 12 minutes, with individual travel bookings taking 100 minutes to complete on average. In the post-pandemic environment with more complex travel requirements and considerations, these booking times could be significantly longer. Corporate Travel Management's (CTM's) proprietary online booking tool, Lightning, consolidates corporate deals on flights, hotels and car hire in a single, intuitive booking platform, enabling users to book their entire business travel itinerary in less than 90 seconds.
For SMEs, understanding the savings opportunities and ancillary advantages that a managed travel programme can offer is now more important than ever. According to CTM Singapore General Manager, Eugene Tan explains "Through consultation, we know the SME market is travelling to primarily drive business growth and remain competitive in their market. They understand the value of in-person negotiation, building rapport, and knowledge-based sharing, with an investment in travel resulting in greater returns. With a key focus on growth, managing a travel budget may not be top of mind and this is where the travel expertise of a TMC will help support their business growth goals.
"CTM provides unmanaged SME corporate customers with an opportunity to see immediate savings by using our innovative and future-focused online booking platform that combines our proprietary technology and a wide range of content backed by our global buying power. Delivering a fast and efficient booking solution gives time back to travellers and travel bookers, so they can focus on their business which is often even more financially lucrative."
Resources at many SMEs may have been stretched by the impacts of the global pandemic. Finding time to explore travel expenditure and strategise savings opportunities is not often top of mind for small businesses. A travel programme that's designed and optimised to drive savings and efficiency by streamlining and simplifying the travel management experience, supported by user-centric technology, 24/7 travel support and a dedicated Account Manager is a simple way for SMEs to achieve savings, efficiencies and risk mitigation for their business and employees.
Nicky Leung, CTM Hong Kong Head of Client Value Management explains "Customer consultation is paramount to understanding not just our SME customers but all customers. It is through this process that we can truly understand their priorities, challenges, and key objectives of what they want to achieve out of their travel programme. For SMEs, complex approval processes might not be necessary, however, support with complex travel itineraries may be vital and this is where enlisting the expertise of a TMC will be valuable in providing travel solutions that are tailored to support their business and ensure their investment is as effective and productive as possible."
Business travel expertise is vital to SME growth. Get in touch with CTM today!
CONTACT US
Travel solutions designed for small and growing businesses
CTM offers a range of travel management solutions designed specifically for small and growing businesses. Self-service online travel booking platforms and mobile apps enable small business employees to book their travel anytime and anywhere via their preferred booking device, providing centralised access to an extensive range of travel content and travel insights (including health, travel restrictions and sustainability) all in one place. Additionally, businesses can tailor their travel programme and tools to suit their business needs and objectives, with access to centralised and integrated travel reporting, spend optimisation reviews, trip approval, traveller tracking and duty of care solutions and carbon offsetting under one roof. CTM's solutions drive savings to your travel budget while delivering efficiency and safety for your travelling workforce, ensuring your team has time to focus on your business.
Is your business looking for business travel expertise? Contact our team today!