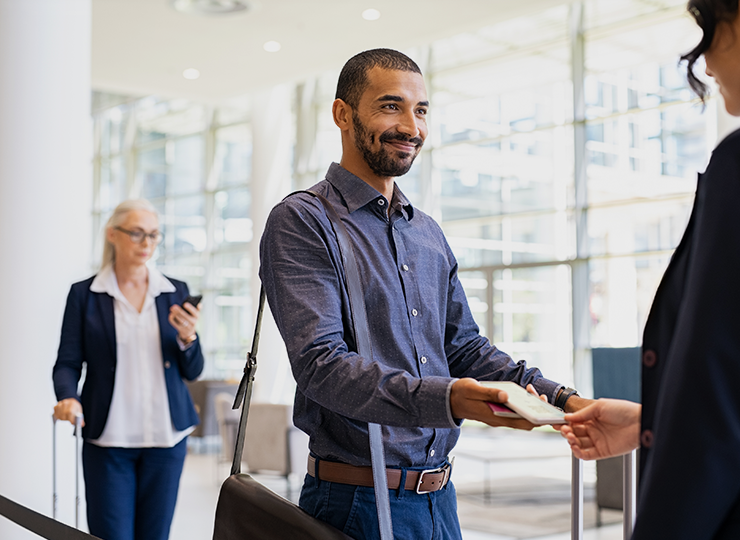 Digital Health Passports
Expert Insights: IATA
Top take-aways
Digital health passports aim to be interoperable between airlines and border authorities
Governments need to adopt and recognise a standard for digital health credentials
Paper-based airport verification could equate to 8 hours of processing time at full capacity
For the IATA Travel Pass, travellers will always remain in control of their data.
Interoperable digital health passports will have a larger role to play in enabling overseas business travel at scale, by ensuring travellers meet minimum vaccination and/or health status and reducing or eliminating the need for quarantine where required on arrival. Recent Deloitte research [1] shows the easing of entry restrictions was among respondents' top four triggers for increased travel, which means understanding the landscape of digital health passports will be key to post-pandemic travel.
The International Air Transport Association (IATA) is the trade association for the world's airlines, representing 83% of total air traffic. During 2021, IATA launched the IATA Travel Pass which is a digital health passport app currently being tested by 70 airlines and arming travellers with information on test requirements, where they can get tested/ vaccinated and how they can share results and certificates with airlines and border authorities in a secure manner. Corporate Travel Management (CTM) interviewed Vinoop Goel, Regional Director, Airports and External Relations, Asia Pacific to learn more about the future landscape of digital health passports.
Goel explains "The IATA Travel Pass is a critical tool for the restart of international travel. We don't see the IATA Travel Pass as being the only solution for managing travel health credentials. We believe there should be a competitive market for solutions and our aim is for airlines and their passengers to have a choice. What's more important is that governments adopt and recognise a standard for digital health credentials – documentation of vaccination or testing status – that can be used across various tools."
What would differentiate the IATA Travel Pass from its market competitors? "It leverages IATA's Timatic solution to ensure a passenger's health status meets the requirements of the destination country.
This enables passengers to be assured that they are good to go and airlines to simplify their check-in process without having to go through the details of the passenger's health documents", says Goel.
"The IATA Travel Pass app has been designed by the industry for the industry, with input from an advisory group composed of 19 airlines representing all regions of the world to ensure that it meets the needs of the industry. We worked with over 70 airlines around the world on trials of the IATA Travel Pass. This allowed us to identify and resolve teething issues."

Teething issues aside, the traveller experience looks different from pre-pandemic days with the check-in process being lengthier. Goel suggests "The reality is that when traffic returns to pre-COVID-19 levels, passengers could spend up to 8 hours in airport processes if the current paper-based methods for verifying health credentials are to continue. That is not sustainable. Today's airports are not built to have all passengers turn up at the airport to check in for their flights. With the IATA Travel Pass, we hope to be able to resume the off-airport check-in options, such as mobile or online check-in.
"It enables passengers to create a digital version of their passport on their phone. The passenger can then choose to securely send their passport details to airlines, airports and border control. This will ensure that documents and identity verification can be performed off-airport, and facial recognition can be used to swiftly process passengers at key touch points at the airport without the need to physically exchange passports and boarding passes."
According to the results of IATA's most recent traveller survey, conducted in September 2021 across 11 markets, 88% of respondents supported the use of digital health passports to manage health credentials. But what about data privacy? A concern for business travellers is how their information is stored and shared.
"For the IATA Travel Pass, travellers will remain in control of their data, ensuring it is protected and only shared with airlines and governments at the approval of the traveller" explains Goel.
References
[1] Deloitte Insights – Return to a world transformed, How the pandemic is reshaping corporate travel, August 2, 2021.
This blog post is the fourth in a six-part series of excerpts from CTM's eBook, 'A Fresh View to Business Travel 2022'. You can download the full eBook here.
Eager to find out more about digital health passports? Contact CTM today.