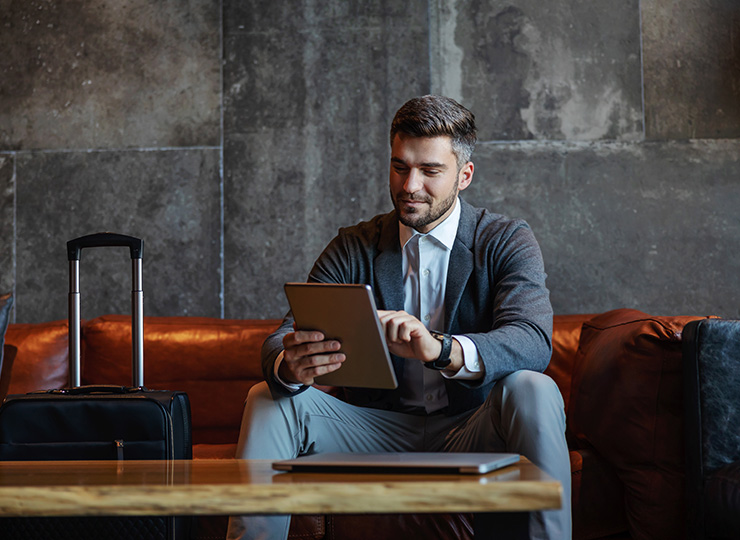 Hotel and business travel trends - 2022 and beyond
Corporate Travel Management's (CTM's) VP of Global Supplier Partnerships, Ali Hart, recently had the pleasure of participating as a panellist in a Sabre Hospitality webinar to share her insights on hotel and business travel trends for 2022 and beyond.
There has been a sharp increase in business travel activity as businesses get back out on the road or take to the skies to reconnect with customers and colleagues, and drive business growth. CTM's recent Global Customer Survey (May 2022) gathered feedback from more than 750 customers globally and found that 80% of respondents expect to travel more or the same amount in the coming 12 months as they did pre-pandemic.
So what does this mean for hotel trends, occupancy and pricing?
Hotel and Business travel trends  
Three key trends are being witnessed through the first half of 2022 according to Hart. "The first is an increase in demand, which has an impact on pricing. This is coming back to levels pre-2019 and our top 25 markets reached 71% occupancy, which is only the third time during the pandemic.
"The second trend we are seeing is the rise in requests for meetings and events. From our recent CTM Global Customer Survey, 59% of respondents said they expect to do more in-person meetings in the coming 12 months compared to current volumes. Our specialist events division, ETM, is seeing a spike in enquiries for last-minute requests for large and small meetings and therefore meeting space availability is limited and prices are increasing.
"The third trend is that customers are focused on sustainability and offsetting.72% of our survey respondents said access to information about supply chain sustainability strategies would be important to very important in the coming 12 months, and 57% said they seek environmental sustainability features when selecting an airline, hotel or car rental provider."

Business travel today versus pre-pandemic
How business travel is booked and how people travel is different to pre-pandemic times. With many people working in a flexible environment, whether remote or hybrid, there are changes to travel patterns.
"We are witnessing a few differences that impact the way we book and how people travel", says Hart. "There is more 'collaborative travel' as more employees now work remotely or office locations have consolidated. We expect to see an increase in smaller team travel and internal meetings which require overnight travel, resulting in more room nights as they are meeting in hotels, rather than their offices.
"Another difference is commuter travel, where employees decided to physically relocate during the pandemic and are now 'commuting' into their former city or head office location. This also means they are now staying in hotels for multiple nights instead of going home because they live further away.
"The micro-management of travel is not as prevalent as it was before. We are seeing less administration and not making travellers jump through hoops to book a trip so they can get back out there and recommence meeting with people. Where lengthy approval processes were in place, these are now lifting.
"We are no longer been asked about cleaning protocols as they are not considered as important as they were during the height of COVID-19 travel restrictions. Business travellers also expect that these protocols will continue to be in place. What we are being asked about is what restaurants and services are open in hotels. The reduced workforce for hotels has been problematic, like much of the supply chain, and in some cases has impacted the services being offered. We are asking our teams to make some in-depth checks for our customers so they can be confident about what services to expect upon arrival."

Traveller confidence
Customers are travelling in an infodemic era. Ensuring they can easily access accurate information – whether that is via technology solutions or customer service – will be vital to supporting traveller confidence.
How hotels utilise technology and also their people to drive the guest experience will be important. Some hotels have moved towards providing self-service check-in solutions in conjunction with traditional personalised service. It provides the business traveller choice and the freedom to select the service style they wish to experience on arrival – low touch technology or high touch personalised service.
Hart explains "Our CTM 2022 Global Customer Survey found that for our global customers (those operating in 3 or more continents), the number 1 focus area for their travel programmes in the coming 12 months is customer service. For smaller, regional travel programmes (operating in 1 continent) the top focus area for their travel programmes is cost reduction.
"Travel Management Companies (TMCs) need to be communicating the information that business travellers need across multiple channels, to ensure travellers feel confident in travelling again. For some, that might mean needing granular and accurate information about hotel services available in the online booking tools, and for others, that's ensuring their travel consultant has access to the same degree of information to support efficient, accurate booking recommendations. Our customers need us to demonstrate where we can consistently be creative in supporting their preferred agreements. We also want to ensure the range of hotels are there for our customers, operational and fully serviced."
Understanding the hotel market
At the start of the pandemic, it was a race to the bottom with hotels driving rates down when there was no corporate travel to achieve occupancy targets. With the recent return of travel activity – both business and leisure – we are now seeing rates returning to their pre-pandemic levels or higher. More now than ever, the business traveller is the one who is deciding on where to stay within their travel policy and preferred programmes with online booking tool technology streamlining the traveller experience. Some hotel brands are going above the noise in the market and trying to define something unique and engaging to offer the traveller. It has become more about driving the guest experience and creating an experiential stay. Hotels are looking to understand the traveller and what motivates them to stay, and then tailoring their services around their requirements.
Hart says "Results from our CTM Global Customer Survey demonstrated that price is the number one motivator for our customers. A large part of this is also providing value which can be seen as a cost-saving with benefits to the bottom line.
"A discount off the best available rate (BAR) may drive loyalty and is widely adopted across hotel programmes. Value adds or incentives for sustainability targets, such as the option to opt-out of housekeeping or even something creative like transfers to and from the airport, can all be translated into cost savings. Hotels are becoming more creative with offerings, providing more inclusions and options to suit the customer and provide value."
Enjoyed learning about hotel and business travel trends? Find out how CTM can support your travel needs.