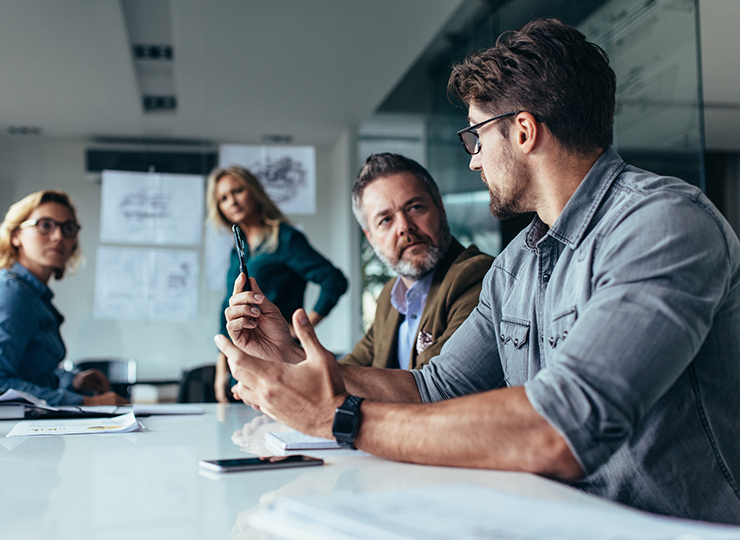 Pathfinders: User Experience (UX) is our customers' number one tech priority
In a Corporate Travel Management (CTM) survey of 500 customers, we asked what top three things they care most about when reviewing technology. A huge 61% chose "user experience", with "speed" trailing at 12% and "functionality" and "reliability" sitting equally far behind on 10% each.
So, what makes a great user experience? Let's ask the experts.
In the first of our new product leader series, Pathfinders, our regional technology leaders share their cutting-edge insights on what it takes to build technology for millions of users booking travel in every part of the world.
What sets business travel technology apart from other software used today?
Business travel by its very nature spans international borders and cultures, with the opportunity for fragmentation and inconsistency, but that shouldn't apply to the user experience (UX), according to Brian Sheerin, CTM's CTO EMEA. "There is a need for booking tools that offer a common and easy to follow user interface (UI). Whilst there may be differences in regional content, such as airline fare types, consistency in the UI should be adhered to as closely as possible."
"The UI should be easy to follow, avoid acronyms and always help a buyer to find and purchase what they're looking for as quickly as possible. A UX has to be created that provides access to everything from travel content to destination information, with minimal keystrokes, screens and removing unnecessary data entry."

This focus on finding the right option as quickly as possible is a key differentiator in how business travel tools are used compared to the leisure traveller who, while in discovery mode, can be searching over an extended period of time, doing much more wish-listing than a business traveller who has particular constraints like destination, travel dates and accommodation providers.
"Wherever possible, the UX should be personalised, recognising user details, needs and buying preferences. For business travellers, this means embracing travel policy, approval rules, risk and personal preferences in a simple, easy-to-use, speedy manner."
Average bookings costs in business travel are often 10 times the average order values (AOV) for other ecommerce verticals, with the average economy airfare USD$470 compared to Amazon's AOV of USD$36-60. This huge difference puts pressure on the user to get it right the first time, something Kenneth Wong, CTM's CTO Asia is quick to point out.
"Preventing errors is one of our key goals as designers. When users accidentally delete an item or make an unintended payment, their experience falls apart. Requiring confirmation for any important or irreversible action is one of the best ways to prevent these errors. This type of confirmation gives users an opportunity to reverse an unintentional action or to rethink something they're not sure of."

Are there times when business travel user challenges mirror those in other types of e-commerce or software?
Timmo Rol, CTM's Chief Product Officer ANZ certainly thinks so; "The CTM Product Development team are responsible for solving the user pain points and regardless of industry, users are the same everywhere; human (for now?). Not surprisingly, the problems are real problems that go beyond travel needs. Feedback such as "The information is unclear and I cannot decide what to purchase", or "There are too many options for me to choose from, this is taking too long, I will complete my purchase later" resonates with anybody who has used an e-commerce product.. That is how our user-centric development approach adds value – if you can purchase a book on Amazon, you can book travel on Lightning."
Business travel has multiple stakeholders, how do you design digital experiences that have to work for different types of users?
At CTM we use a variety of methods to better understand our customers and the different types of users of our products. Eric Ediger, CTM's Executive Director, Product Development, North America, walks us through some of the different techniques we use to get to the heart of delivering a great user experience for our customers. "User personas help us understand and represent our user segments. We collect the data from user interviews and these personas, in turn, are used to guide UX decisions to fit with that segment's needs."
"Empathy maps are another great way for us to put ourselves in the head of our customers, immersing us in what they think, feel, see, hear, say and do in relation to our products and services. They help add another layer that guides us towards success for the user."
As business travel is such a broad category with multiple users and types of products, from booking to risk management to data analysis, providing a level of visual consistency is also key according to Rol.. "We have a suite of in-house technology products, from our Online Booking Tool (Lightning) to our reporting suites, travel portal, traveller tracking and risk communications, invoices and profile management tools. Each product has different stakeholders that use it for different purposes. In addition, we have internal stakeholders with decades of corporate travel experiences that are valuable to our designs.

"We use a Design System with common visuals, guidelines and code components to keep the experience across products aligned. No matter if you are booking an international trip, then tracking risk and notifying your travellers in a specific location and later that same day reviewing your carbon budget reporting, the experience is familiar and intuitive."
How do you know when you've delivered a great user experience?
"One of our key differentiators is our CTM UserLabs. Through user interviews and testing our designs and prototypes with users we capture the user requirements, understand the frictions in the user experience and solve for that. It guarantees our success of new features and products. Over time we have built up a healthy database of users across our stakeholder groups willing to contribute to our technology products. That way, our clients really have a seat at the table of our technology roadmap" says Rol.
Talking to customers is equally high on the agenda for Lehi Mills, CTM's Chief Product Officer, North America. "Continuous data-driven design, with improvements powered by user feedback, analytics and dogfooding gives us an edge." 'Dogfooding' is the software development practice of being your own customers and using the products and tools you build for customers just as much internally. This approach served CTM well when developing our COVID-Hub, helping us pinpoint potential risks and navigating what data we needed on-screen to help users know what was possible, in order to make the right decisions about travel during the pandemic. 
CTM COVID Hub, a dedicated tool for companies to assess current and emerging travel risks due to COVID-19
Booking travel online is 25 years old. How can you continue to reinvent and improve the experience?
"Needs and expectations have changed radically in a post-Covid digital world and the paths we were on towards things like personalization and one-to-one experience have become radically accelerated," said Mills.
"Being responsive to changes has always been an essential element to remaining a leader in the digital travel landscape. Some key examples for us are our mobile redesign project that had to match the demand for a "touchless" experience. 
As travel is such a rapidly evolving landscape and new technology is driving change in so many ways, Wong is quick to point out that the key is continuing to focus on our customers. "We are on the lookout for industry and wider technology trends like multi-platform interactions, AI-powered chat, designing for speed, continuous user experience and inclusive design, but the main focus is always driving value to our customers." 

Taking the friction out of the travel booking experience can often mean removing steps as much as making them faster or limiting choice. Our developers are experimenting with machine learning (ML) to simplify travel beyond what is possible today. Sheerin is excited about the possibilities that we're creating for the next jump in travel innovation. "Solutions that require the traveller to just enter a date of travel and an arrival airport are already in place, and from this very basic information travellers can be provided with a whole trip itinerary, including travel to the airport or train station, air or rail travel, parking, lounges and accommodation."
How does a better user experience add value to a company that's evaluating different travel solutions?
What travel stakeholders shouldn't be mistaken about though is whether UX is applicable to all scenarios and products in business travel according to Mills. "You're doing UX whether it's intentional or not – focusing on simple and elegant solutions to user problems will create elements of trust and delight between user and product.
"A lot of travel solutions are disjointed, disparate with options, and fail to provide the user with a smooth, seamless experience. Creating a cohesive, streamlined experience will ease a user's 'application agita', or anxiety about learning a new tool when they just want to book travel and get on with their day".

A great user experience not only makes the lives of business travellers free of technology fatigue, but it also has a real impact on efficiency and on a business's bottom line adds Sheerin. "UX that minimises training, cuts booking errors, and sticks to policy with approval applied in an integrated manner helps make booking travel a pleasure. Simple, consistent UX encourages self-booking, lowering costs, risk, and policy enforcement without the need for costly offline administrative processes."
"User experience is about far more than just making things look good. A great user experience sits at the intersection of the user's needs, the goals of the business, and what is technologically possible" claims Ediger. "Getting each of those right in tandem with each other brings tremendous value to an organisation."
Contact CTM to discuss how our User Experience focused technology solutions could benefit your travel management programme.