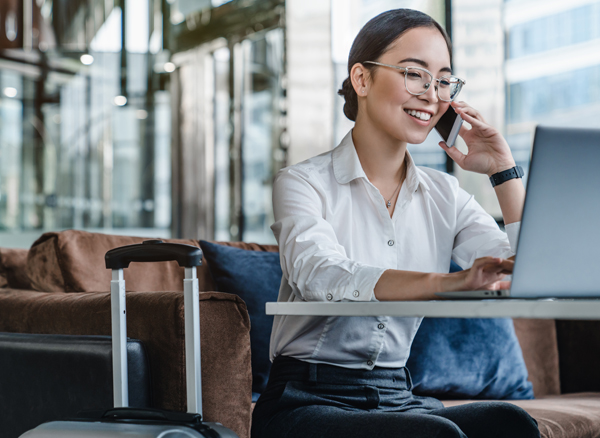 Complete Trip Management: Tech tools supporting effective business travel
Businesses and their travellers rely on their travel management partner to provide access to the most relevant, reliable, and timely information to drive safety, productivity, and value in today's travel environment.
From implementing new travel approval processes to sourcing the safest and most cost-effective travel suppliers, and managing potential risks – the travel landscape continues to evolve, and progress, at speed – and so should your travel tools.
In this guide, we answer our customers' most common questions regarding the tools they need for end-to-end trip management.
Before You Go: Trip Planning
Q. Is it safe to travelto my intended destination? Where can I find accurate information on in-country safety and security risks?
CTM Solution: CTM Risk Hub
The CTM Risk Hub provides central access to real-time global travel advice relating to health risks, government policies, entry requirements,  travel permits, and destination health insights via an interactive global map and itinerary-based trip search. The CTM Risk Hub is a complimentary tool for all Corporate Travel Management (CTM) customers.
Q. How do I know if my travel is approved?
CTM Solution: CTM Approve – integrated, customisable pre-trip approval tools
CTM Approve is an end-to-end pre-trip approval solution that supports traveller safety, budget control, and program compliance. This intuitive, integrated approval platform enables businesses to identify potential travel risks before booking – reducing cost wastage – and design customisable approval rules and workflows.
Q. When is the cheapest time to travel?
CTM Solution: CTM Fare Forecaster – view the cheapest time to travel +/- 3 days from the specified departure date
CTM Fare Forecaster provides a visual representation of up-to-date flight prices, displayed by specified journey or destination, +/- 3 days from the specified departure date. Fare Forecaster empowers Travel Bookers to make more informed and efficient decisions about the most cost-effective time to travel without wasting time on multiple searches. (This tool is available for CTM Lightning users only)
Booking Your Travel
Q. What airline, hotel, or car rental should I book?
CTM Solution: Lightning online booking tool – view integrated airline and hotel preferred status, sustainability, hotel health and safety features within the booking search
CTM's proprietary online booking tool, Lightning, integrates up-to-date health and safety features, and carbon footprint calculations within flight and hotel search results. This additional layer of travel data enables Travel Bookers to make more informed and reliable supplier decisions to support greater traveller confidence, safety, efficiency, and more sustainable business travel.
Q. How should I book?
CTM Solution: Within your corporate travel policy and via your TMC! Book via your corporate online booking tool, mobile app or via your dedicated travel consulting team
Book your business travel within your corporate travel policy, ensuring every element of your trip is trackable, compliant with your company's duty of care requirements, and to enable your travel team to track and communicate with you in an emergency.
During Your Business Trip
Q. How do I know if there's an emergency?
CTM Solution: CTM Traveller Tracking, CTM Risk Alerts, CTM Portal News
CTM's Traveller Tracker platform supports traveller safety and corporate duty of care by tracking travellers' locations via their travel itinerary, anywhere in the world. Updated in real-time and fully integrated with the individual's travel itinerary, the interactive global mapping tool also provides an instant picture of country-by-country risk levels.
CTM Risk Alerts is an automated risk management dispatch solution which keeps travellers informed of potential travel risks as they happen, via SMS and / or email.
Q. What should I do in an emergency while I'm away?
CTM Solution: CTM's localised after-hours emergency travel support, manage itinerary changes and book in policy through the CTM Lightning mobile app
CTM provides customers with localised after-hours emergency travel support wherever your travels take you, ensuring expert travel assistance is on hand in the event of an emergency. With live itinerary updates direct to your fingertips through the CTM Lightning mobile app, you'll remain connected and supported at every step of the journey.
When You Get Home
Q. How can I keep updated on our travellers health and wellbeing?
CTM Solution: CTM Data Hub trip reports
CTM's Data Hub reporting tool offers an intuitive and highly visual means of monitoring your corporate travel activity and programme performance. It also provides the ability for users to dissect complex travel data by traveller, location, department, supplier, travel reason, and more, to create and share customised reports. Our information wellbeing dashboard makes it easy to identify frequent travellers who might be at risk of burnout based on timezones crossed, traveling in personal time or red eye services.
Eager to learn more about tech tools that support safe travel?
Contact our team for a tech demo today.